Suites & prices
Luxury holidays in a fairy-tale ambience
Suites in harmony with nature and lovingly furnished with high-quality Swiss stone pine and solid wood await you and your family at the 5-star Moar Gut resort. It's a modern alpine style combined with tasteful, elegant furnishings made with locally sourced woods, linen, leather, and stone. 
A fairy-tale ambience for the whole family: all suites have at least one separate children's room and a terrace or balcony.  Romantic electric fireplaces have been installed in some suites. Each suite captivates with a view of the mountain scenery and the 100,000 m² forests and meadows surrounding the resort.
The absolute attention to detail and the symbiosis of luxury and sustainability make the suites at the Moar Gut a retreat for the entire family. With a cozy atmosphere and sense of well-being.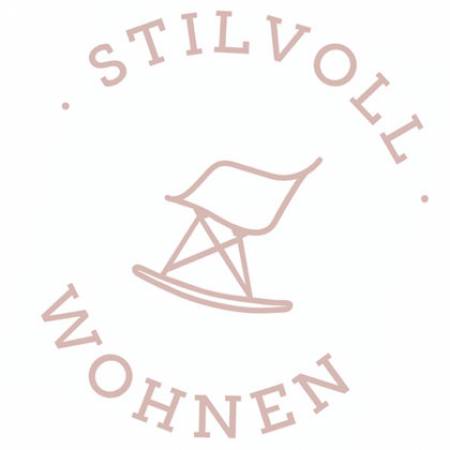 The Moar Gut suites 
I'm looking for a ...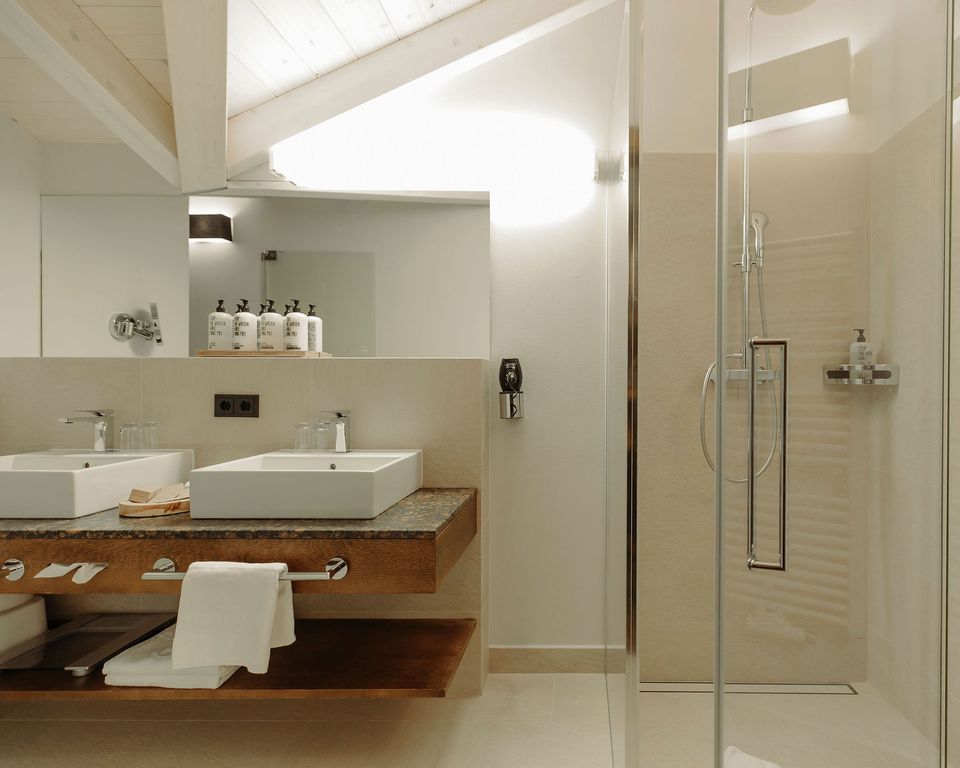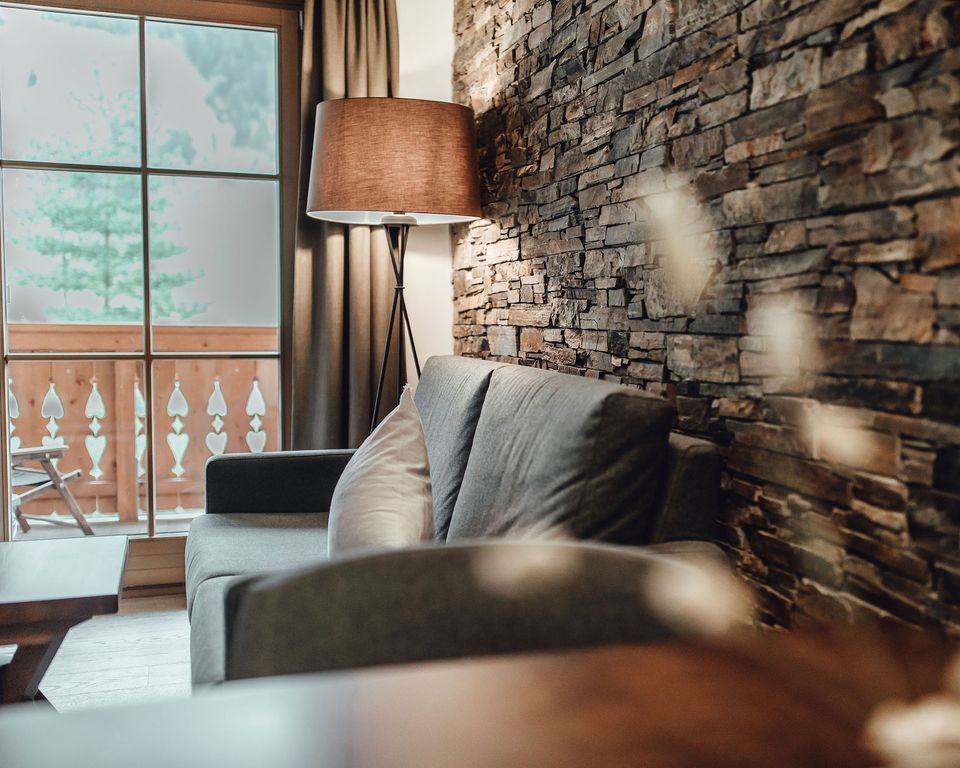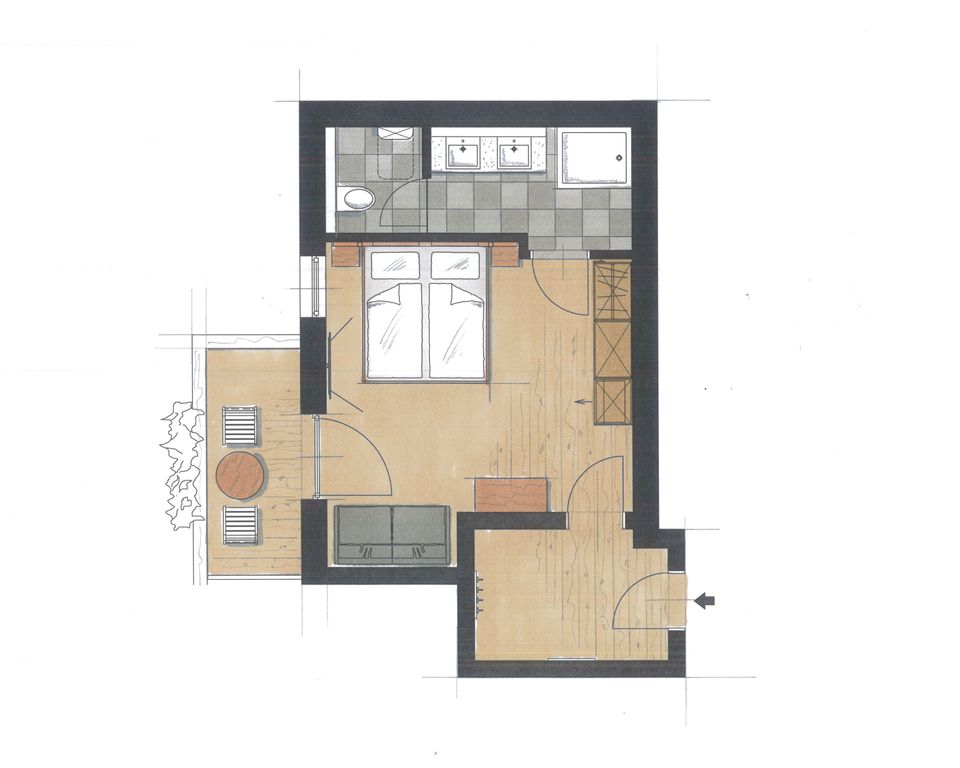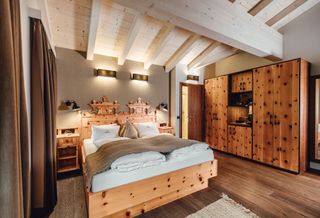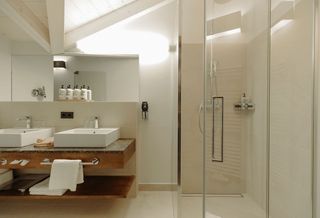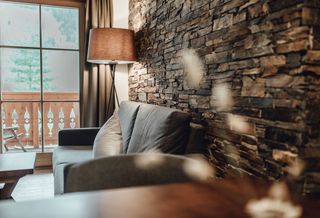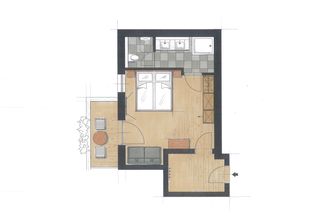 > the noble furnishings with Swiss pine and the high rooms are giving the room a special flair and invite you to enjoy> separate anteromm>
comfortable living and sleeping with double bed and valuable
bed couch> east balcony in the third floor with wonderful nature view>
beautiful bathroom with shower
Culinary
We offer diverse culinary highlights as part of our gourmet full-board:
Abundant breakfast buffet with numerous regional delicacies
At lunchtime two main dishes are served at the table, additional we offer a buffet of soups, salads and fresh fruits
cake buffet with homemade pastries, cakes and strudels
Evenings: 6-course gourmet menu of choice. From Austrian classics to vegetarian and vegan dishes, salad bowls and cheese buffet
Lunch & dinner: balanced children's buffet
Supervised children's meal at lunch & dinner
Daily ice cream bar with various toppings
All day: non-alcoholic beverage fountain
Tea, coffee & hot chocolate until 5:00 pm
Mountain spring water from all the taps in the hotel
Hipp organic baby buffet (jars, porridge, and formula)
Baby food prepared fresh daily
Child care
Babies and toddlers: from 30 days old to 24 months, daily from 9:00 am to 9:00 pm (registration required by the evening before)
Child-care from 2 to 14 years with diverse, nature-related programs and excursions, daily from 9:00 am to 9:00 pm
Baby and toddler carefree equipment and furnishing
Adopt-an-animal program with a family-certificate at the end of your holiday
Teens program 
climbing and boulder room
Bright fitness studio with modern Techno-Gym equipment and separate gymnastics room
Attractive activity program with Hatha Yoga, Functional training, fascia training, back training, and more
panorama swimming area with separate baby and toddler area, indoor pool with wave slide, 25 metres infinity pool, natural bathing lake
NATURE Spa with outdoor whirlpool, 25 metres infinity pool, textile free and textile area with tea lounge and various stylish chill out rooms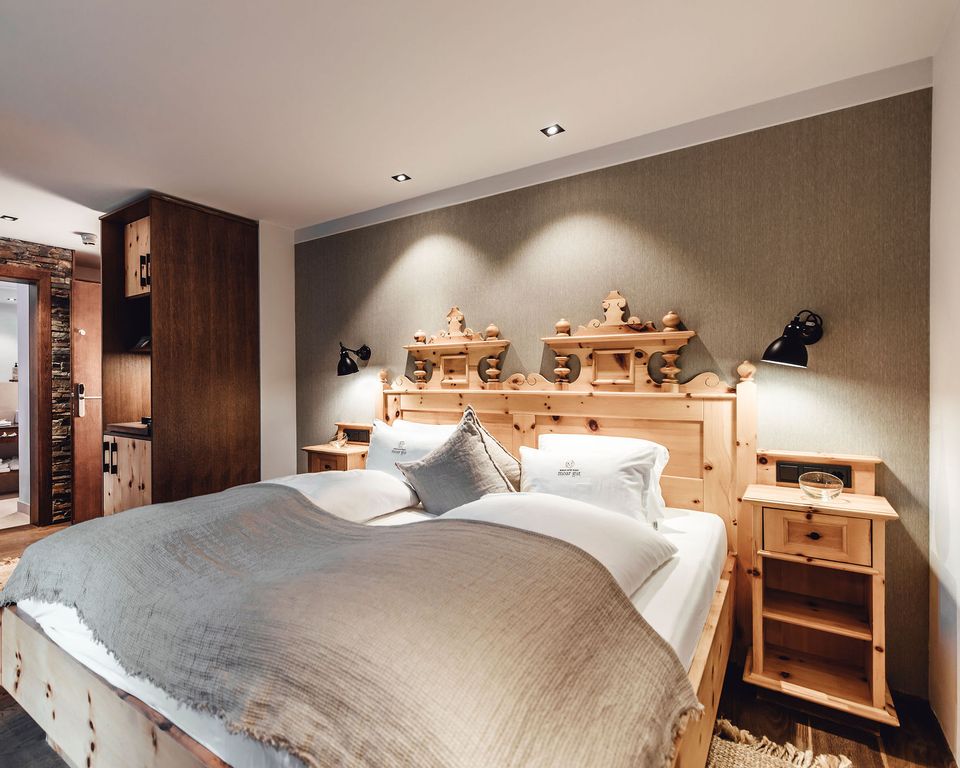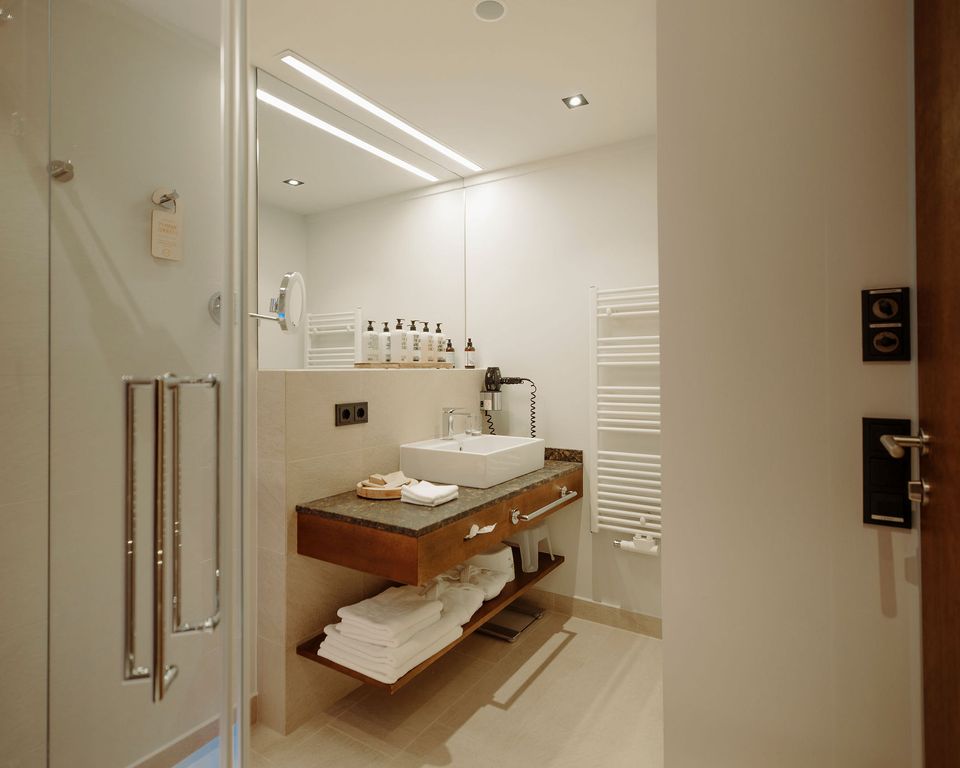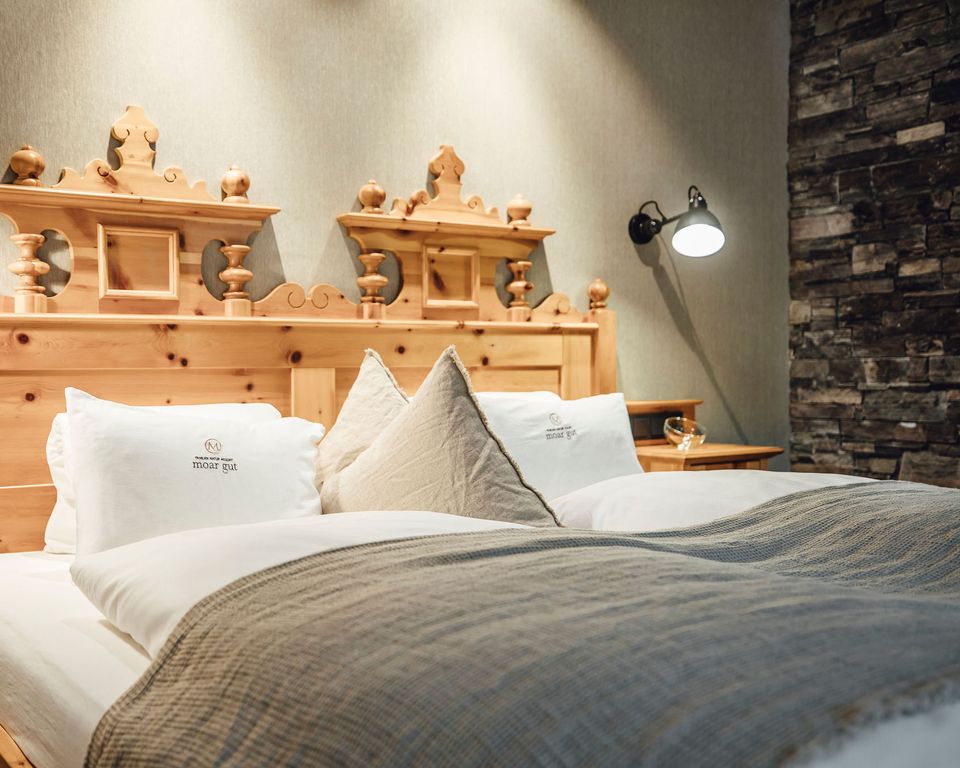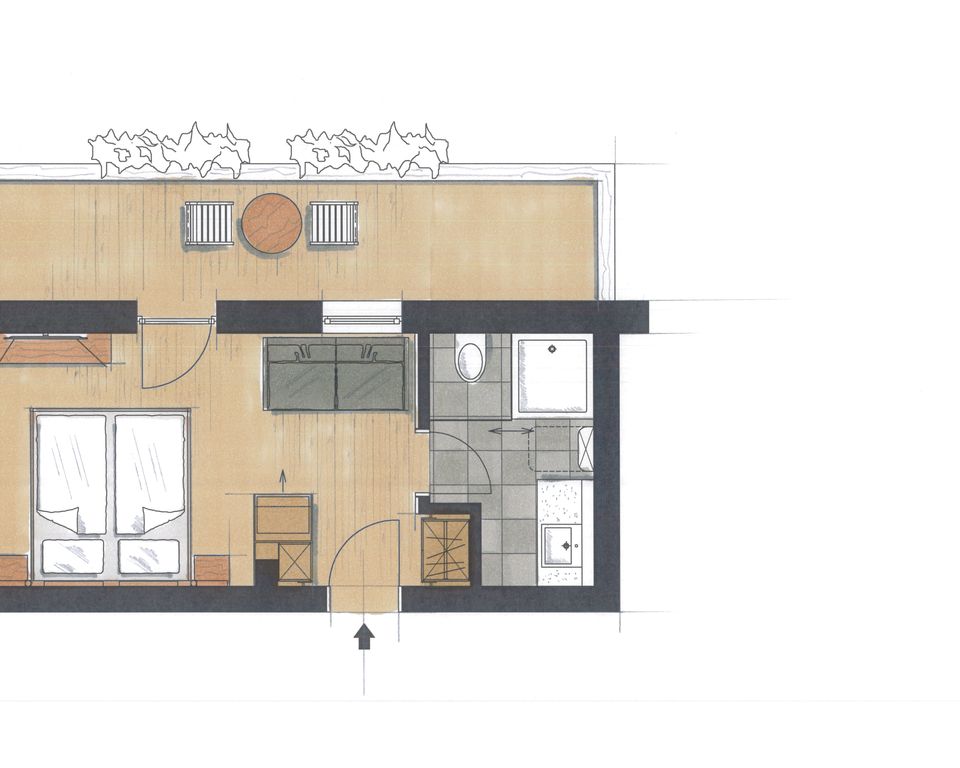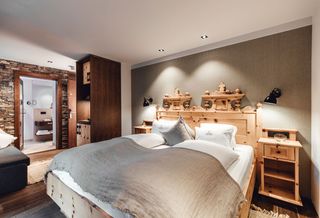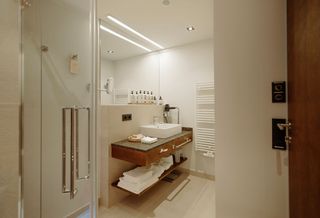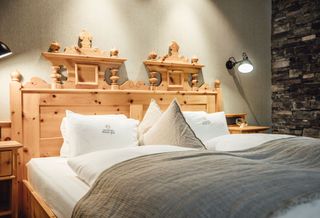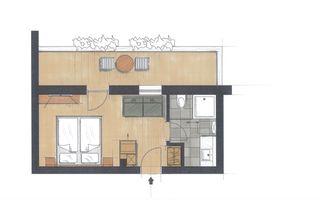 > the noble furnishings with Swiss pine are giving the room a special flair and invites you to enjoy yourself> cosy living and sleeping area with bed couch> east balcony to relax>
beautiful bathroom with shower
Culinary
We offer diverse culinary highlights as part of our gourmet full-board:
Abundant breakfast buffet with numerous regional delicacies
At lunchtime two main dishes are served at the table, additional we offer a buffet of soups, salads and fresh fruits
cake buffet with homemade pastries, cakes and strudels
Evenings: 6-course gourmet menu of choice. From Austrian classics to vegetarian and vegan dishes, salad bowls and cheese buffet
Lunch & dinner: balanced children's buffet
Supervised children's meal at lunch & dinner
Daily ice cream bar with various toppings
All day: non-alcoholic beverage fountain
Tea, coffee & hot chocolate until 5:00 pm
Mountain spring water from all the taps in the hotel
Hipp organic baby buffet (jars, porridge, and formula)
Baby food prepared fresh daily
Child care
Babies and toddlers: from 30 days old to 24 months, daily from 9:00 am to 9:00 pm (registration required by the evening before)
Child-care from 2 to 14 years with diverse, nature-related programs and excursions, daily from 9:00 am to 9:00 pm
Baby and toddler carefree equipment and furnishing
Adopt-an-animal program with a family-certificate at the end of your holiday
Teens program 
climbing and boulder room
Bright fitness studio with modern Techno-Gym equipment and separate gymnastics room
Attractive activity program with Hatha Yoga, Functional training, fascia training, back training, and more
panorama swimming area with separate baby and toddler area, indoor pool with wave slide, 25 metres infinity pool, natural bathing lake
NATURE Spa with outdoor whirlpool, 25 metres infinity pool, textile free and textile area with tea lounge and various stylish chill out rooms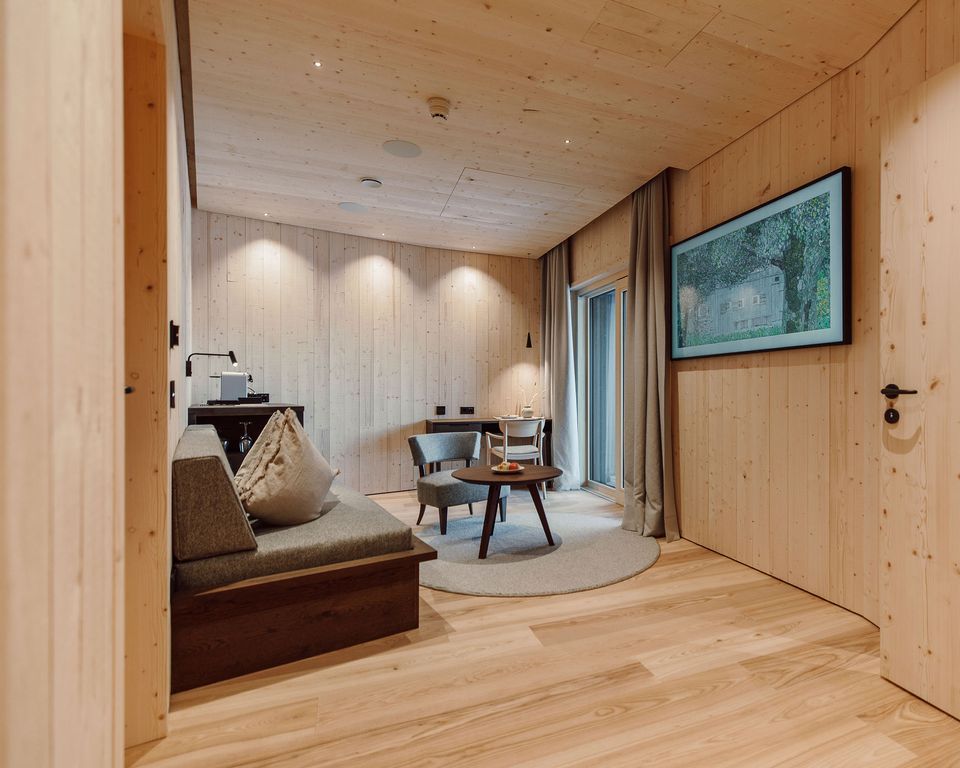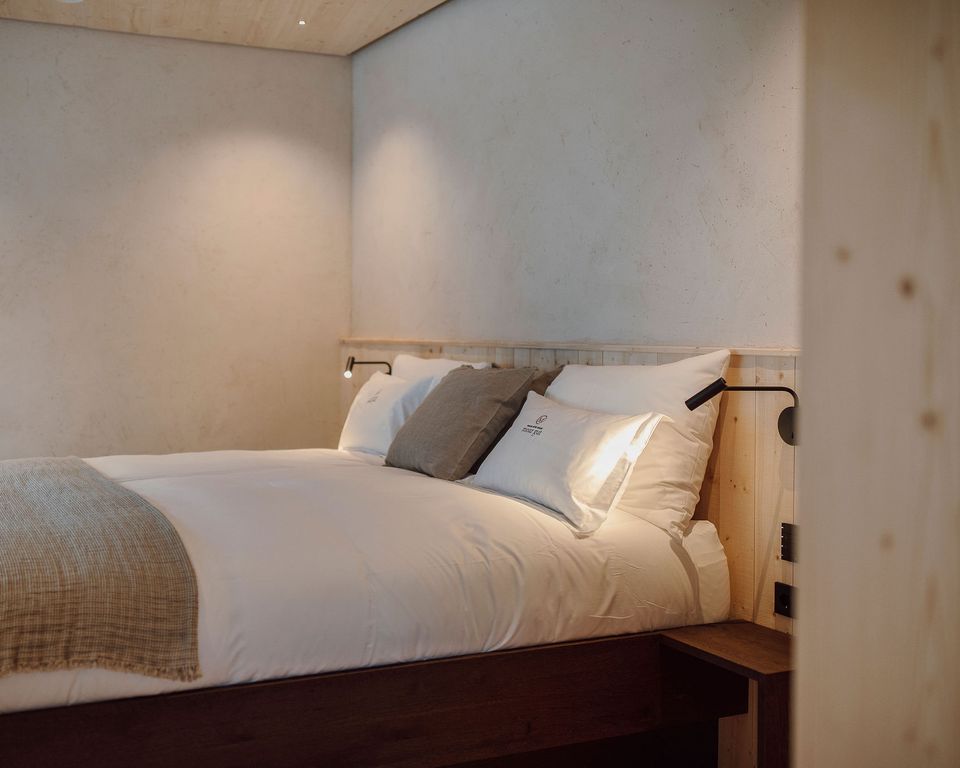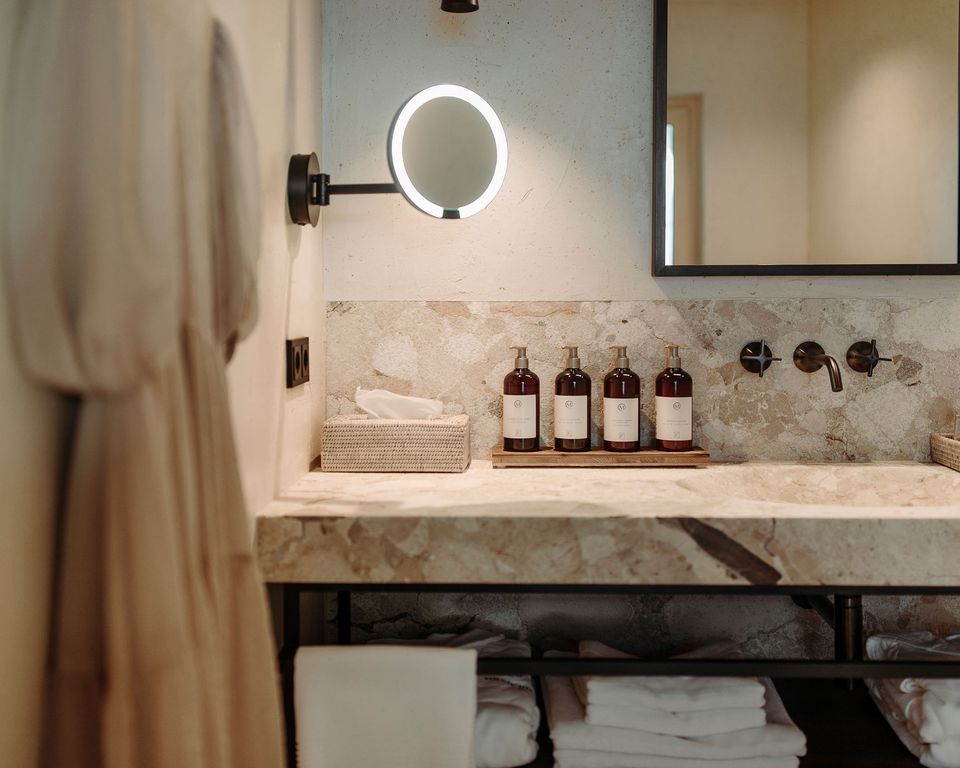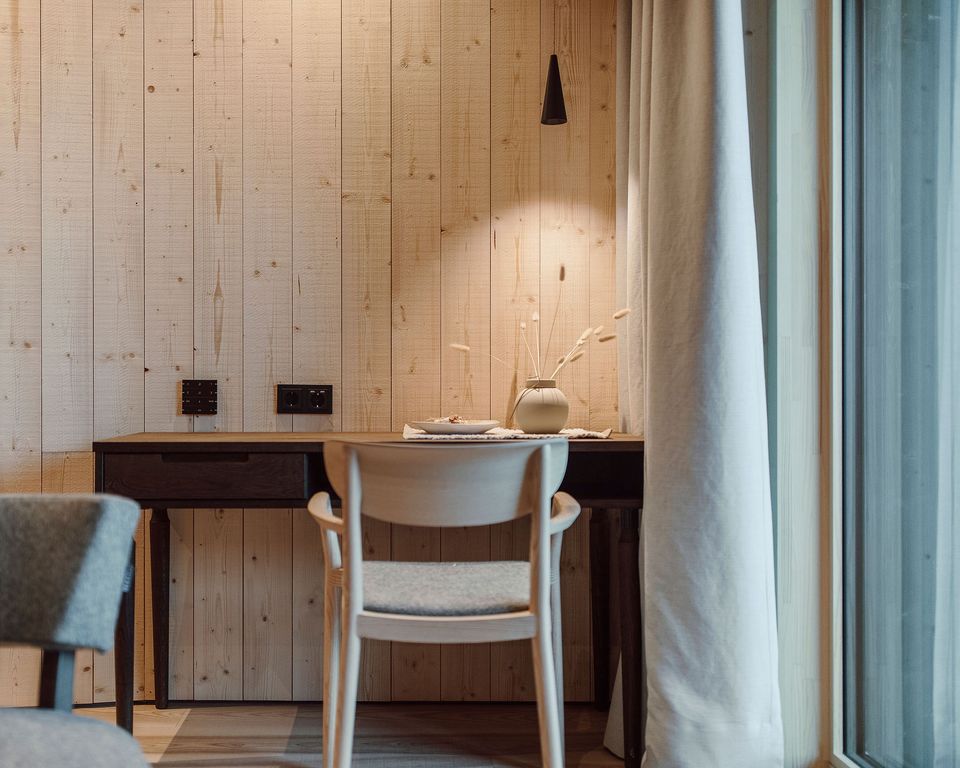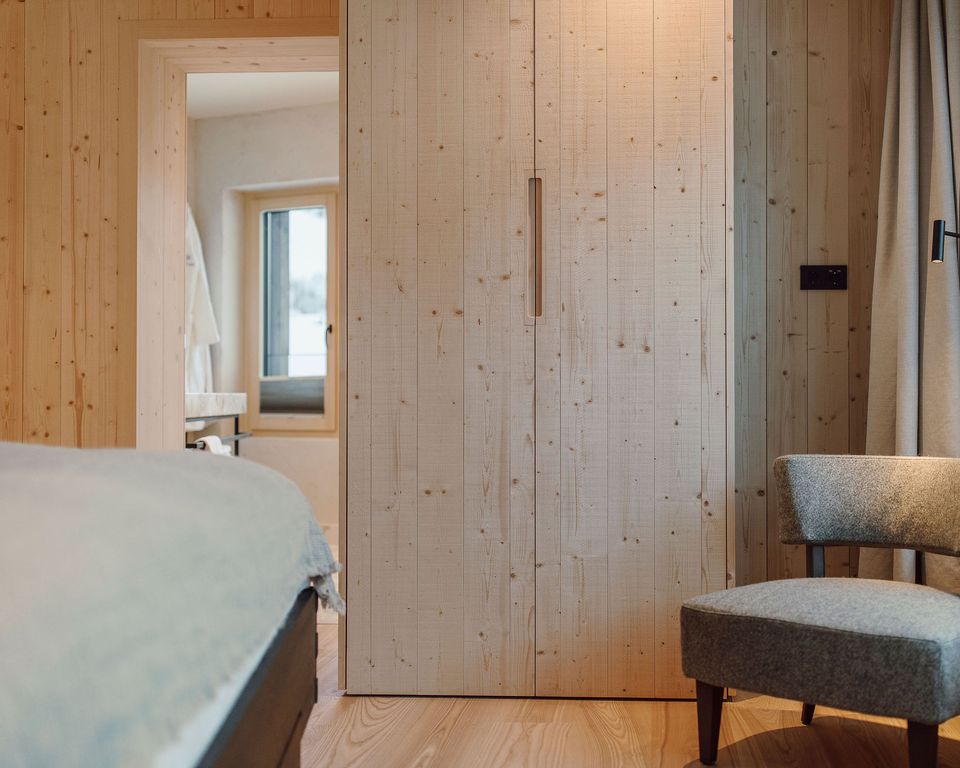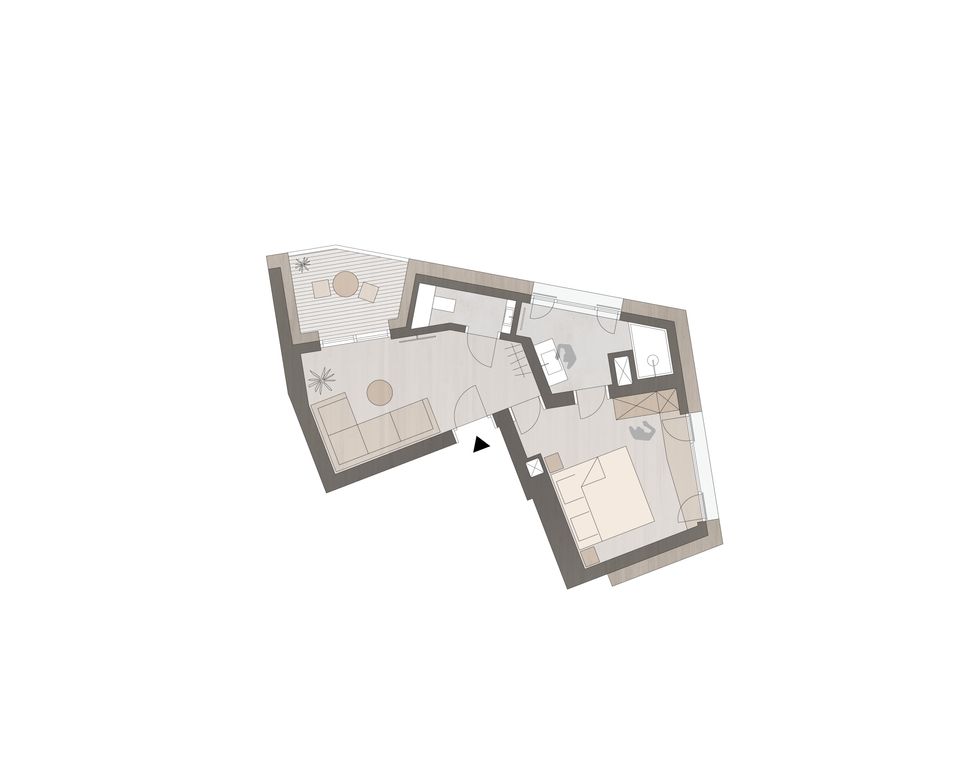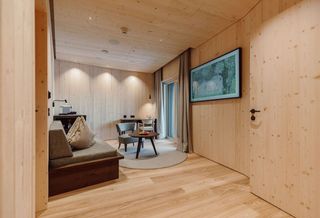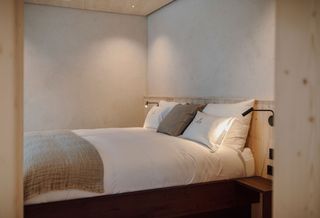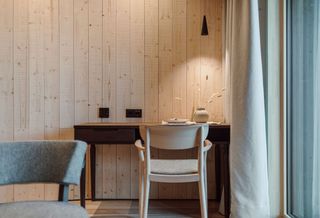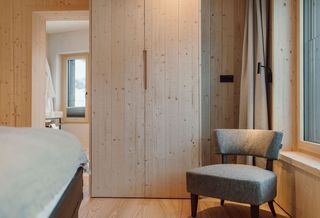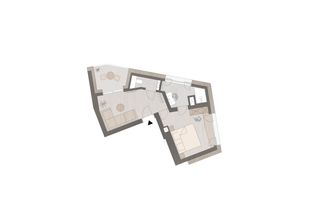 > subtle design idea with high quality regular materials with spruce & linen>
spacious, light living area with sofa bed and loggia
> double room with panorama window>
light-flooded bathroom
>
air condition
Culinary
We offer diverse culinary highlights as part of our gourmet full-board:
Abundant breakfast buffet with numerous regional delicacies
At lunchtime two main dishes are served at the table, additional we offer a buffet of soups, salads and fresh fruits
cake buffet with homemade pastries, cakes and strudels
Evenings: 6-course gourmet menu of choice. From Austrian classics to vegetarian and vegan dishes, salad bowls and cheese buffet
Lunch & dinner: balanced children's buffet
Supervised children's meal at lunch & dinner
Daily ice cream bar with various toppings
All day: non-alcoholic beverage fountain
Tea, coffee & hot chocolate until 5:00 pm
Mountain spring water from all the taps in the hotel
Hipp organic baby buffet (jars, porridge, and formula)
Baby food prepared fresh daily
Child care
Babies and toddlers: from 30 days old to 24 months, daily from 9:00 am to 9:00 pm (registration required by the evening before)
Child-care from 2 to 14 years with diverse, nature-related programs and excursions, daily from 9:00 am to 9:00 pm
Baby and toddler carefree equipment and furnishing
Adopt-an-animal program with a family-certificate at the end of your holiday
Teens program 
climbing and boulder room
Bright fitness studio with modern Techno-Gym equipment and separate gymnastics room
Attractive activity program with Hatha Yoga, Functional training, fascia training, back training, and more
panorama swimming area with separate baby and toddler area, indoor pool with wave slide, 25 metres infinity pool, natural bathing lake
NATURE Spa with outdoor whirlpool, 25 metres infinity pool, textile free and textile area with tea lounge and various stylish chill out rooms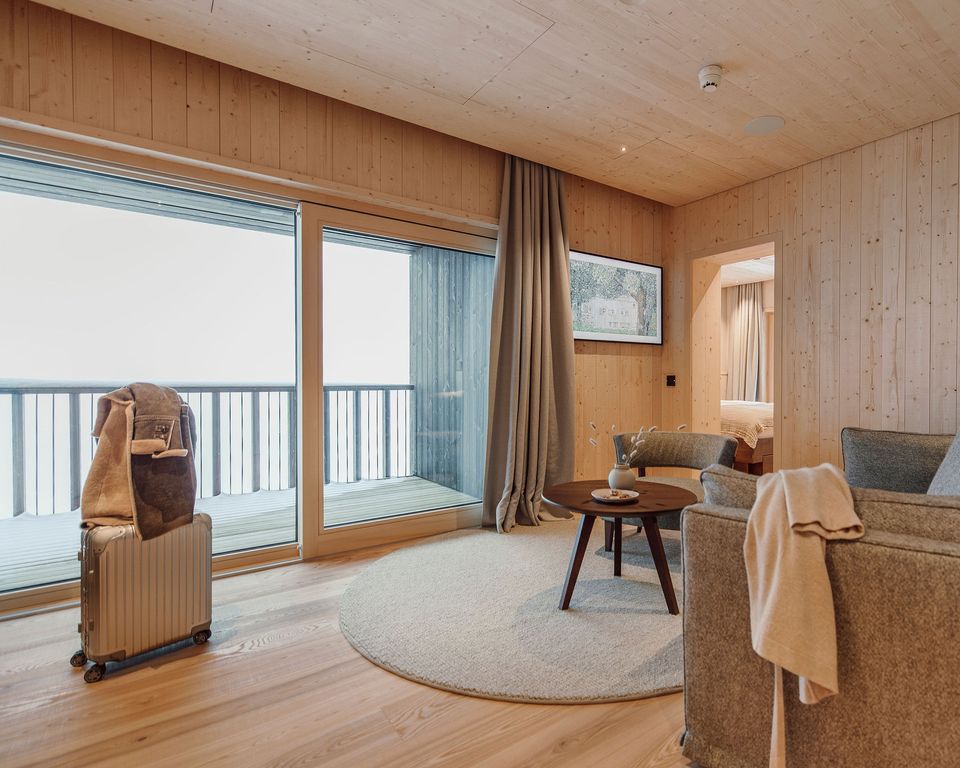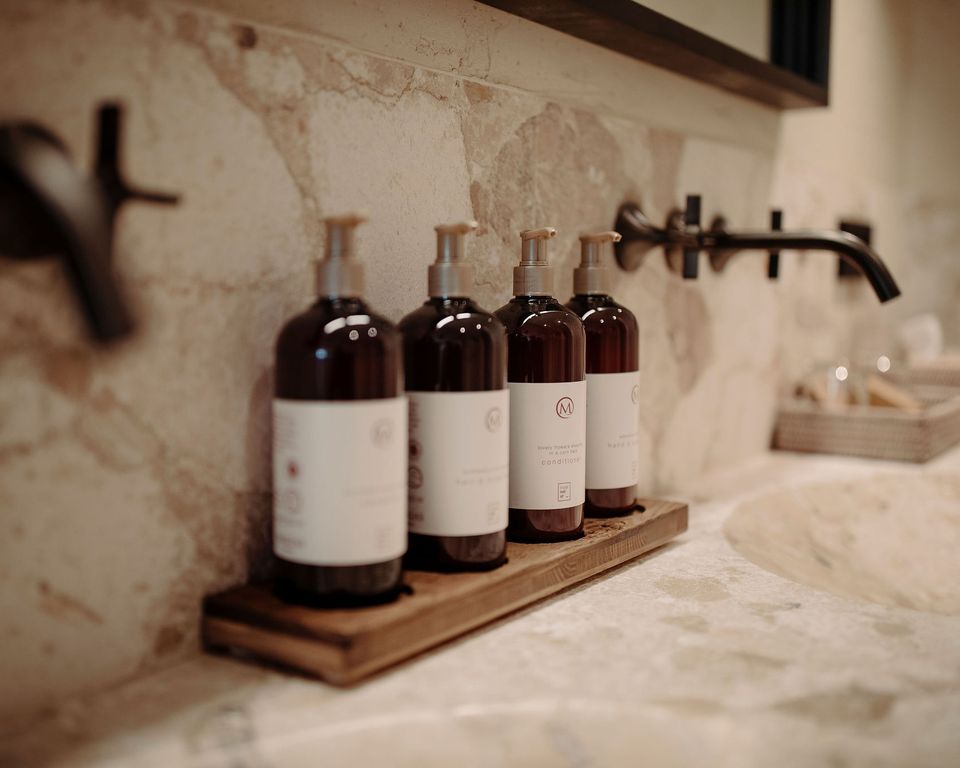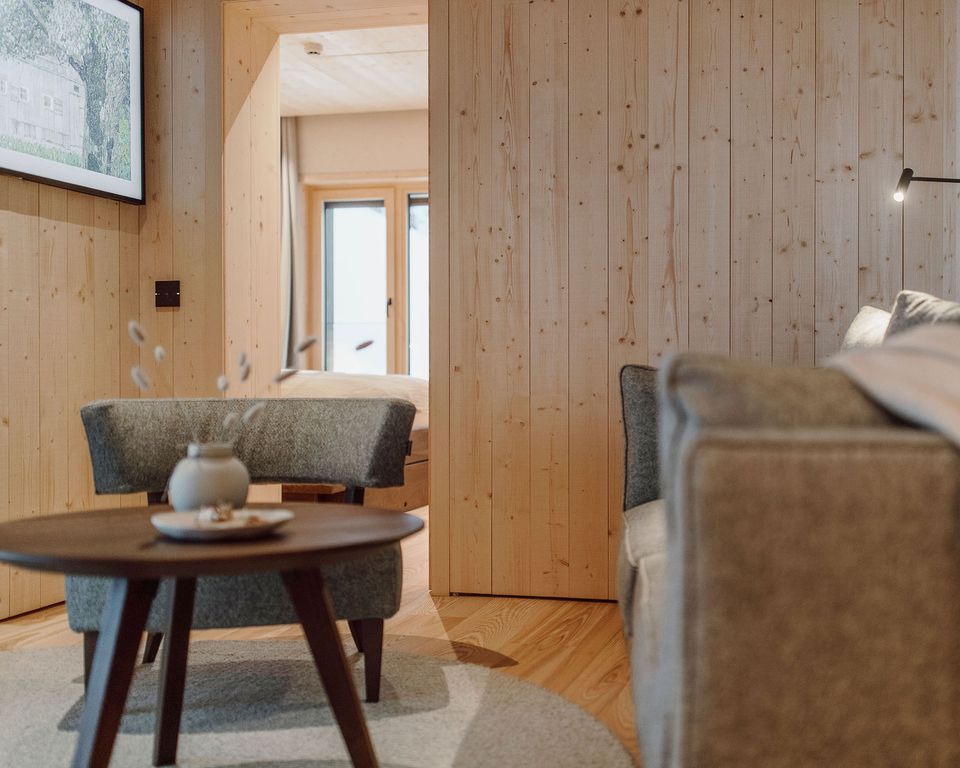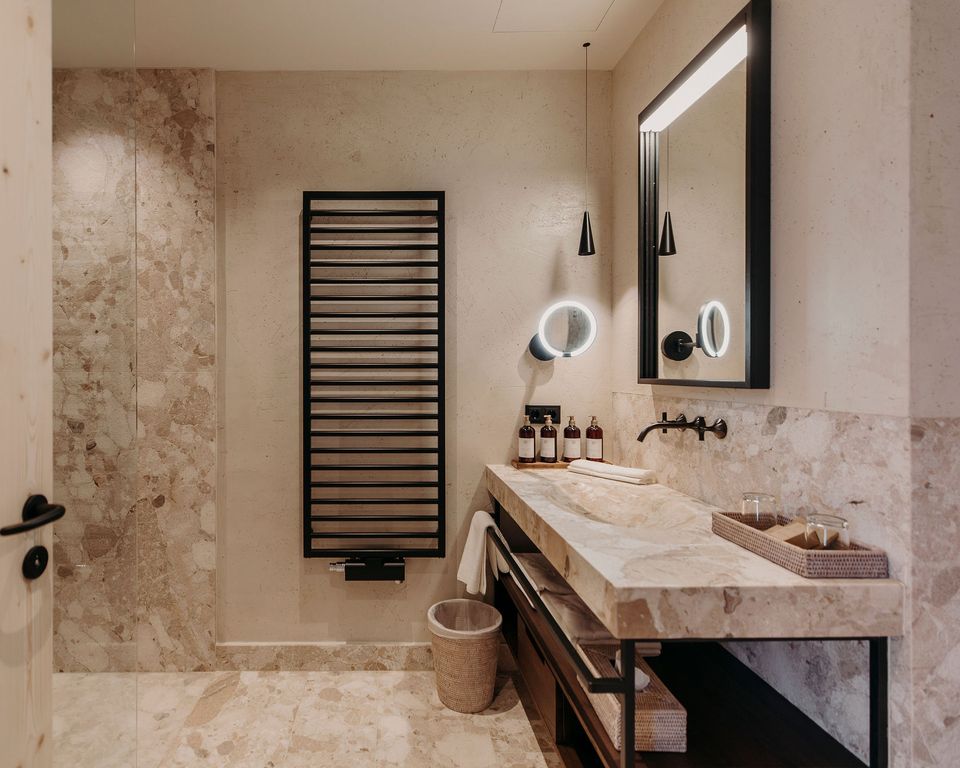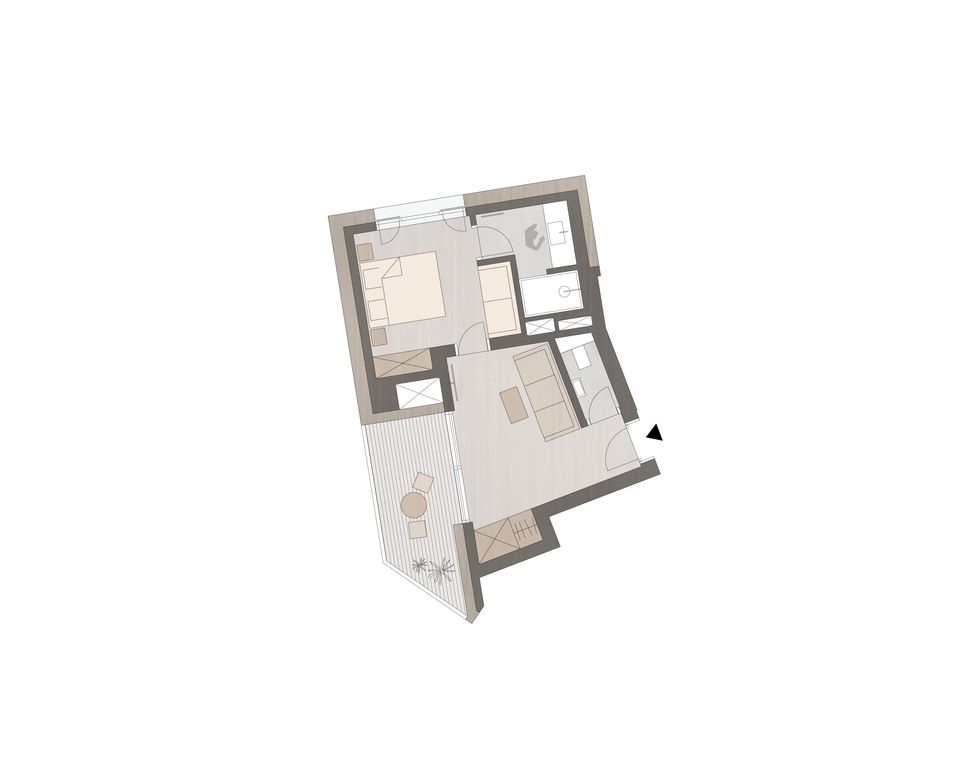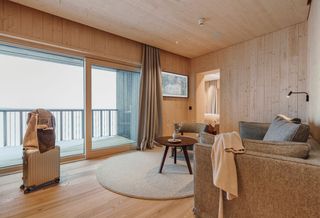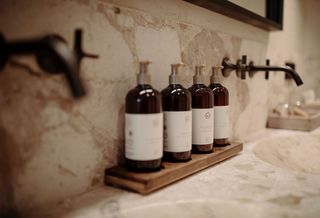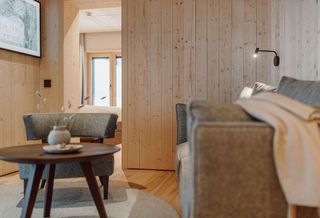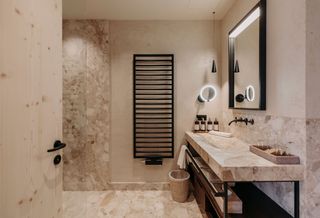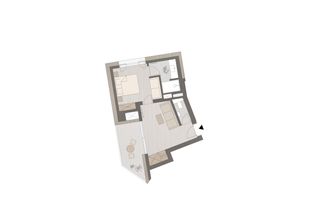 > subtle design idea with high quality regional materials with spruce & linen>
spacious, light living area with loggia
> double room with single bed and panorama window
>
air condition
Culinary
We offer diverse culinary highlights as part of our gourmet full-board:
Abundant breakfast buffet with numerous regional delicacies
At lunchtime two main dishes are served at the table, additional we offer a buffet of soups, salads and fresh fruits
cake buffet with homemade pastries, cakes and strudels
Evenings: 6-course gourmet menu of choice. From Austrian classics to vegetarian and vegan dishes, salad bowls and cheese buffet
Lunch & dinner: balanced children's buffet
Supervised children's meal at lunch & dinner
Daily ice cream bar with various toppings
All day: non-alcoholic beverage fountain
Tea, coffee & hot chocolate until 5:00 pm
Mountain spring water from all the taps in the hotel
Hipp organic baby buffet (jars, porridge, and formula)
Baby food prepared fresh daily
Child care
Babies and toddlers: from 30 days old to 24 months, daily from 9:00 am to 9:00 pm (registration required by the evening before)
Child-care from 2 to 14 years with diverse, nature-related programs and excursions, daily from 9:00 am to 9:00 pm
Baby and toddler carefree equipment and furnishing
Adopt-an-animal program with a family-certificate at the end of your holiday
Teens program 
climbing and boulder room
Bright fitness studio with modern Techno-Gym equipment and separate gymnastics room
Attractive activity program with Hatha Yoga, Functional training, fascia training, back training, and more
panorama swimming area with separate baby and toddler area, indoor pool with wave slide, 25 metres infinity pool, natural bathing lake
NATURE Spa with outdoor whirlpool, 25 metres infinity pool, textile free and textile area with tea lounge and various stylish chill out rooms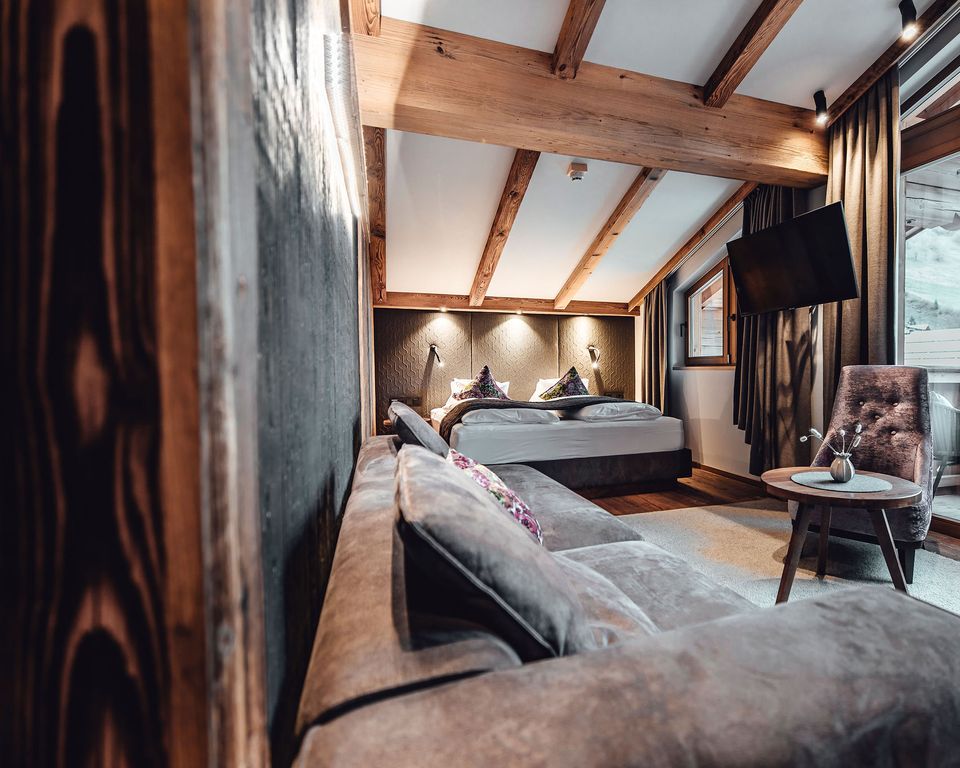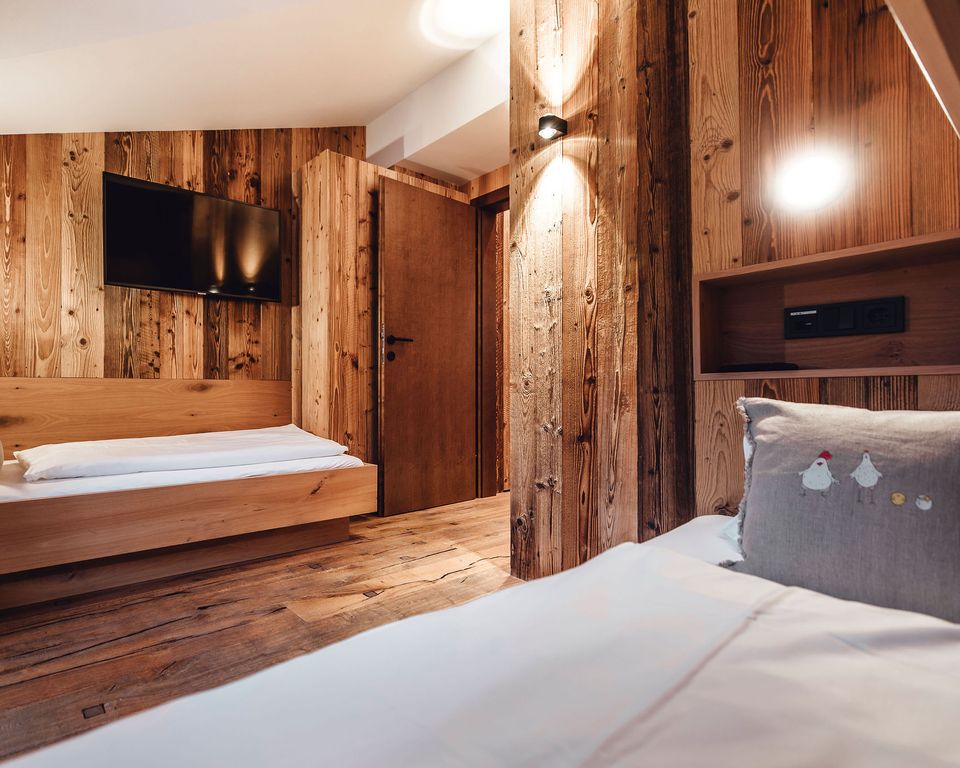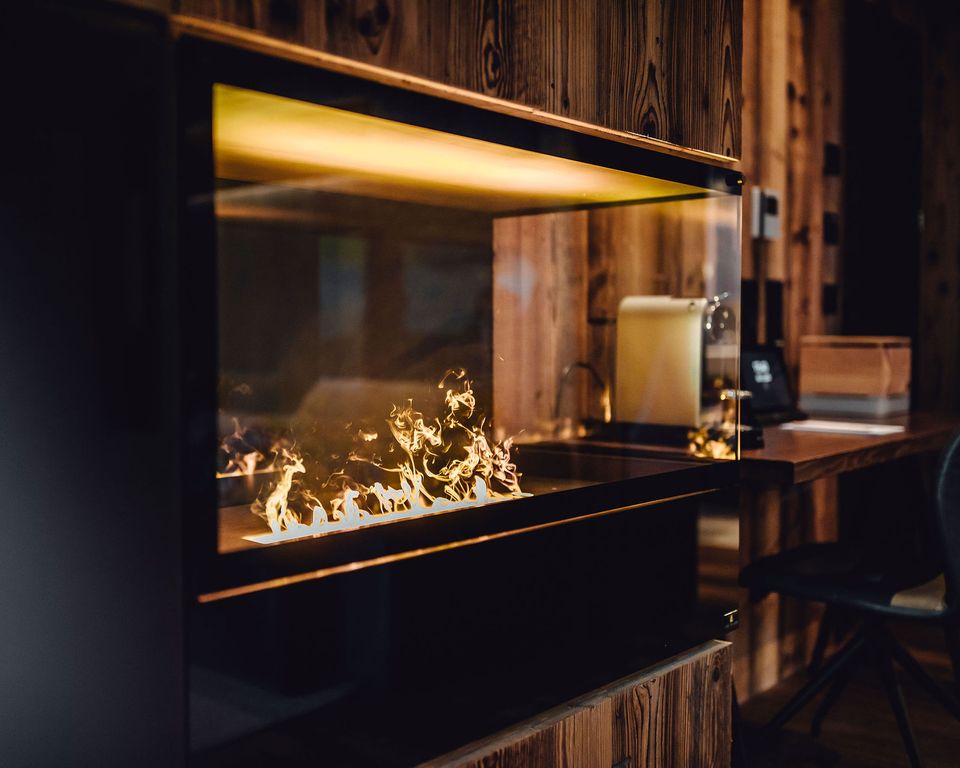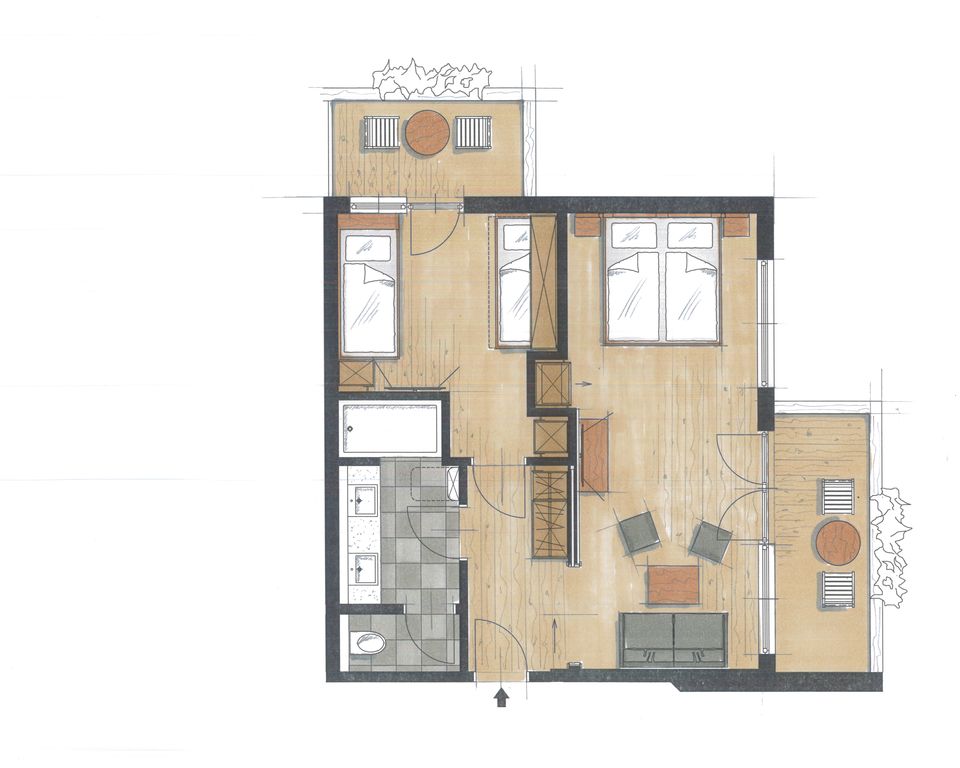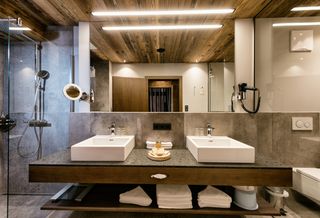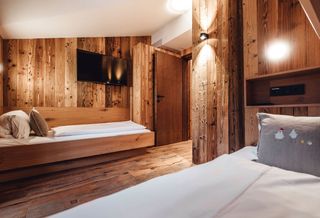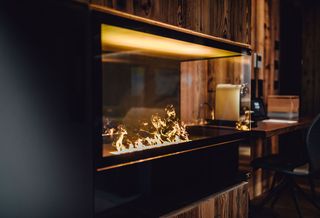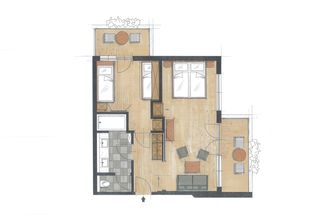 > the wonderful panorama of the mountains is brought into the suite through the windows>
the noble furnishings enchant with high quality materials and rustic wood waste design
> cosy living and sleeping room with effect fire>
air condition
> children´s room with two single beds and a foldaway bunk bed> high quality furnished bathroom with bathtube, shower and separate WC>
two balconies to enjoy the wonderful nature
Culinary
We offer diverse culinary highlights as part of our gourmet full-board:
Abundant breakfast buffet with numerous regional delicacies
At lunchtime two main dishes are served at the table, additional we offer a buffet of soups, salads and fresh fruits
cake buffet with homemade pastries, cakes and strudels
Evenings: 6-course gourmet menu of choice. From Austrian classics to vegetarian and vegan dishes, salad bowls and cheese buffet
Lunch & dinner: balanced children's buffet
Supervised children's meal at lunch & dinner
Daily ice cream bar with various toppings
All day: non-alcoholic beverage fountain
Tea, coffee & hot chocolate until 5:00 pm
Mountain spring water from all the taps in the hotel
Hipp organic baby buffet (jars, porridge, and formula)
Baby food prepared fresh daily
Child care
Babies and toddlers: from 30 days old to 24 months, daily from 9:00 am to 9:00 pm (registration required by the evening before)
Child-care from 2 to 14 years with diverse, nature-related programs and excursions, daily from 9:00 am to 9:00 pm
Baby and toddler carefree equipment and furnishing
Adopt-an-animal program with a family-certificate at the end of your holiday
Teens program 
climbing and boulder room
Bright fitness studio with modern Techno-Gym equipment and separate gymnastics room
Attractive activity program with Hatha Yoga, Functional training, fascia training, back training, and more
panorama swimming area with separate baby and toddler area, indoor pool with wave slide, 25 metres infinity pool, natural bathing lake
NATURE Spa with outdoor whirlpool, 25 metres infinity pool, textile free and textile area with tea lounge and various stylish chill out rooms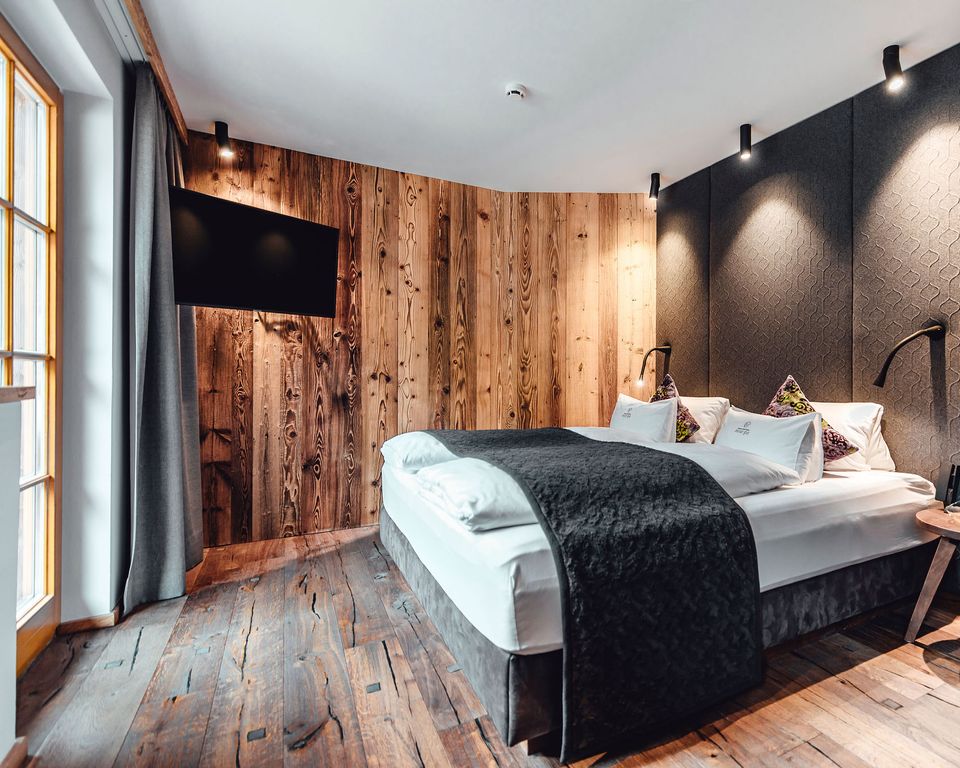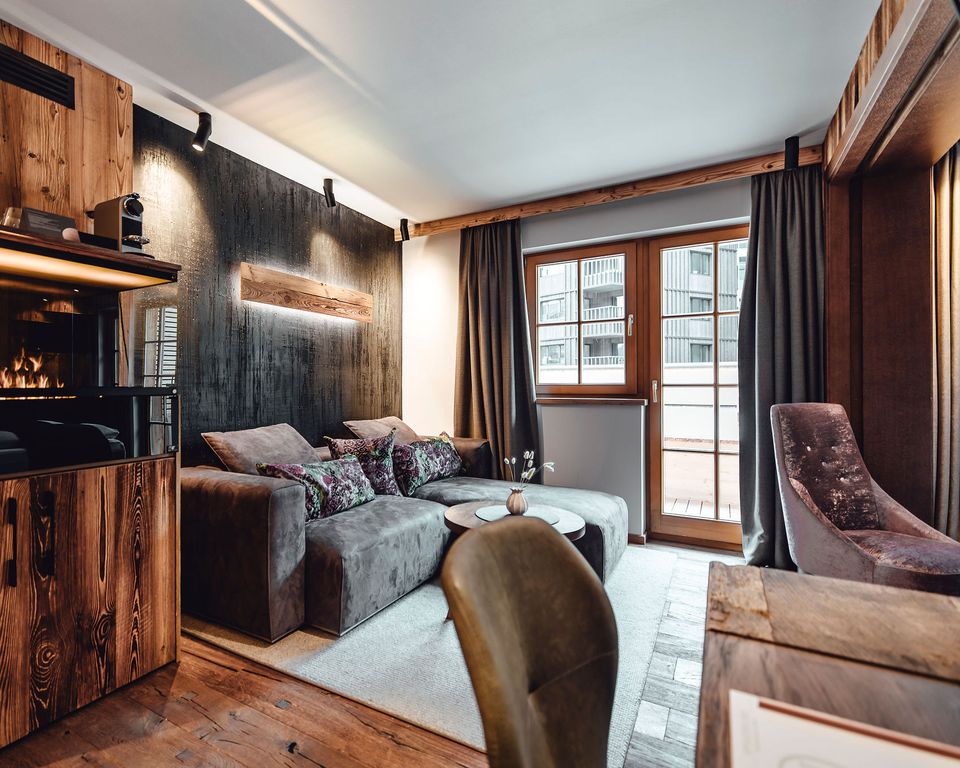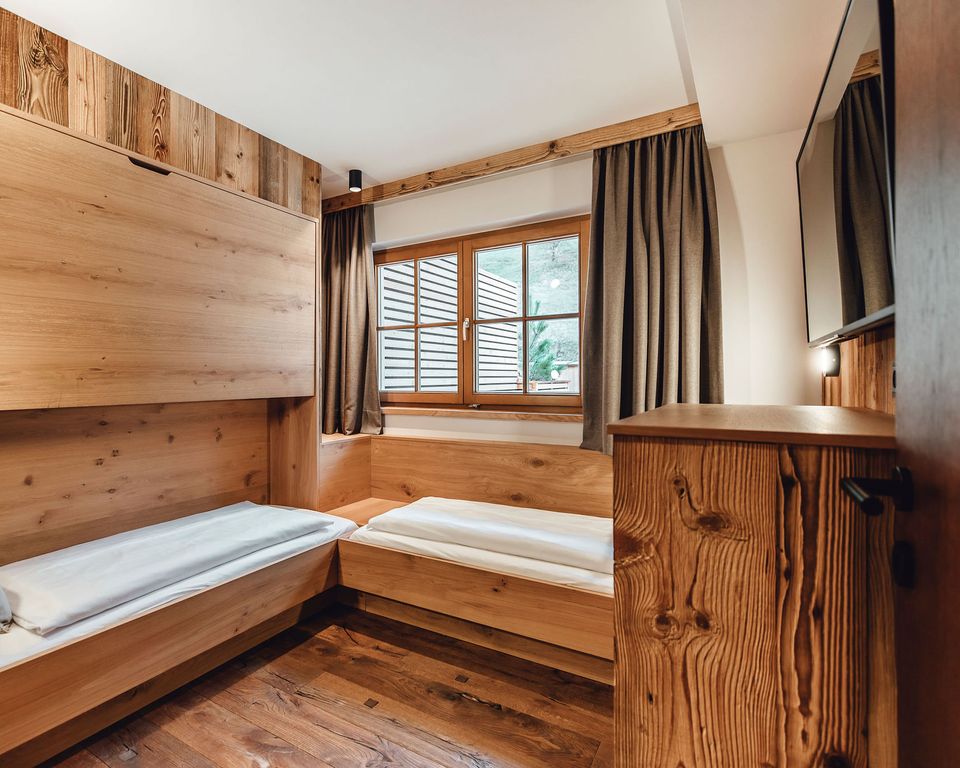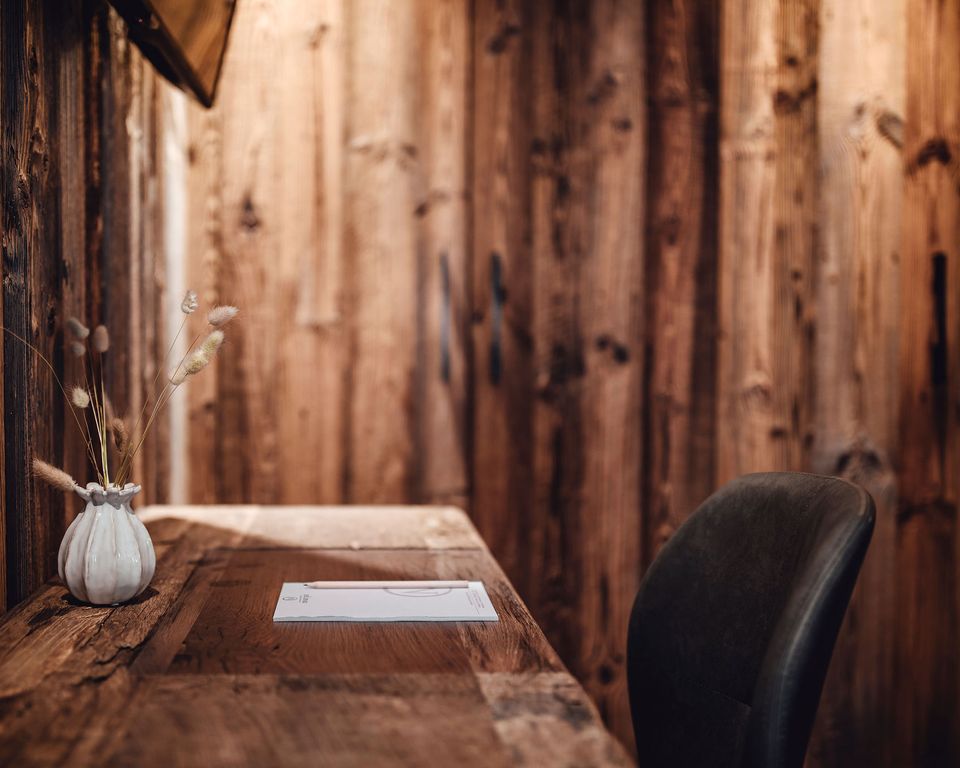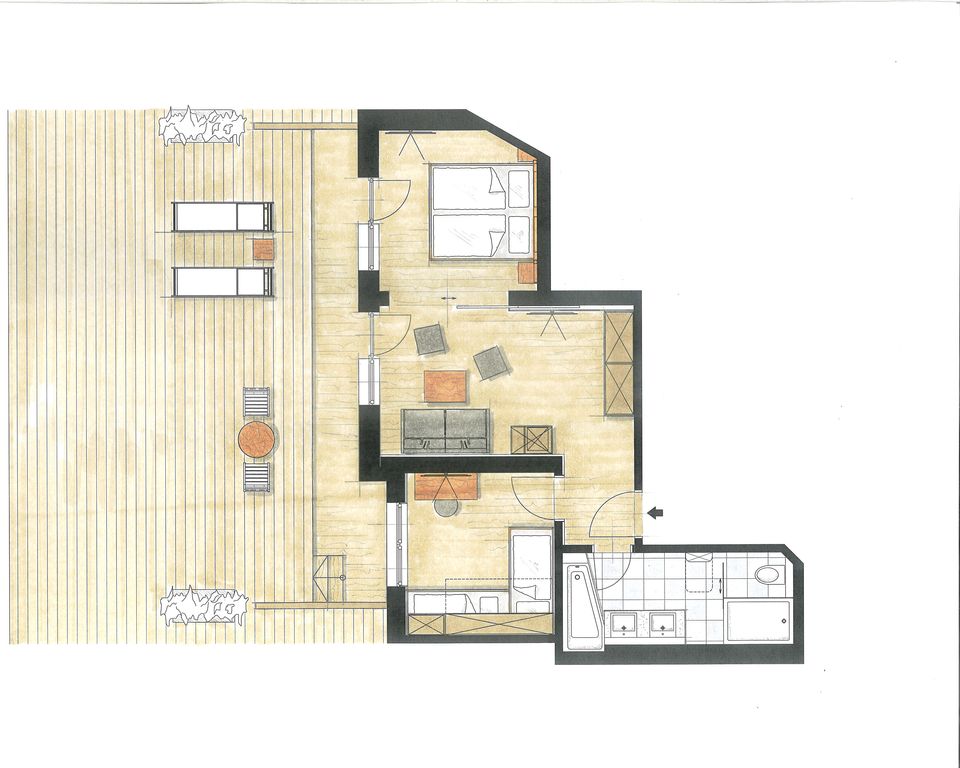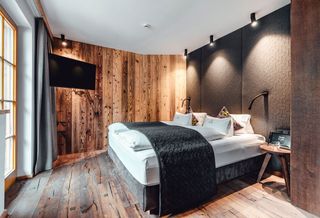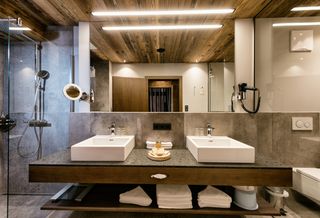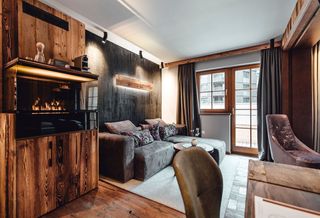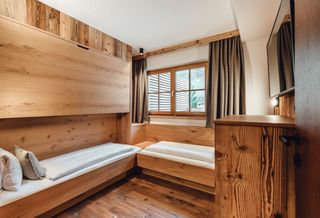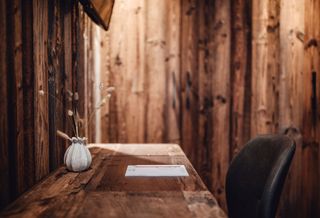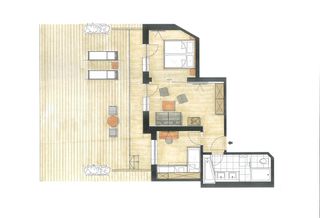 > the wonderful panorama of the mountains is brought into the suite through the windows> cosy living room with effect fire and west terrace to enjoy the wonderful nature>
children´s room with two single beds and a foldaway bunk bed
>
high quality
furnished bathroom with bathtube, shower and separate WC
Culinary
We offer diverse culinary highlights as part of our gourmet full-board:
Abundant breakfast buffet with numerous regional delicacies
At lunchtime two main dishes are served at the table, additional we offer a buffet of soups, salads and fresh fruits
cake buffet with homemade pastries, cakes and strudels
Evenings: 6-course gourmet menu of choice. From Austrian classics to vegetarian and vegan dishes, salad bowls and cheese buffet
Lunch & dinner: balanced children's buffet
Supervised children's meal at lunch & dinner
Daily ice cream bar with various toppings
All day: non-alcoholic beverage fountain
Tea, coffee & hot chocolate until 5:00 pm
Mountain spring water from all the taps in the hotel
Hipp organic baby buffet (jars, porridge, and formula)
Baby food prepared fresh daily
Child care
Babies and toddlers: from 30 days old to 24 months, daily from 9:00 am to 9:00 pm (registration required by the evening before)
Child-care from 2 to 14 years with diverse, nature-related programs and excursions, daily from 9:00 am to 9:00 pm
Baby and toddler carefree equipment and furnishing
Adopt-an-animal program with a family-certificate at the end of your holiday
Teens program 
climbing and boulder room
Bright fitness studio with modern Techno-Gym equipment and separate gymnastics room
Attractive activity program with Hatha Yoga, Functional training, fascia training, back training, and more
panorama swimming area with separate baby and toddler area, indoor pool with wave slide, 25 metres infinity pool, natural bathing lake
NATURE Spa with outdoor whirlpool, 25 metres infinity pool, textile free and textile area with tea lounge and various stylish chill out rooms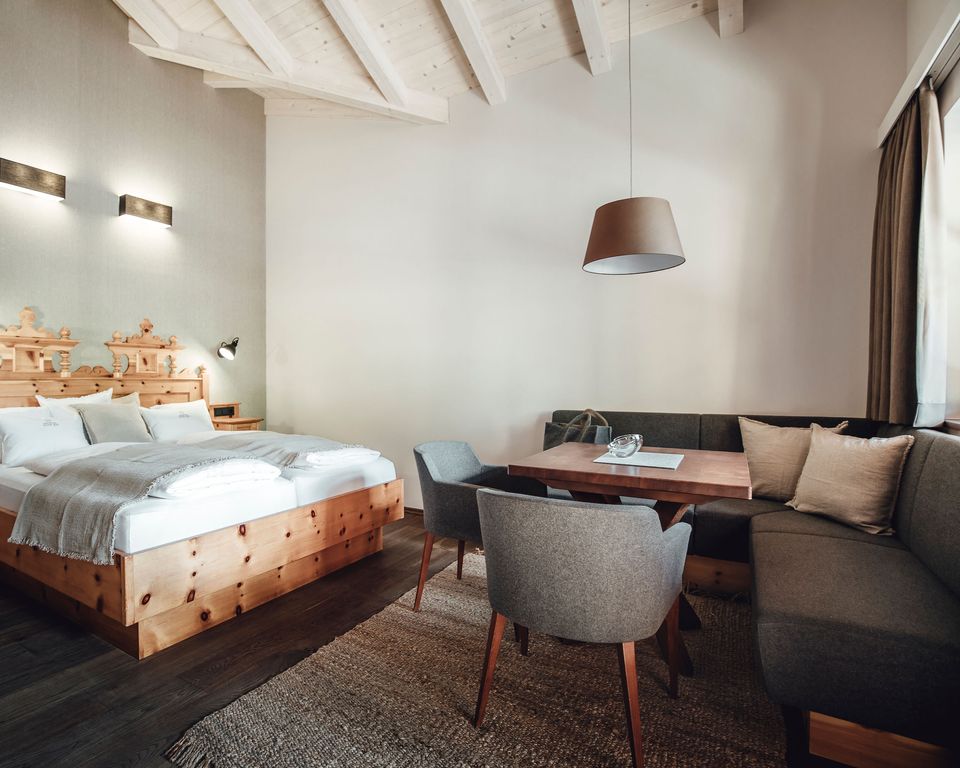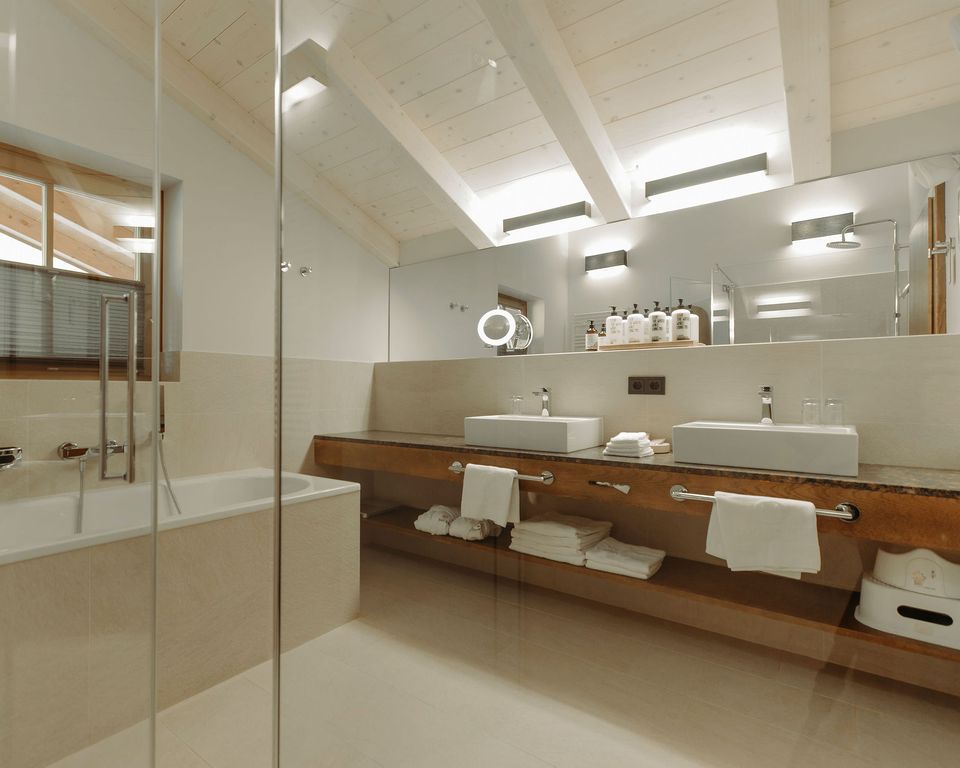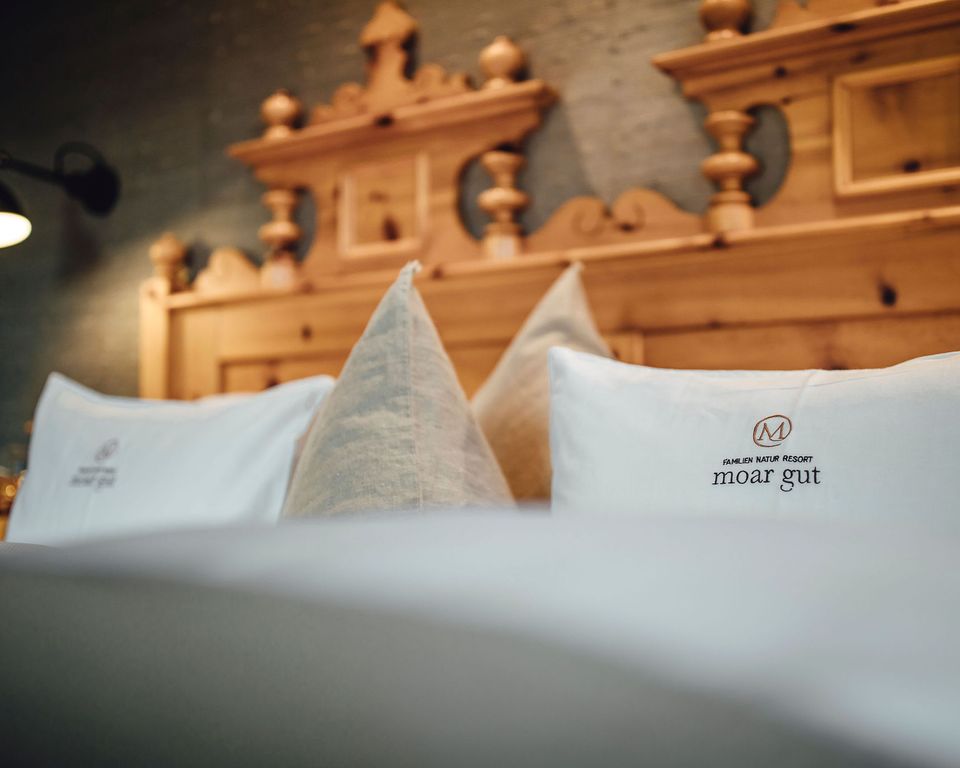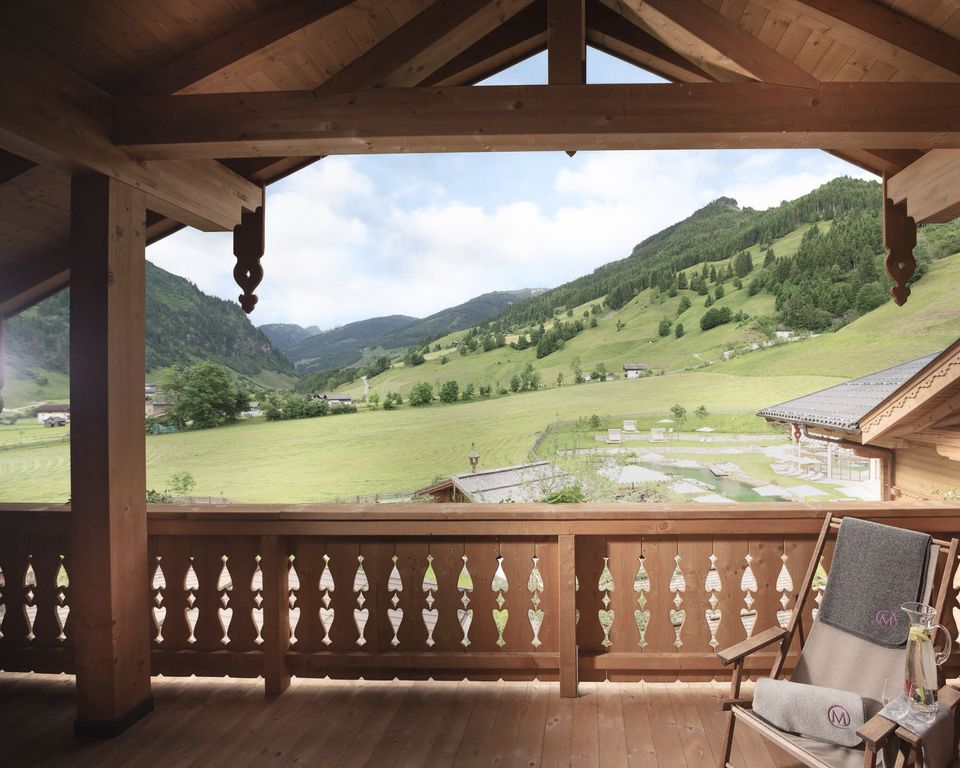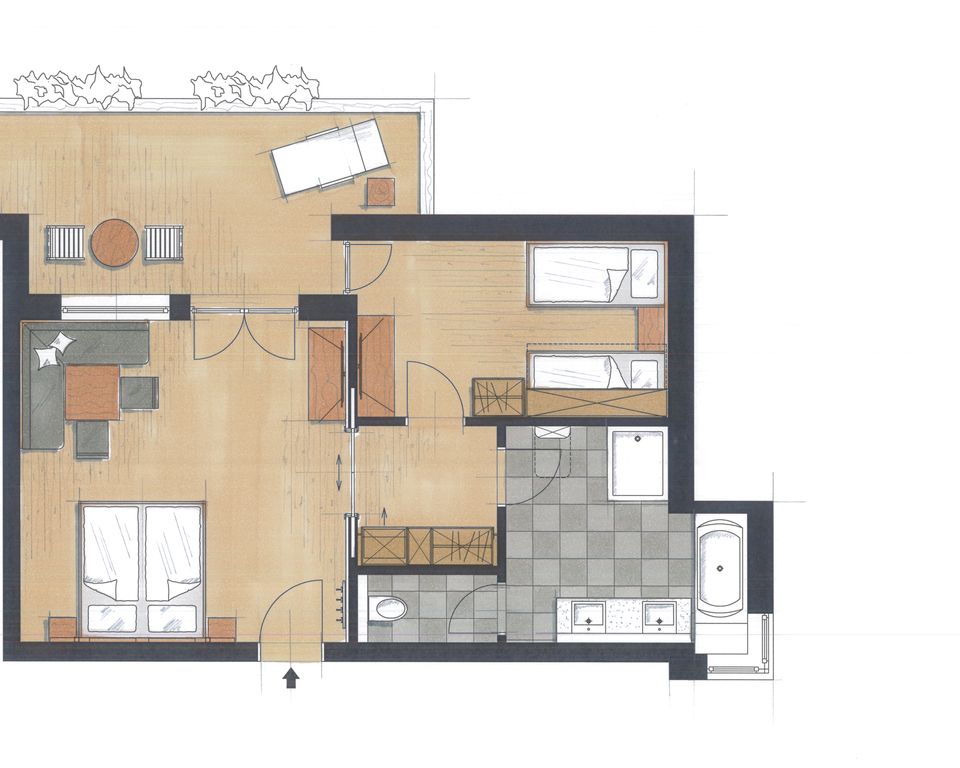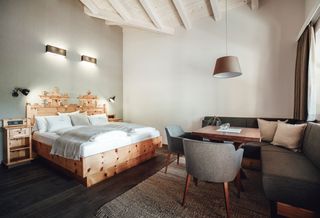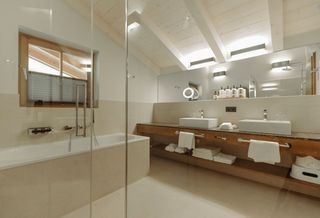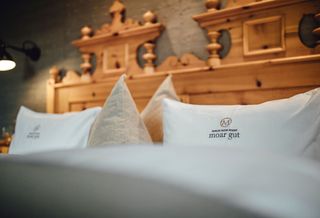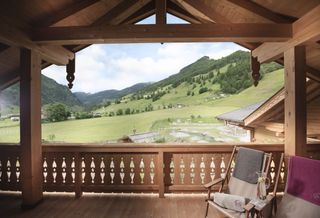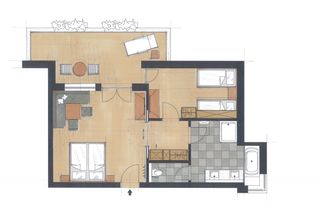 > suite with big south loggia and breathtaking view look at the nature>
the different nature materials and the
fragant Swiss pine are giving the suite a sense of well-being> light flooded living and sleeping room>
cosy children´s room with two single beds
and a foldaway bunk bed>
spacious bathroom with double washing basin, bathtube, shower and separate WC
Culinary
We offer diverse culinary highlights as part of our gourmet full-board:
Abundant breakfast buffet with numerous regional delicacies
At lunchtime two main dishes are served at the table, additional we offer a buffet of soups, salads and fresh fruits
cake buffet with homemade pastries, cakes and strudels
Evenings: 6-course gourmet menu of choice. From Austrian classics to vegetarian and vegan dishes, salad bowls and cheese buffet
Lunch & dinner: balanced children's buffet
Supervised children's meal at lunch & dinner
Daily ice cream bar with various toppings
All day: non-alcoholic beverage fountain
Tea, coffee & hot chocolate until 5:00 pm
Mountain spring water from all the taps in the hotel
Hipp organic baby buffet (jars, porridge, and formula)
Baby food prepared fresh daily
Child care
Babies and toddlers: from 30 days old to 24 months, daily from 9:00 am to 9:00 pm (registration required by the evening before)
Child-care from 2 to 14 years with diverse, nature-related programs and excursions, daily from 9:00 am to 9:00 pm
Baby and toddler carefree equipment and furnishing
Adopt-an-animal program with a family-certificate at the end of your holiday
Teens program 
climbing and boulder room
Bright fitness studio with modern Techno-Gym equipment and separate gymnastics room
Attractive activity program with Hatha Yoga, Functional training, fascia training, back training, and more
panorama swimming area with separate baby and toddler area, indoor pool with wave slide, 25 metres infinity pool, natural bathing lake
NATURE Spa with outdoor whirlpool, 25 metres infinity pool, textile free and textile area with tea lounge and various stylish chill out rooms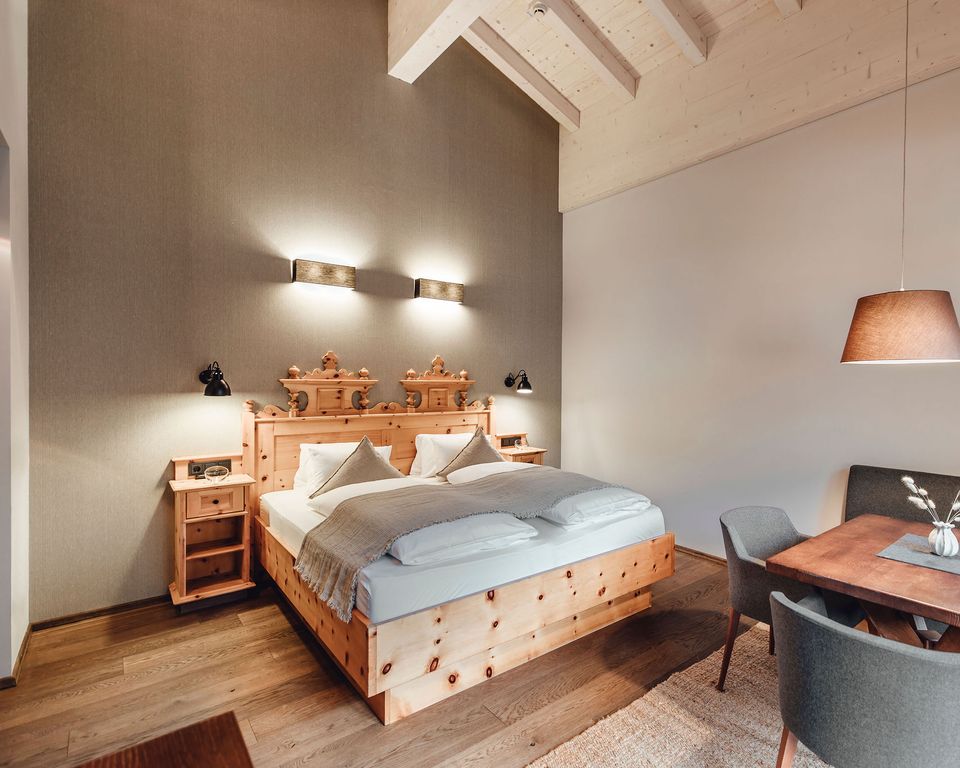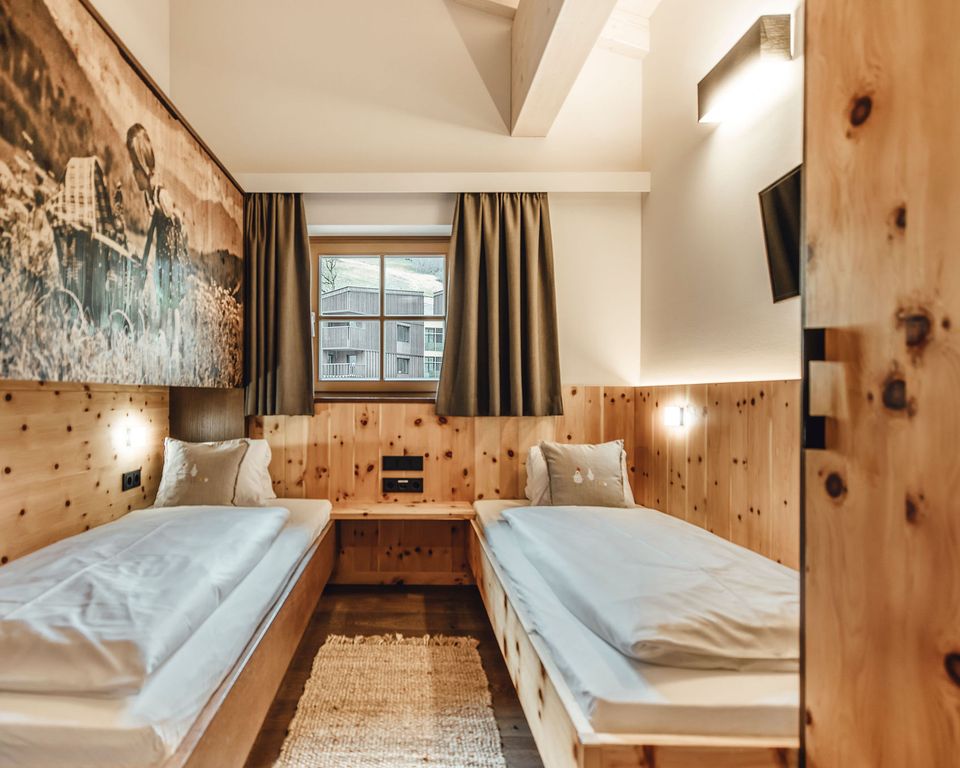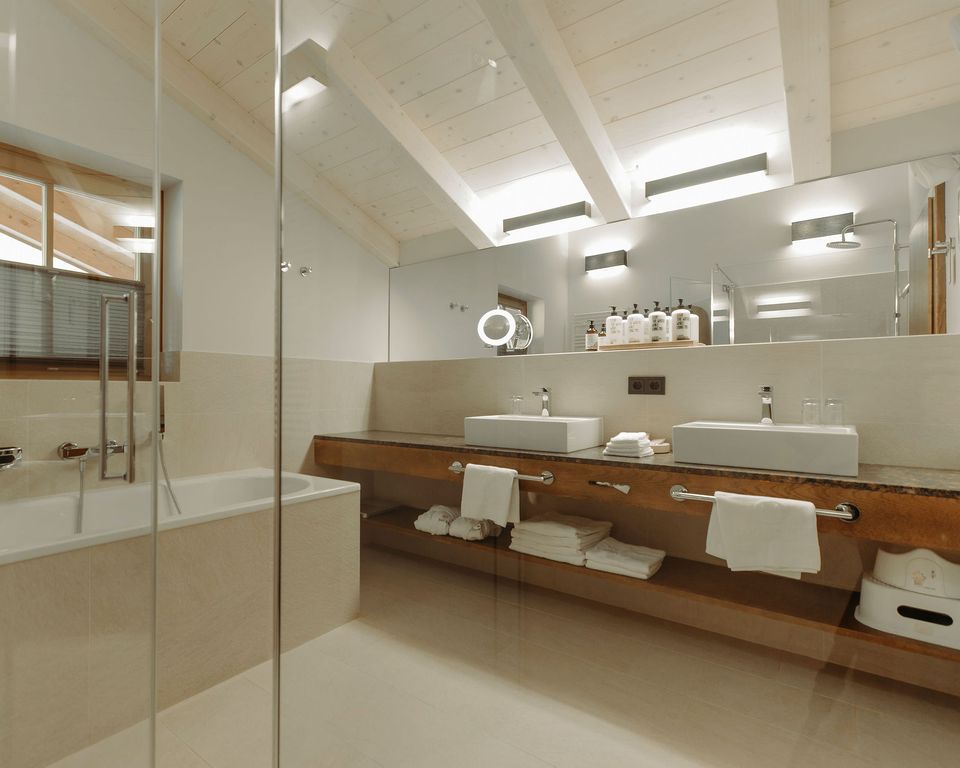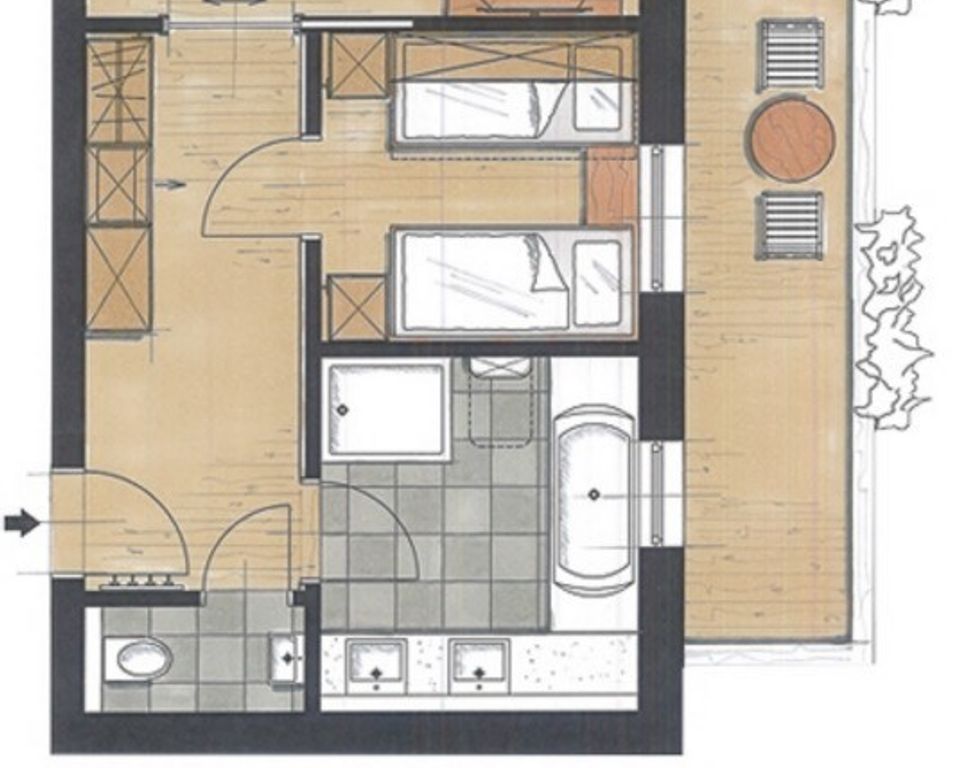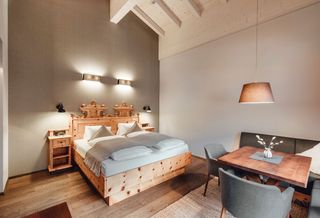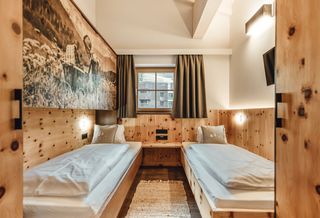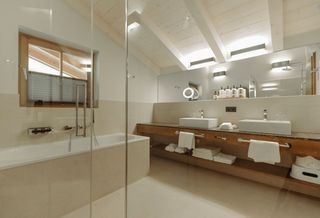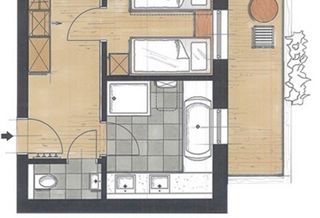 > the high rooms and the fragrance of the Swiss pine invites you to sta>
own
anteroom>
cosy living and
sleeping room with sitting area and west balcony> homelike children´s room with two single beds and a foldaway bunk bed>
spacious bathroom with double washing basing, bathtube, shower and separate WC
Culinary
We offer diverse culinary highlights as part of our gourmet full-board:
Abundant breakfast buffet with numerous regional delicacies
At lunchtime two main dishes are served at the table, additional we offer a buffet of soups, salads and fresh fruits
cake buffet with homemade pastries, cakes and strudels
Evenings: 6-course gourmet menu of choice. From Austrian classics to vegetarian and vegan dishes, salad bowls and cheese buffet
Lunch & dinner: balanced children's buffet
Supervised children's meal at lunch & dinner
Daily ice cream bar with various toppings
All day: non-alcoholic beverage fountain
Tea, coffee & hot chocolate until 5:00 pm
Mountain spring water from all the taps in the hotel
Hipp organic baby buffet (jars, porridge, and formula)
Baby food prepared fresh daily
Child care
Babies and toddlers: from 30 days old to 24 months, daily from 9:00 am to 9:00 pm (registration required by the evening before)
Child-care from 2 to 14 years with diverse, nature-related programs and excursions, daily from 9:00 am to 9:00 pm
Baby and toddler carefree equipment and furnishing
Adopt-an-animal program with a family-certificate at the end of your holiday
Teens program 
climbing and boulder room
Bright fitness studio with modern Techno-Gym equipment and separate gymnastics room
Attractive activity program with Hatha Yoga, Functional training, fascia training, back training, and more
panorama swimming area with separate baby and toddler area, indoor pool with wave slide, 25 metres infinity pool, natural bathing lake
NATURE Spa with outdoor whirlpool, 25 metres infinity pool, textile free and textile area with tea lounge and various stylish chill out rooms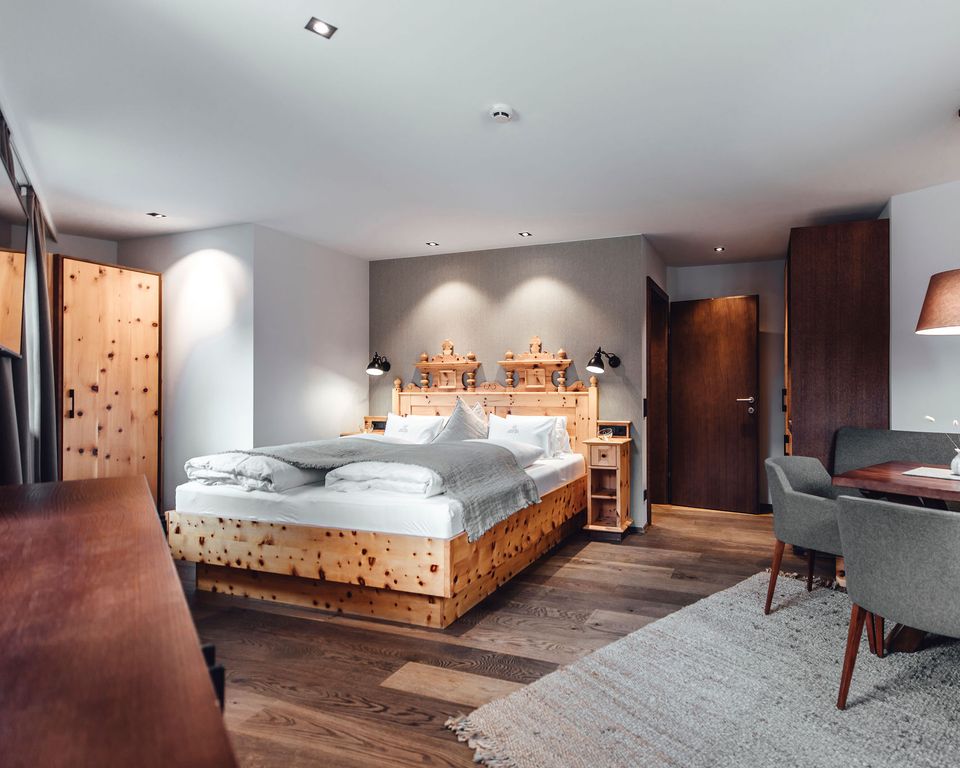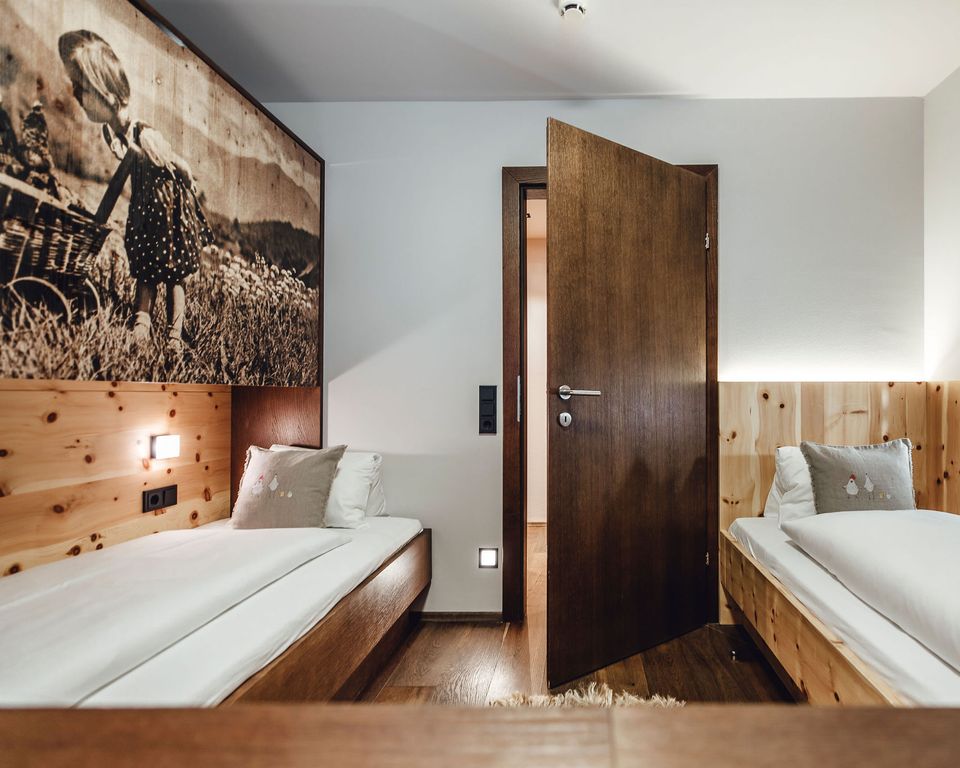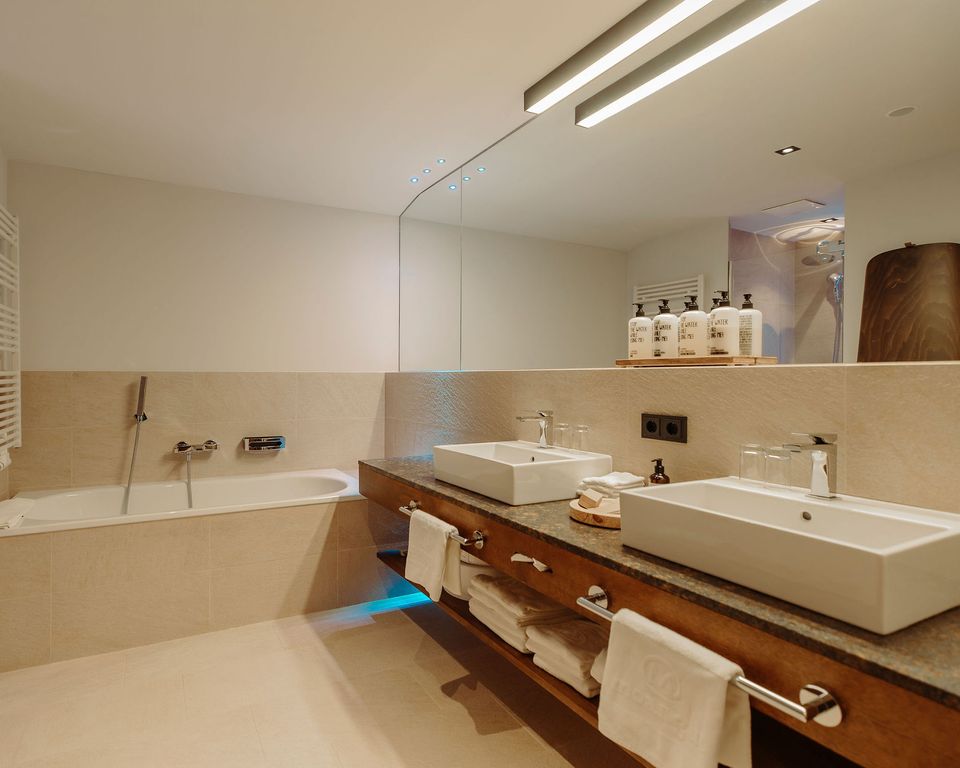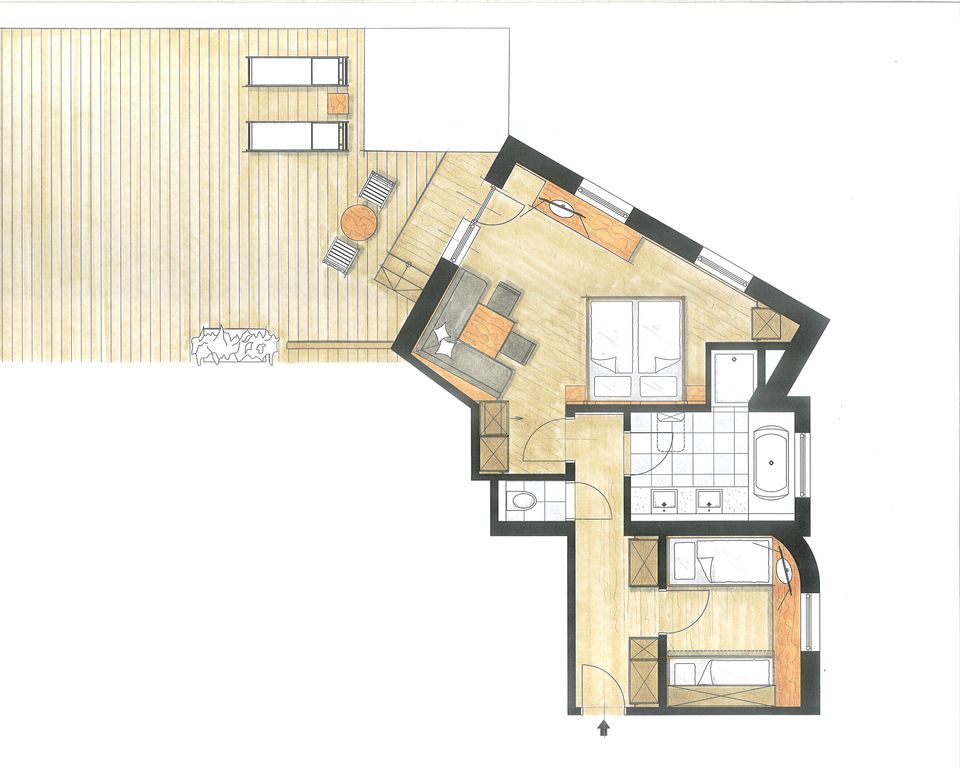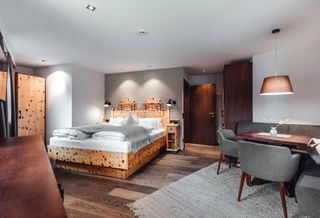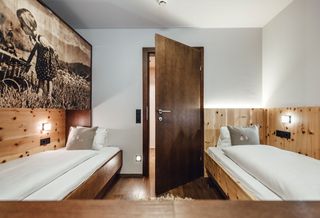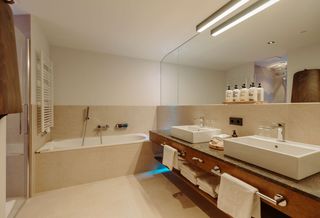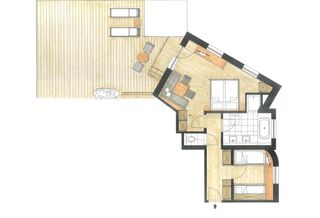 > subtle design ideas in alpine style confer the suite that certain something>equipped with regional materials like Swiss pine & loden> big living and sleeping room with sitting area and north - west balcony>
separate children´s room with two single beds and a foldaway bunk bed and
limited view>
spacious bathroom with double washing basin, bathtube, shower and separate WC
Culinary
We offer diverse culinary highlights as part of our gourmet full-board:
Abundant breakfast buffet with numerous regional delicacies
At lunchtime two main dishes are served at the table, additional we offer a buffet of soups, salads and fresh fruits
cake buffet with homemade pastries, cakes and strudels
Evenings: 6-course gourmet menu of choice. From Austrian classics to vegetarian and vegan dishes, salad bowls and cheese buffet
Lunch & dinner: balanced children's buffet
Supervised children's meal at lunch & dinner
Daily ice cream bar with various toppings
All day: non-alcoholic beverage fountain
Tea, coffee & hot chocolate until 5:00 pm
Mountain spring water from all the taps in the hotel
Hipp organic baby buffet (jars, porridge, and formula)
Baby food prepared fresh daily
Child care
Babies and toddlers: from 30 days old to 24 months, daily from 9:00 am to 9:00 pm (registration required by the evening before)
Child-care from 2 to 14 years with diverse, nature-related programs and excursions, daily from 9:00 am to 9:00 pm
Baby and toddler carefree equipment and furnishing
Adopt-an-animal program with a family-certificate at the end of your holiday
Teens program 
climbing and boulder room
Bright fitness studio with modern Techno-Gym equipment and separate gymnastics room
Attractive activity program with Hatha Yoga, Functional training, fascia training, back training, and more
panorama swimming area with separate baby and toddler area, indoor pool with wave slide, 25 metres infinity pool, natural bathing lake
NATURE Spa with outdoor whirlpool, 25 metres infinity pool, textile free and textile area with tea lounge and various stylish chill out rooms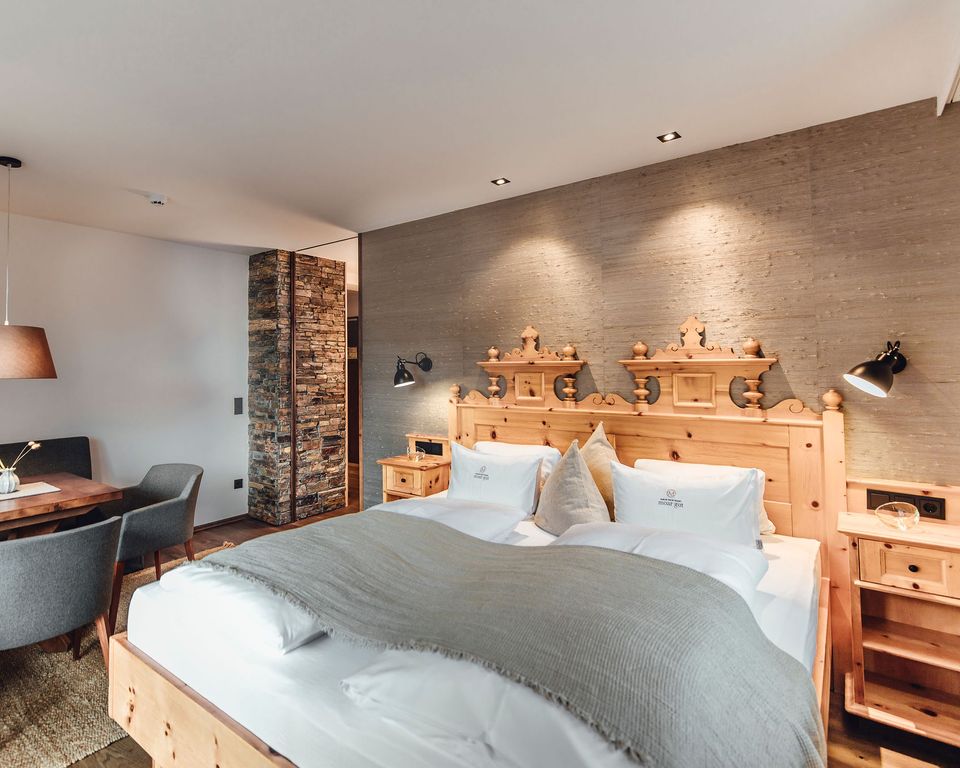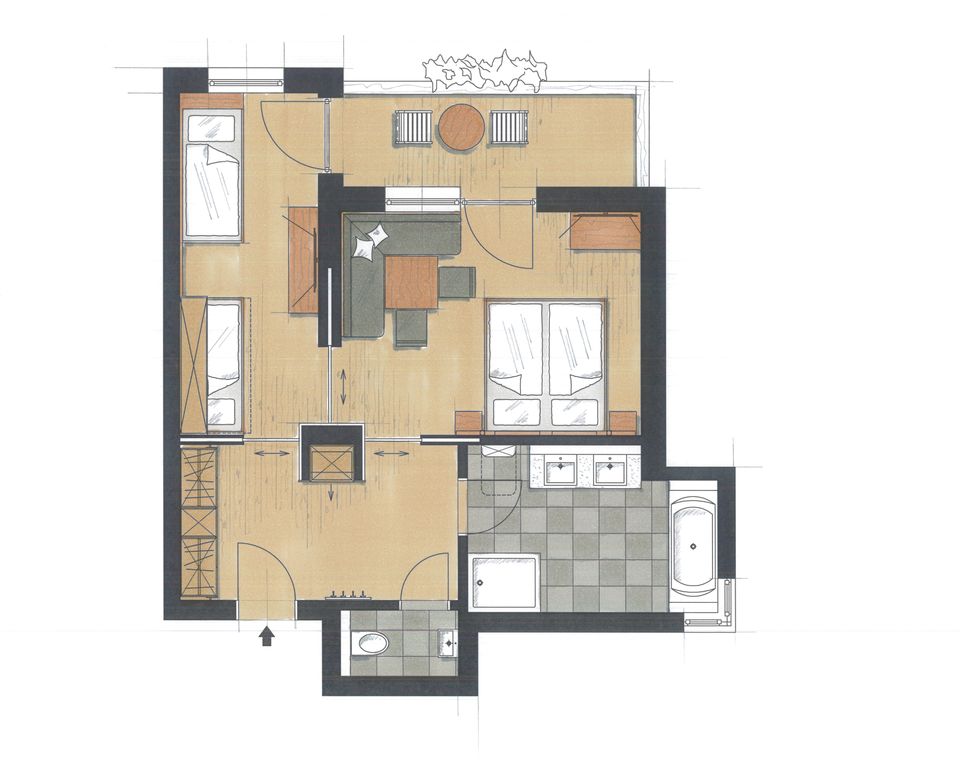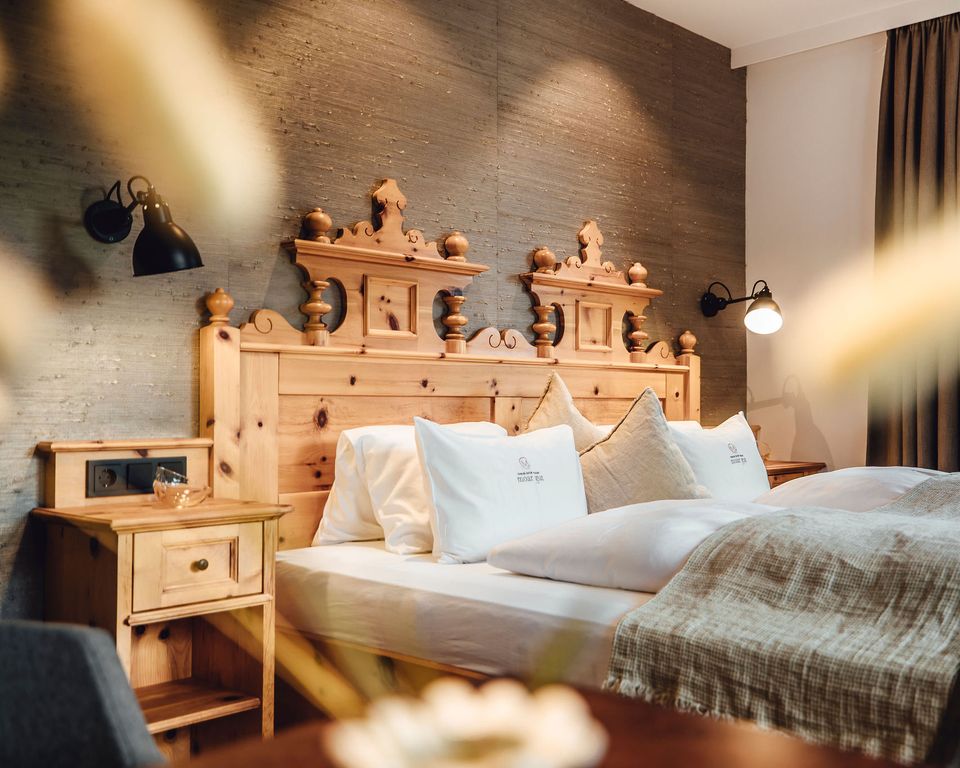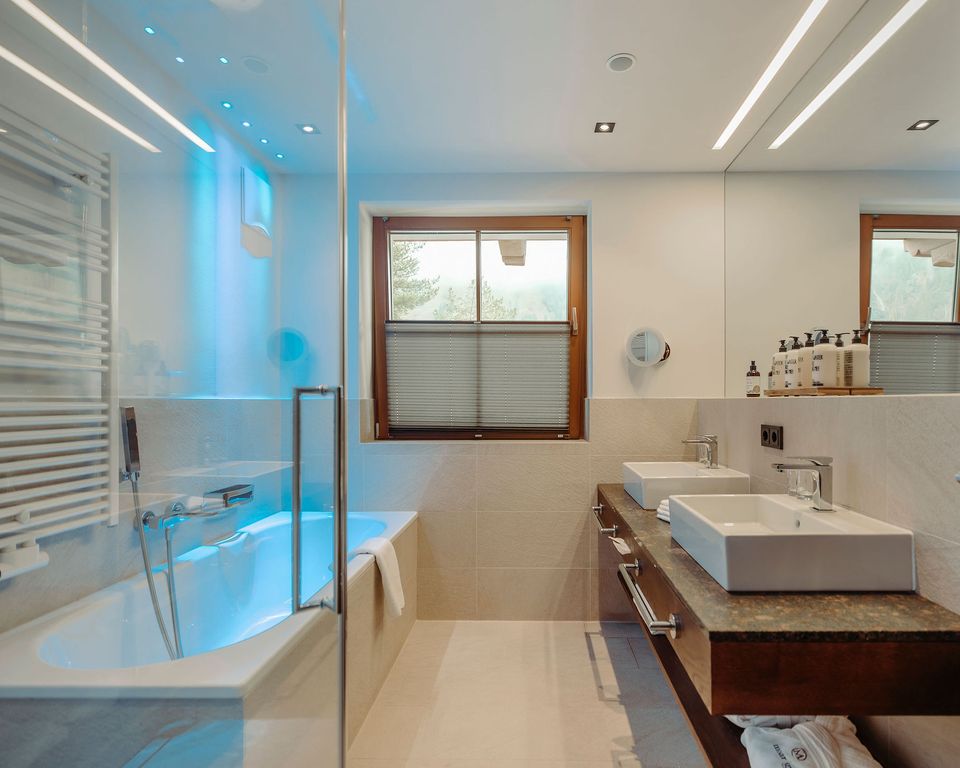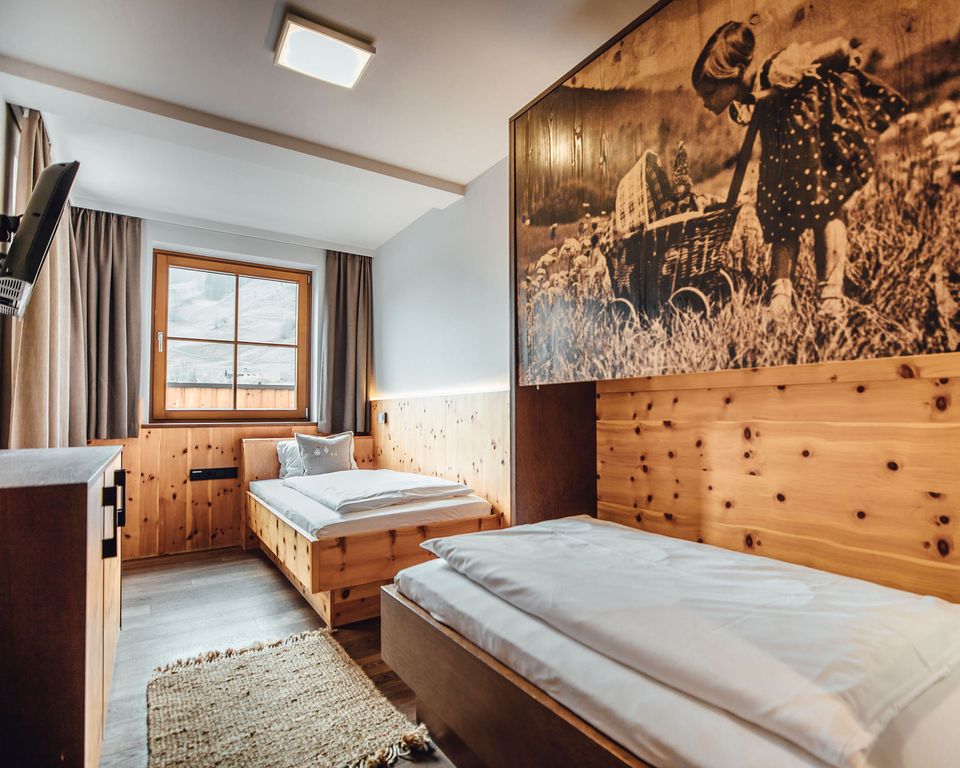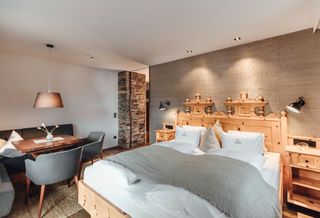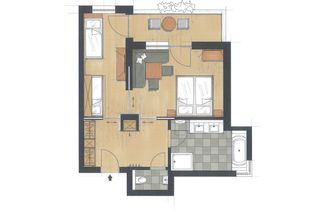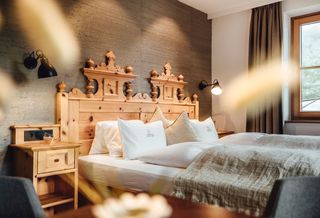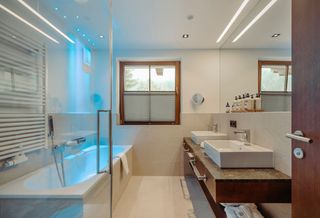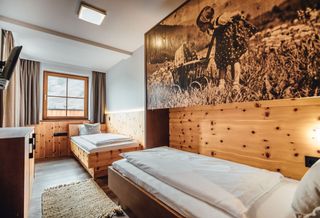 > the high quality nature materials and the fragance of the Swiss pine are giving the suite a dreamlike sense of well - being> spacious anteroom> living and sleeping room with sitting area and south balcony and a wonderful nature view>
separate children´s room with two single beds and a foldaway bunk bed
>
bathroom with double washing basin, bathtube, shower and separate WC
Culinary
We offer diverse culinary highlights as part of our gourmet full-board:
Abundant breakfast buffet with numerous regional delicacies
At lunchtime two main dishes are served at the table, additional we offer a buffet of soups, salads and fresh fruits
cake buffet with homemade pastries, cakes and strudels
Evenings: 6-course gourmet menu of choice. From Austrian classics to vegetarian and vegan dishes, salad bowls and cheese buffet
Lunch & dinner: balanced children's buffet
Supervised children's meal at lunch & dinner
Daily ice cream bar with various toppings
All day: non-alcoholic beverage fountain
Tea, coffee & hot chocolate until 5:00 pm
Mountain spring water from all the taps in the hotel
Hipp organic baby buffet (jars, porridge, and formula)
Baby food prepared fresh daily
Child care
Babies and toddlers: from 30 days old to 24 months, daily from 9:00 am to 9:00 pm (registration required by the evening before)
Child-care from 2 to 14 years with diverse, nature-related programs and excursions, daily from 9:00 am to 9:00 pm
Baby and toddler carefree equipment and furnishing
Adopt-an-animal program with a family-certificate at the end of your holiday
Teens program 
climbing and boulder room
Bright fitness studio with modern Techno-Gym equipment and separate gymnastics room
Attractive activity program with Hatha Yoga, Functional training, fascia training, back training, and more
panorama swimming area with separate baby and toddler area, indoor pool with wave slide, 25 metres infinity pool, natural bathing lake
NATURE Spa with outdoor whirlpool, 25 metres infinity pool, textile free and textile area with tea lounge and various stylish chill out rooms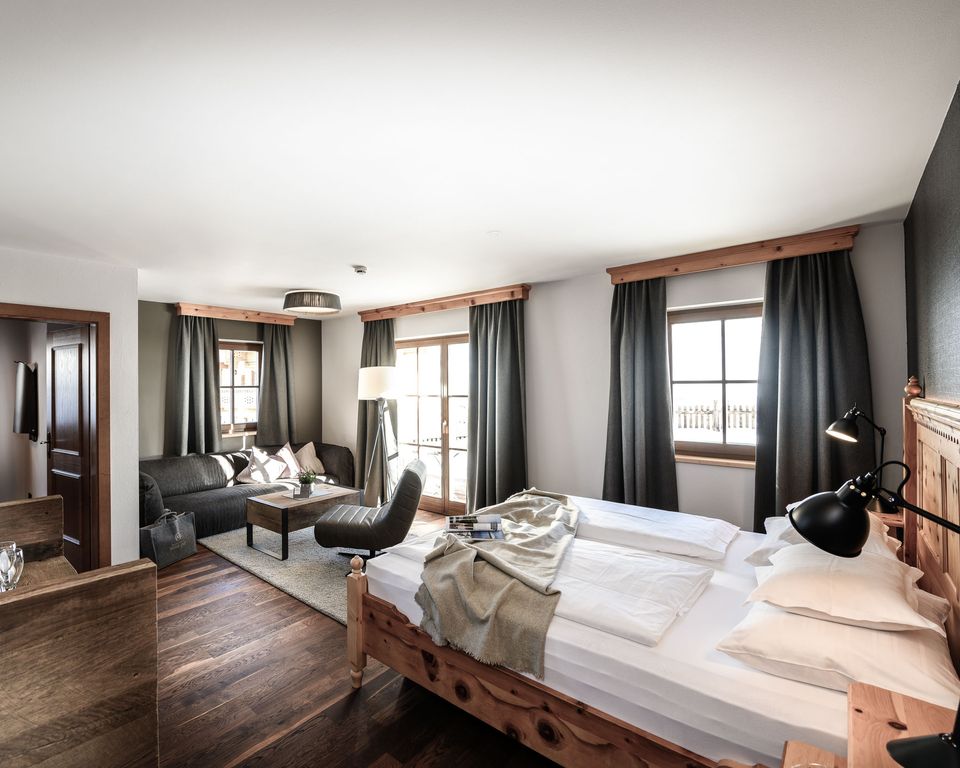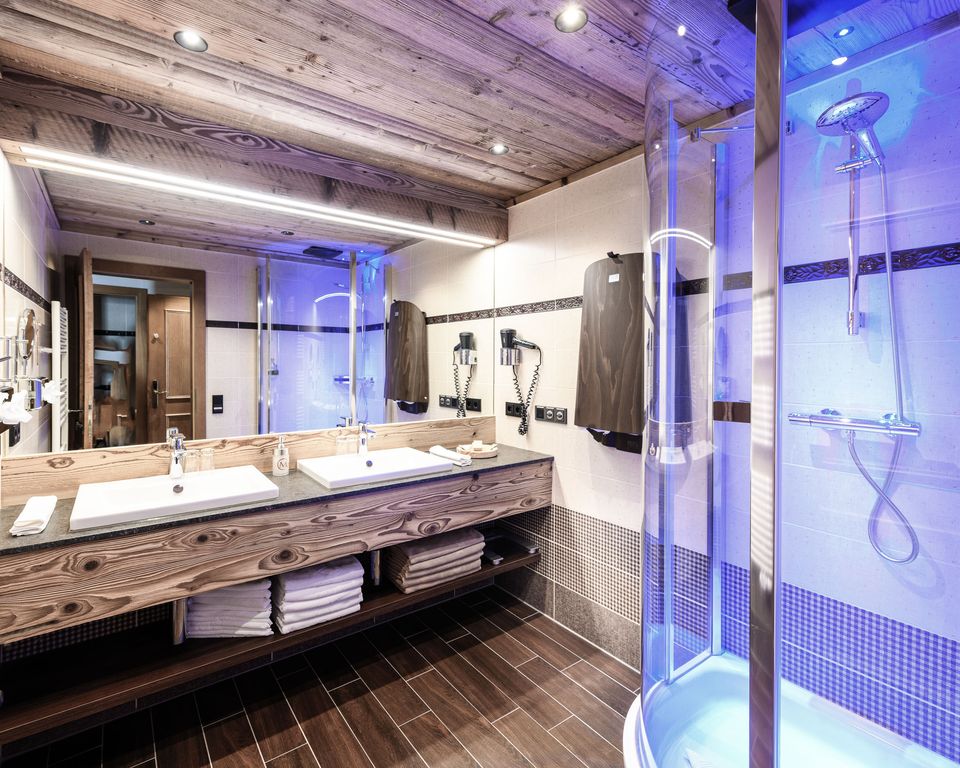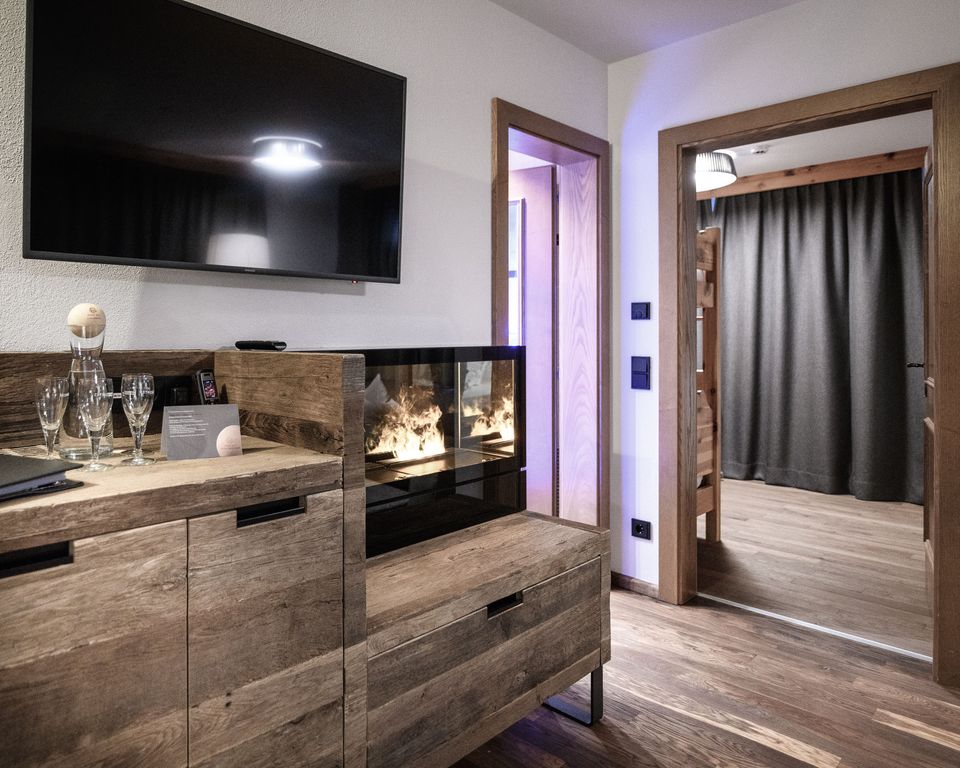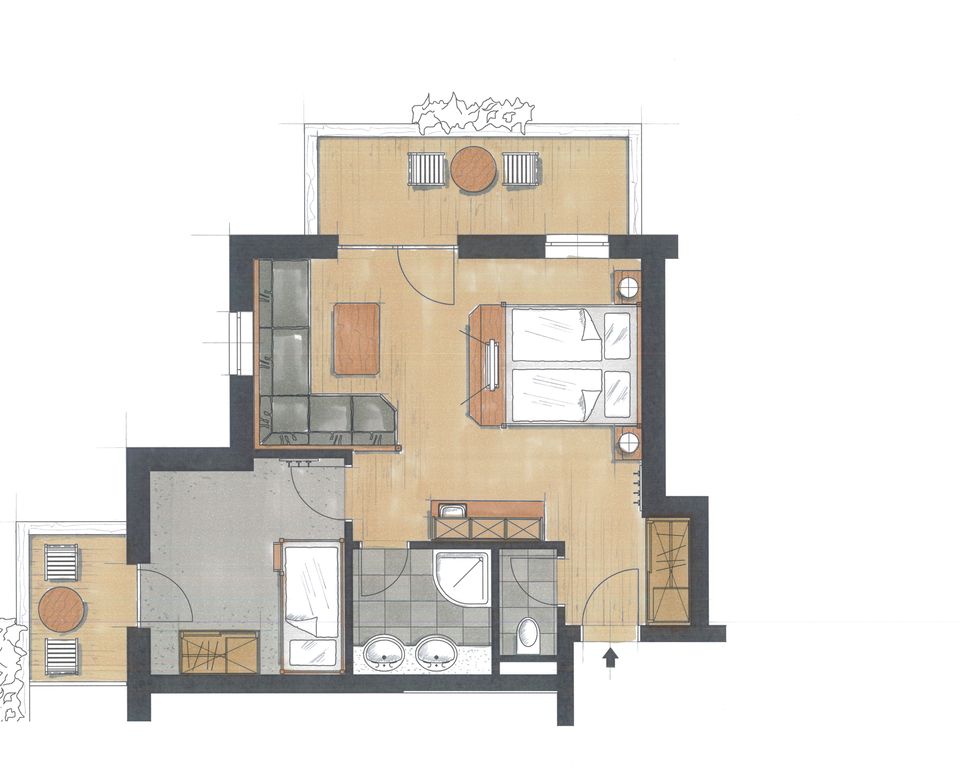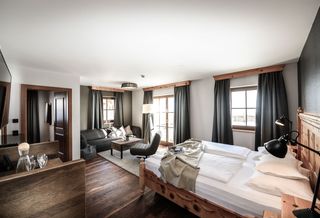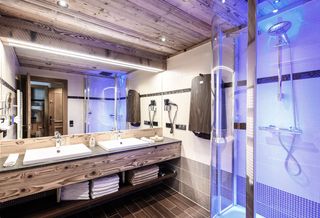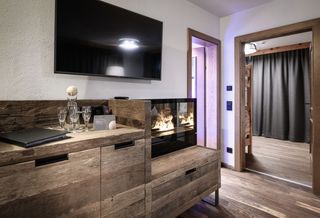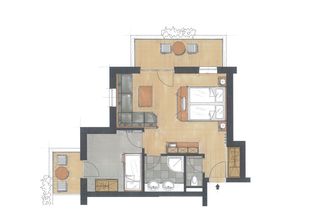 > valuable materials like Swiss pine and subtle design ideas for first class living dreams> cosy, light flooded living and sleeping room with double bed> the effect fire gives the suite a warm glow ambience>separate children´s room with bunk bed> bathroom with double washing basin and shower, separate WC>
terrace or balcony to stay
Culinary
We offer diverse culinary highlights as part of our gourmet full-board:
Abundant breakfast buffet with numerous regional delicacies
At lunchtime two main dishes are served at the table, additional we offer a buffet of soups, salads and fresh fruits
cake buffet with homemade pastries, cakes and strudels
Evenings: 6-course gourmet menu of choice. From Austrian classics to vegetarian and vegan dishes, salad bowls and cheese buffet
Lunch & dinner: balanced children's buffet
Supervised children's meal at lunch & dinner
Daily ice cream bar with various toppings
All day: non-alcoholic beverage fountain
Tea, coffee & hot chocolate until 5:00 pm
Mountain spring water from all the taps in the hotel
Hipp organic baby buffet (jars, porridge, and formula)
Baby food prepared fresh daily
Child care
Babies and toddlers: from 30 days old to 24 months, daily from 9:00 am to 9:00 pm (registration required by the evening before)
Child-care from 2 to 14 years with diverse, nature-related programs and excursions, daily from 9:00 am to 9:00 pm
Baby and toddler carefree equipment and furnishing
Adopt-an-animal program with a family-certificate at the end of your holiday
Teens program 
climbing and boulder room
Bright fitness studio with modern Techno-Gym equipment and separate gymnastics room
Attractive activity program with Hatha Yoga, Functional training, fascia training, back training, and more
panorama swimming area with separate baby and toddler area, indoor pool with wave slide, 25 metres infinity pool, natural bathing lake
NATURE Spa with outdoor whirlpool, 25 metres infinity pool, textile free and textile area with tea lounge and various stylish chill out rooms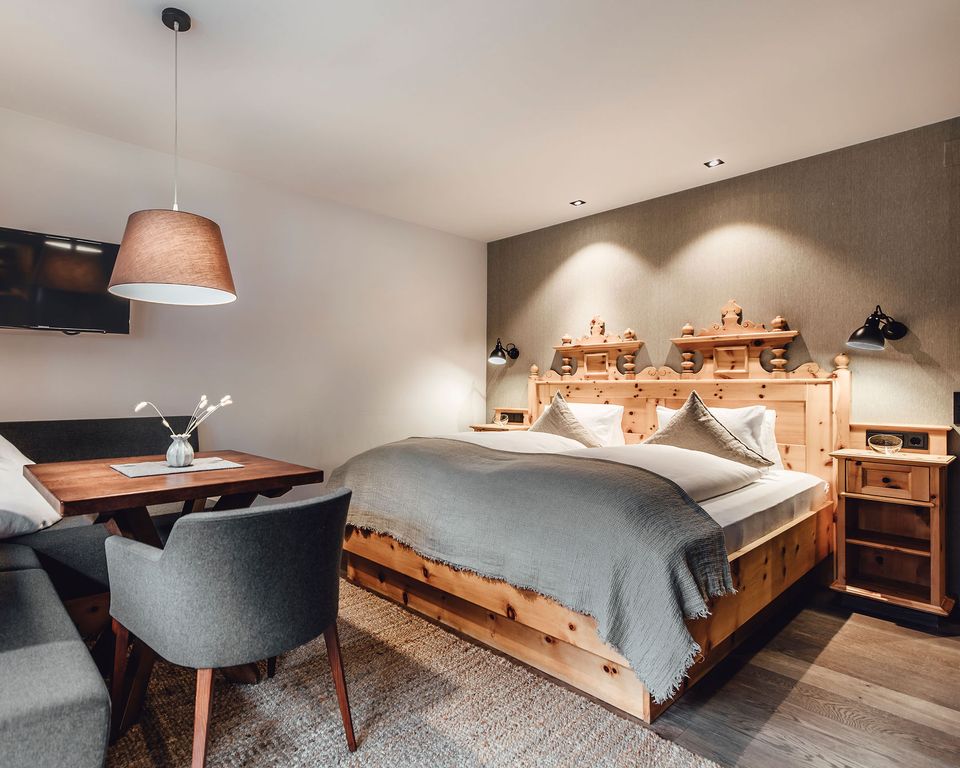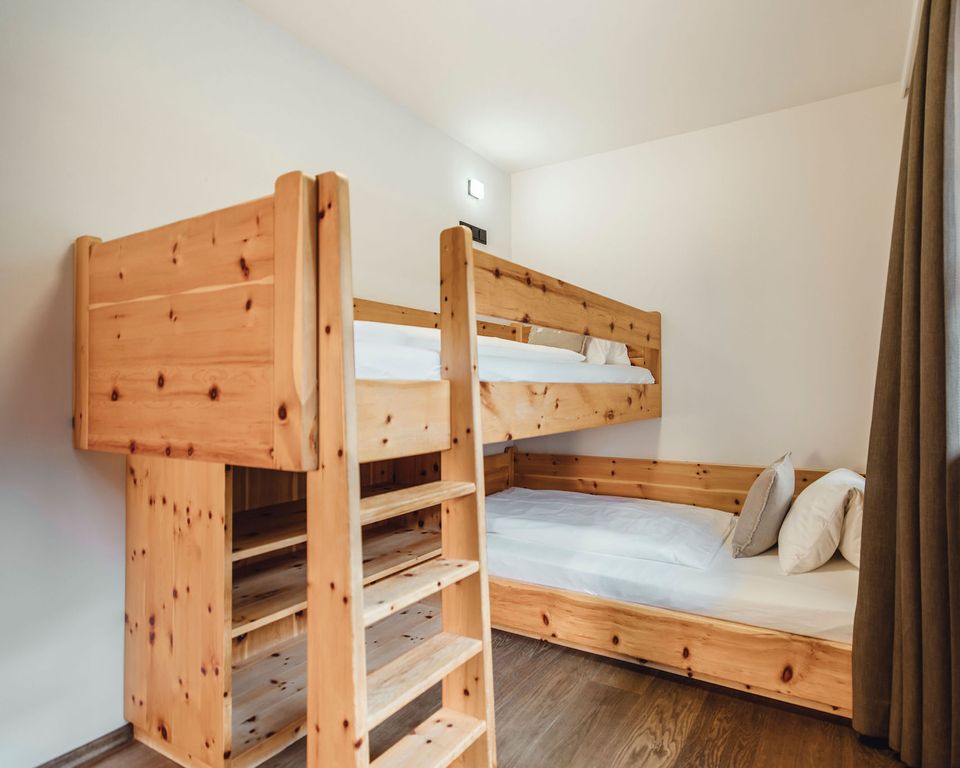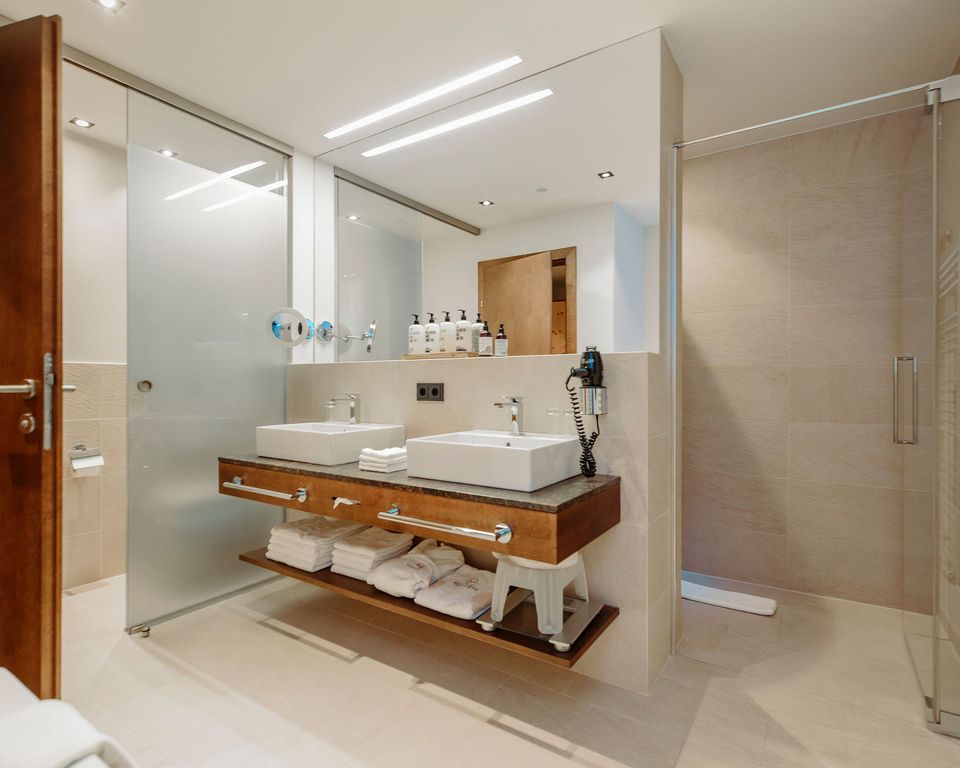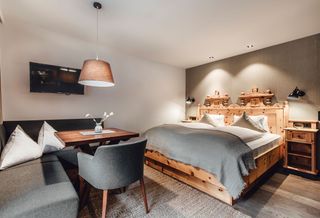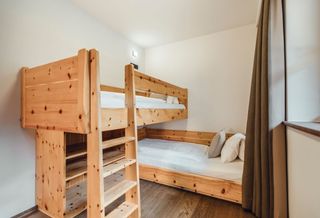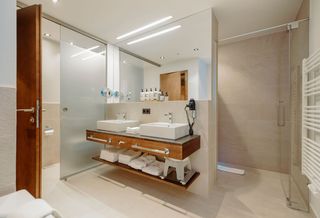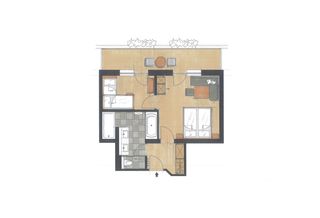 >
the noble f
urnishing with different natural materials and the fragance of Swiss pine offer a dreamlike feeling of living> separate anteromm>
living
and  sleeping area with sitting area made out of high quality loden>
west balcony with wonderful view to
the nature> separate children´s room with bunk bed>
bathroom with double washing basin, bathtube and shower
, separates WC
Culinary
We offer diverse culinary highlights as part of our gourmet full-board:
Abundant breakfast buffet with numerous regional delicacies
At lunchtime two main dishes are served at the table, additional we offer a buffet of soups, salads and fresh fruits
cake buffet with homemade pastries, cakes and strudels
Evenings: 6-course gourmet menu of choice. From Austrian classics to vegetarian and vegan dishes, salad bowls and cheese buffet
Lunch & dinner: balanced children's buffet
Supervised children's meal at lunch & dinner
Daily ice cream bar with various toppings
All day: non-alcoholic beverage fountain
Tea, coffee & hot chocolate until 5:00 pm
Mountain spring water from all the taps in the hotel
Hipp organic baby buffet (jars, porridge, and formula)
Baby food prepared fresh daily
Child care
Babies and toddlers: from 30 days old to 24 months, daily from 9:00 am to 9:00 pm (registration required by the evening before)
Child-care from 2 to 14 years with diverse, nature-related programs and excursions, daily from 9:00 am to 9:00 pm
Baby and toddler carefree equipment and furnishing
Adopt-an-animal program with a family-certificate at the end of your holiday
Teens program 
climbing and boulder room
Bright fitness studio with modern Techno-Gym equipment and separate gymnastics room
Attractive activity program with Hatha Yoga, Functional training, fascia training, back training, and more
panorama swimming area with separate baby and toddler area, indoor pool with wave slide, 25 metres infinity pool, natural bathing lake
NATURE Spa with outdoor whirlpool, 25 metres infinity pool, textile free and textile area with tea lounge and various stylish chill out rooms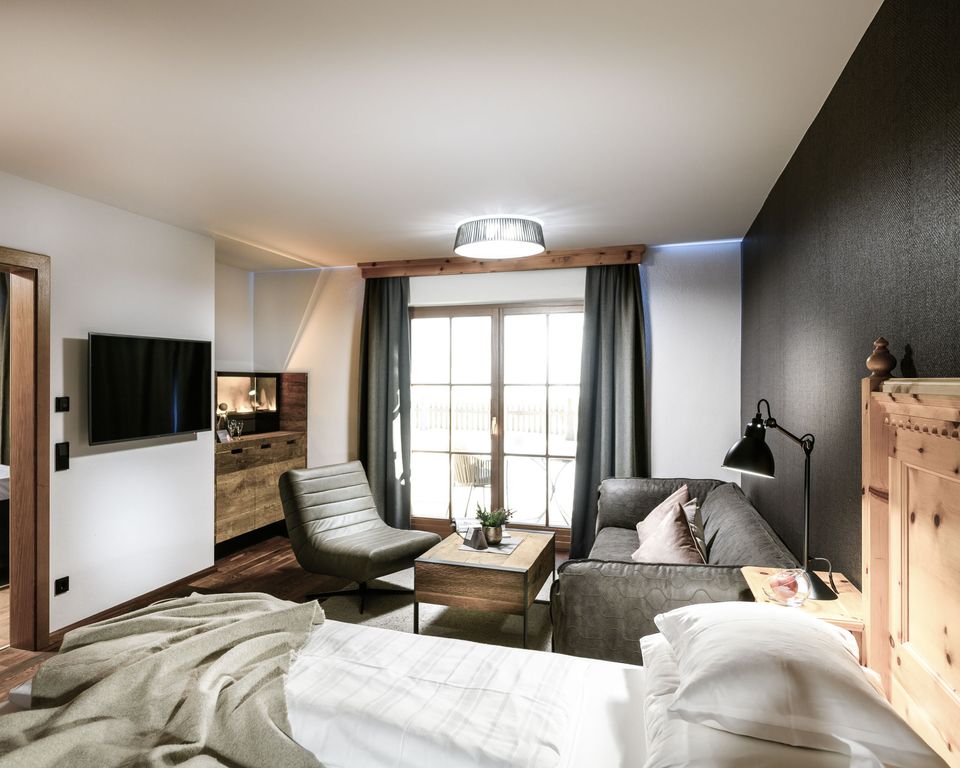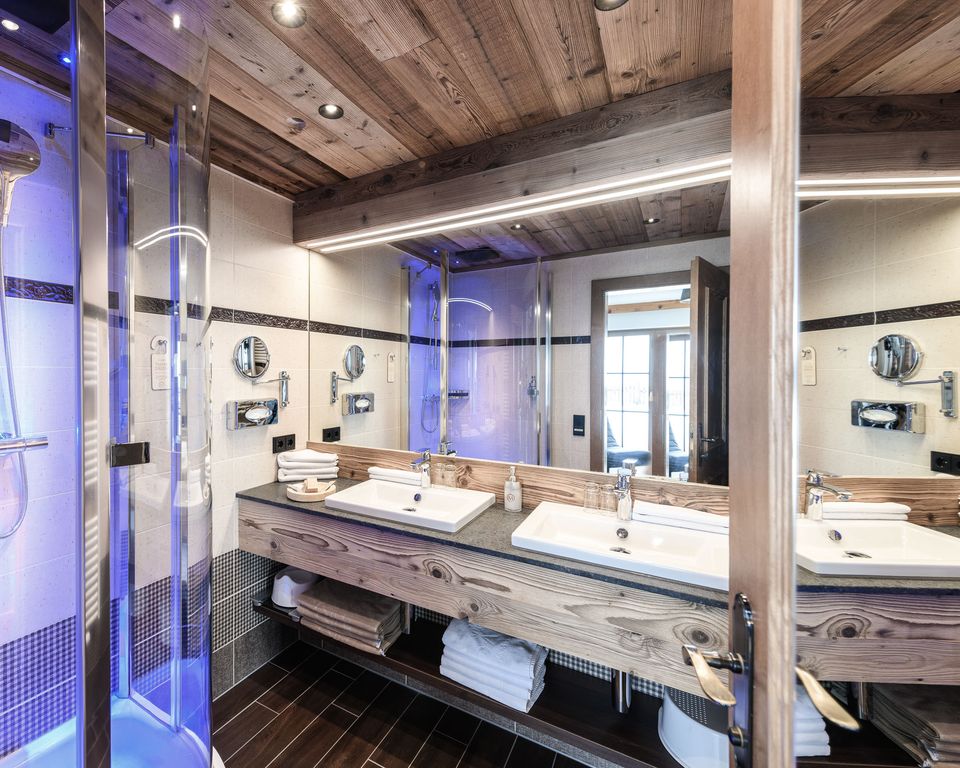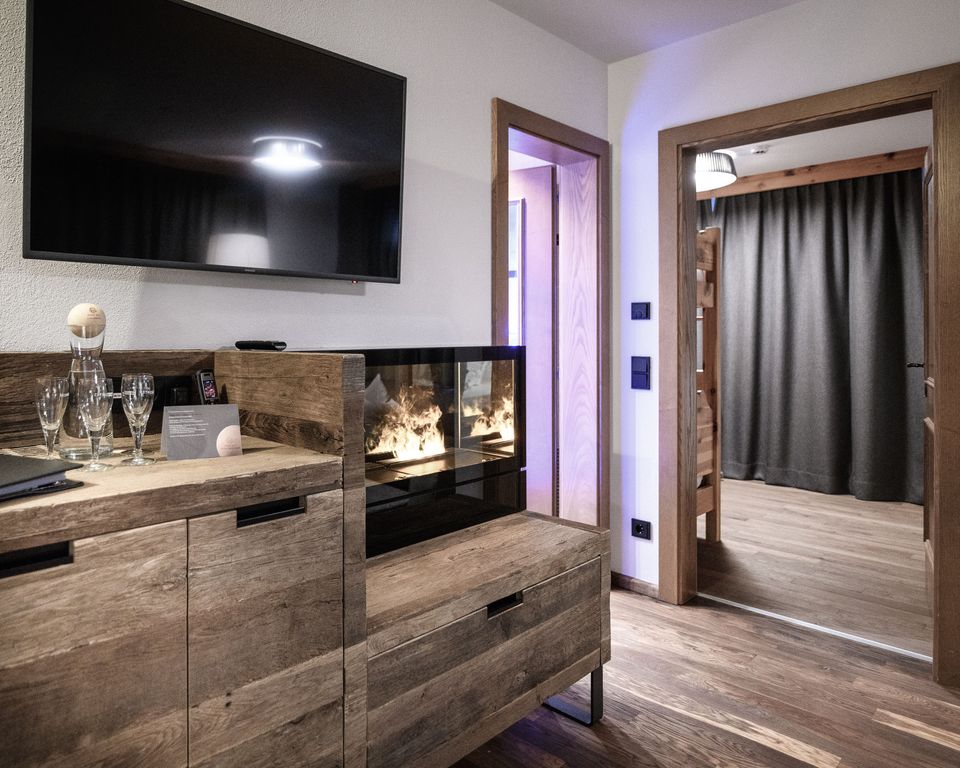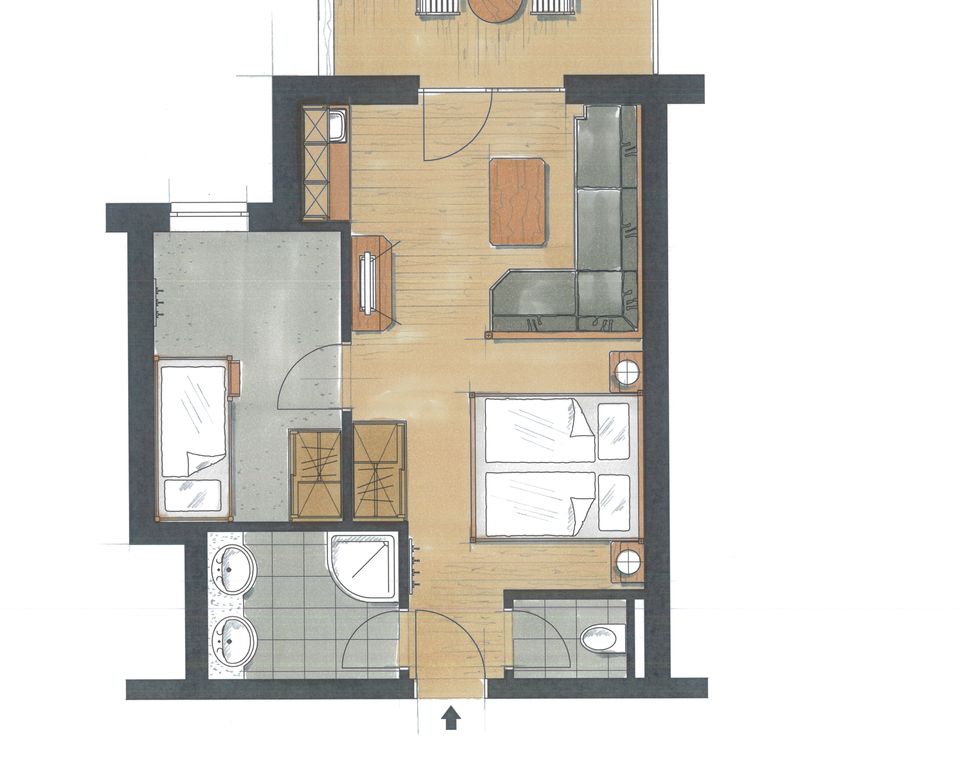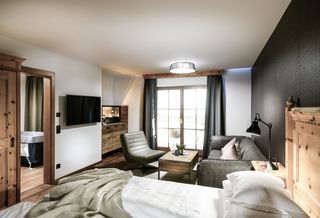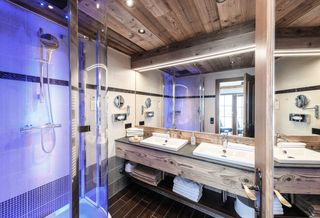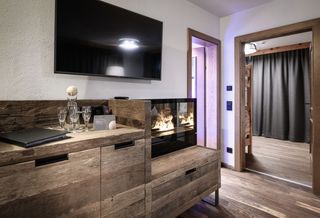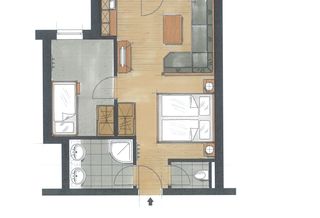 > regional materials like Swiss pine are giving the suite a sense of well - being> cosy living room with double bed>
effect fire for
cuddly family time> homelike children´s room with bunk bed> bathroom with double washing basin and shower, separate WC>
terrace or balcony to relax
Culinary
We offer diverse culinary highlights as part of our gourmet full-board:
Abundant breakfast buffet with numerous regional delicacies
At lunchtime two main dishes are served at the table, additional we offer a buffet of soups, salads and fresh fruits
cake buffet with homemade pastries, cakes and strudels
Evenings: 6-course gourmet menu of choice. From Austrian classics to vegetarian and vegan dishes, salad bowls and cheese buffet
Lunch & dinner: balanced children's buffet
Supervised children's meal at lunch & dinner
Daily ice cream bar with various toppings
All day: non-alcoholic beverage fountain
Tea, coffee & hot chocolate until 5:00 pm
Mountain spring water from all the taps in the hotel
Hipp organic baby buffet (jars, porridge, and formula)
Baby food prepared fresh daily
Child care
Babies and toddlers: from 30 days old to 24 months, daily from 9:00 am to 9:00 pm (registration required by the evening before)
Child-care from 2 to 14 years with diverse, nature-related programs and excursions, daily from 9:00 am to 9:00 pm
Baby and toddler carefree equipment and furnishing
Adopt-an-animal program with a family-certificate at the end of your holiday
Teens program 
climbing and boulder room
Bright fitness studio with modern Techno-Gym equipment and separate gymnastics room
Attractive activity program with Hatha Yoga, Functional training, fascia training, back training, and more
panorama swimming area with separate baby and toddler area, indoor pool with wave slide, 25 metres infinity pool, natural bathing lake
NATURE Spa with outdoor whirlpool, 25 metres infinity pool, textile free and textile area with tea lounge and various stylish chill out rooms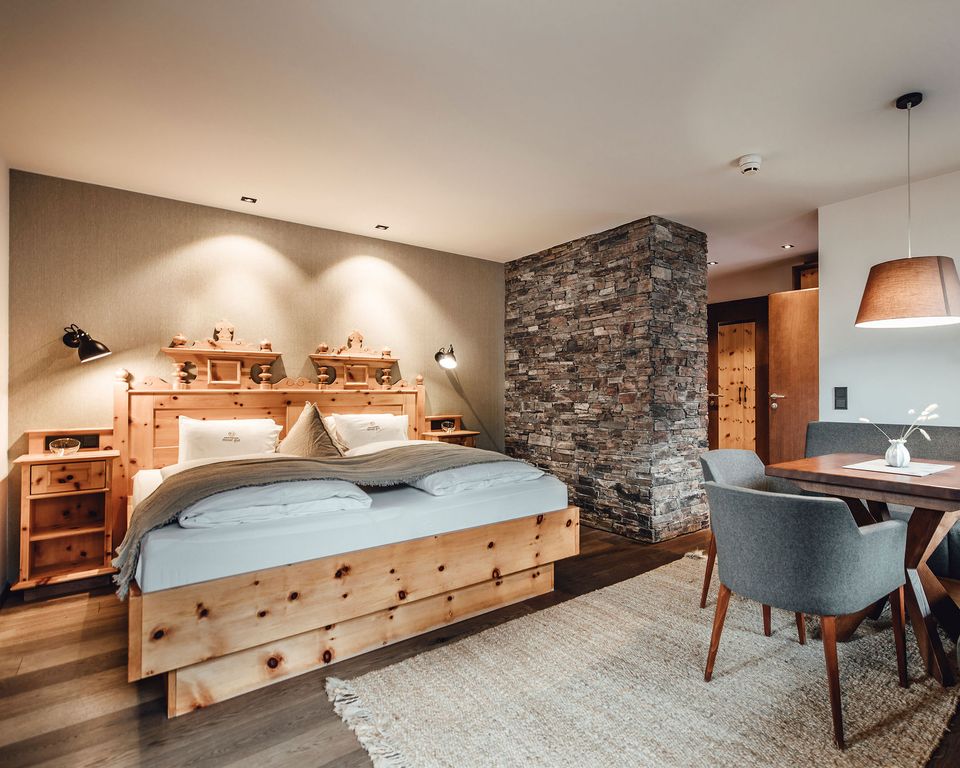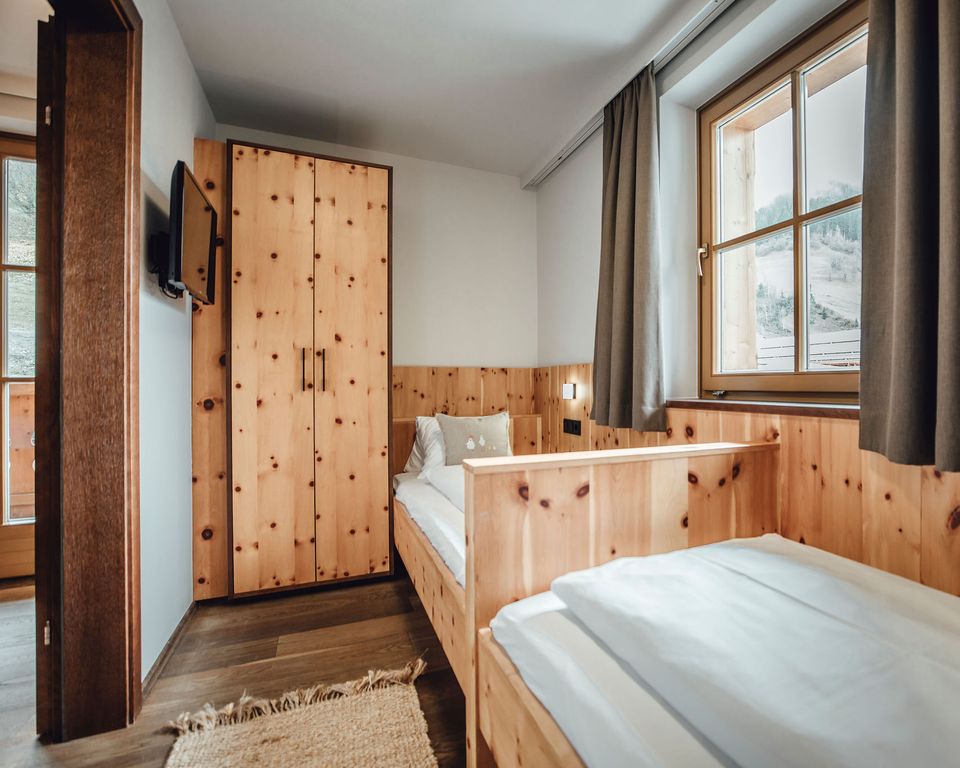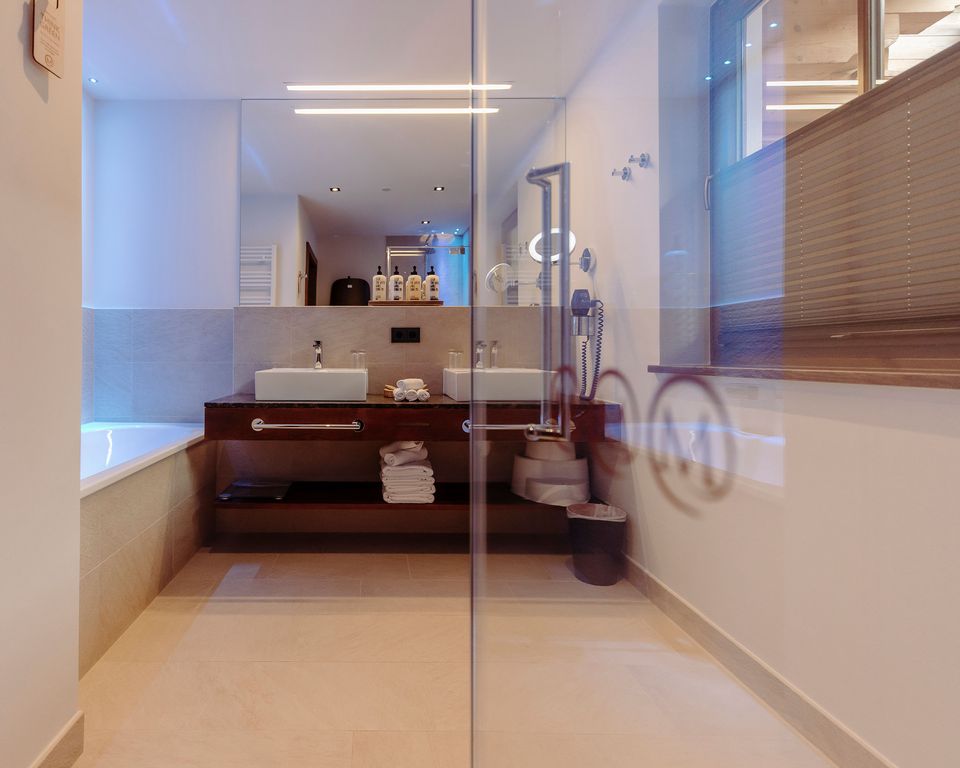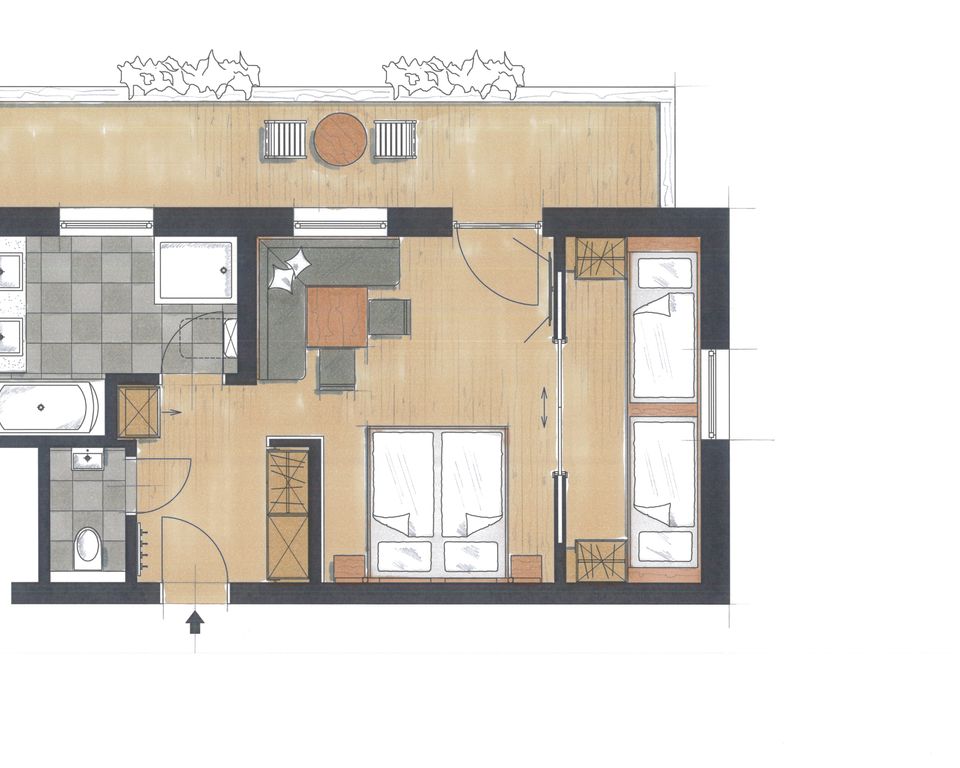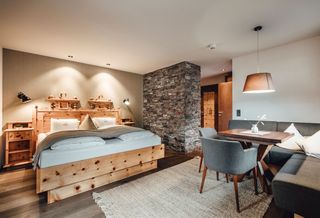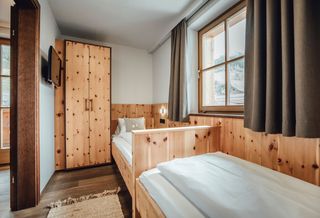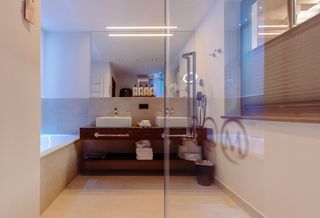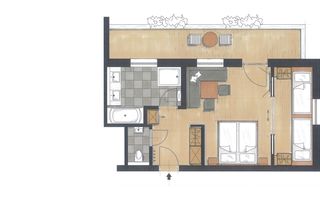 > the rustic, noble Swiss pine design invites you to relax with its pleasant fragance> separate anteroom> cosy living and sleeping room> west balcony to relax> own children´s room with two single beds>
spacious bathroom with double washing basin, bathtube, shower and separate WC
Culinary
We offer diverse culinary highlights as part of our gourmet full-board:
Abundant breakfast buffet with numerous regional delicacies
At lunchtime two main dishes are served at the table, additional we offer a buffet of soups, salads and fresh fruits
cake buffet with homemade pastries, cakes and strudels
Evenings: 6-course gourmet menu of choice. From Austrian classics to vegetarian and vegan dishes, salad bowls and cheese buffet
Lunch & dinner: balanced children's buffet
Supervised children's meal at lunch & dinner
Daily ice cream bar with various toppings
All day: non-alcoholic beverage fountain
Tea, coffee & hot chocolate until 5:00 pm
Mountain spring water from all the taps in the hotel
Hipp organic baby buffet (jars, porridge, and formula)
Baby food prepared fresh daily
Child care
Babies and toddlers: from 30 days old to 24 months, daily from 9:00 am to 9:00 pm (registration required by the evening before)
Child-care from 2 to 14 years with diverse, nature-related programs and excursions, daily from 9:00 am to 9:00 pm
Baby and toddler carefree equipment and furnishing
Adopt-an-animal program with a family-certificate at the end of your holiday
Teens program 
climbing and boulder room
Bright fitness studio with modern Techno-Gym equipment and separate gymnastics room
Attractive activity program with Hatha Yoga, Functional training, fascia training, back training, and more
panorama swimming area with separate baby and toddler area, indoor pool with wave slide, 25 metres infinity pool, natural bathing lake
NATURE Spa with outdoor whirlpool, 25 metres infinity pool, textile free and textile area with tea lounge and various stylish chill out rooms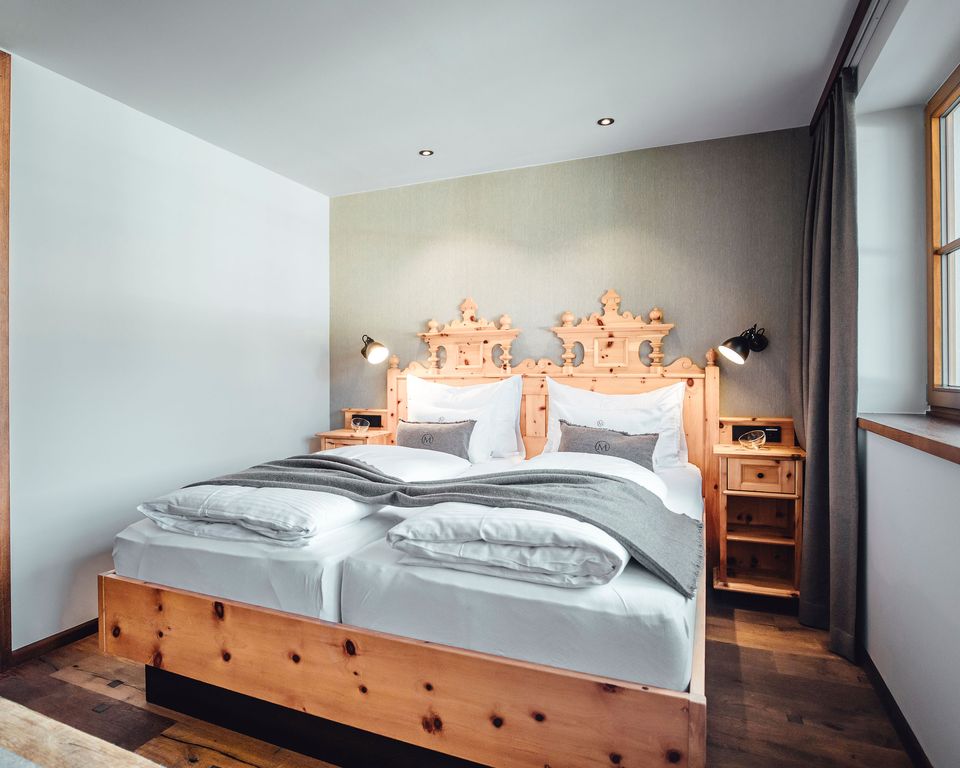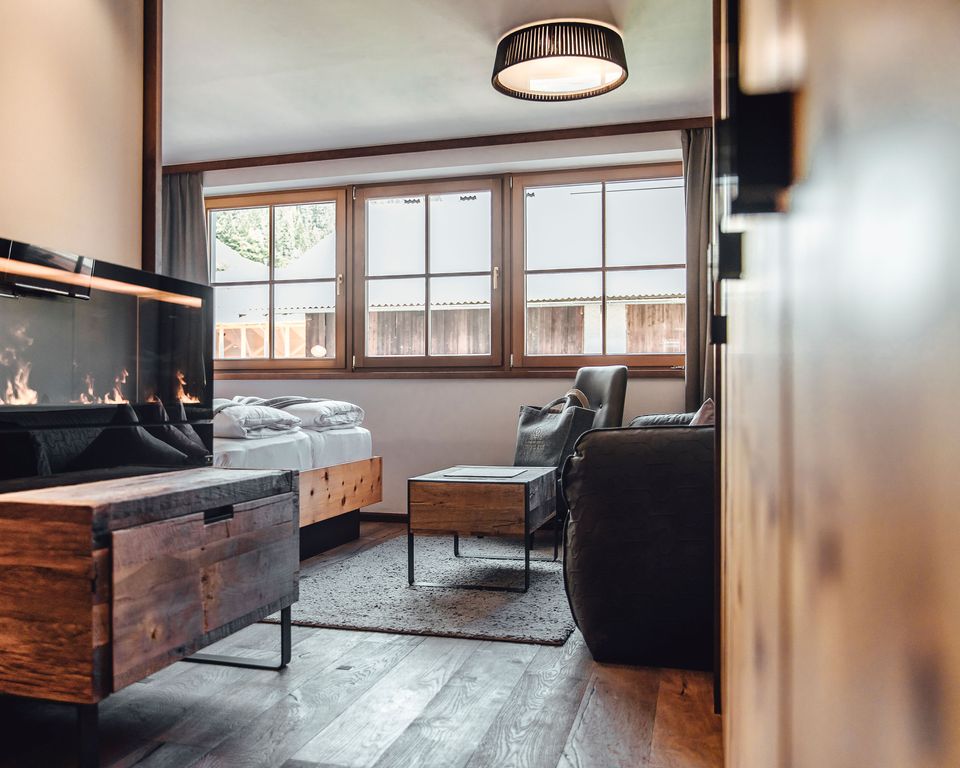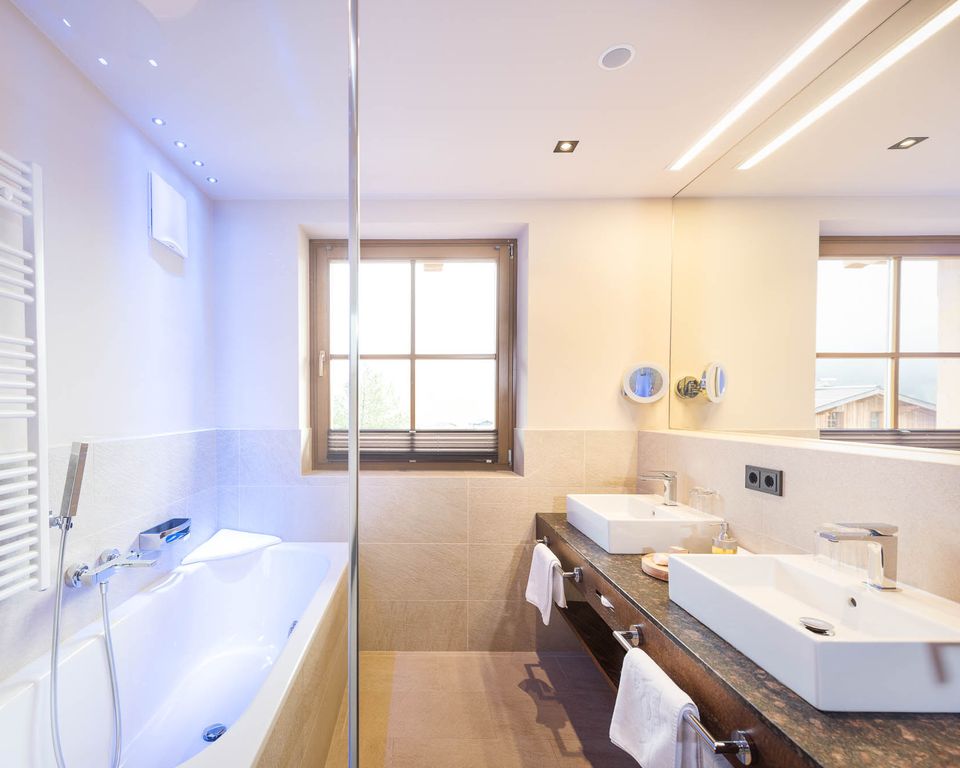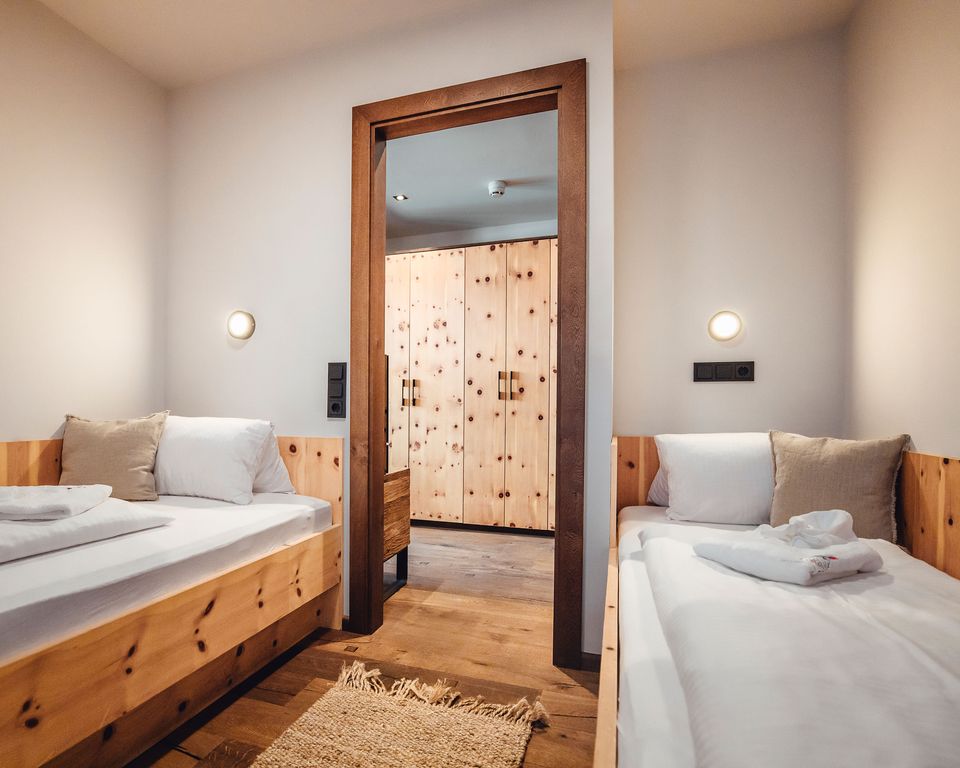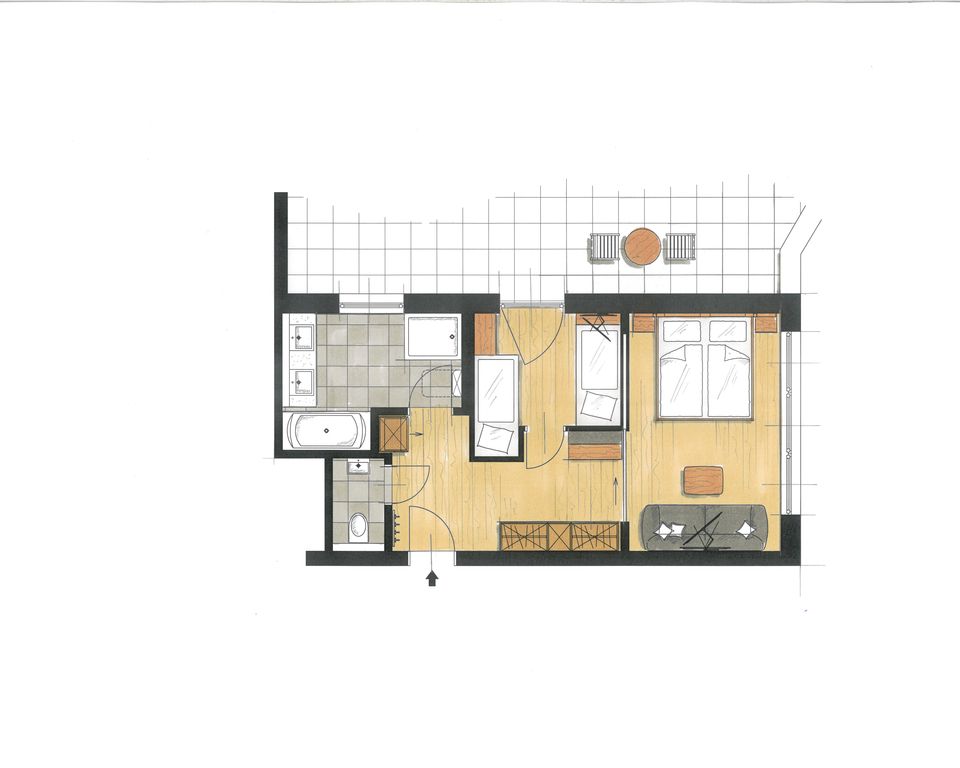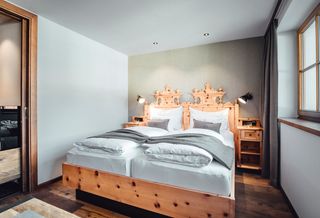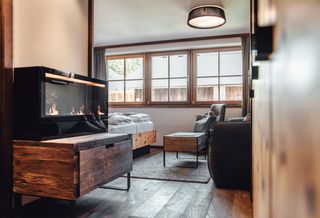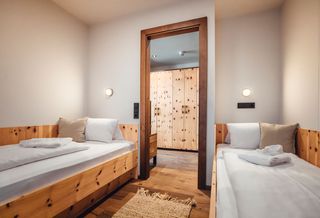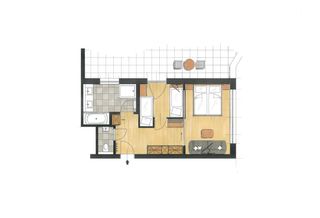 > The rustic, noble Swiss stone pine wood design invites you to feel good with its pleasant scent> anteroom> Cosy living-bedroom with window front> Own children's room with two single beds> Exit to own terrace> Spacious bathroom with double washbasin, bathtub, shower and separate WC> Restricted view due to the location of the rooms
Culinary
We offer diverse culinary highlights as part of our gourmet full-board:
Abundant breakfast buffet with numerous regional delicacies
At lunchtime two main dishes are served at the table, additional we offer a buffet of soups, salads and fresh fruits
cake buffet with homemade pastries, cakes and strudels
Evenings: 6-course gourmet menu of choice. From Austrian classics to vegetarian and vegan dishes, salad bowls and cheese buffet
Lunch & dinner: balanced children's buffet
Supervised children's meal at lunch & dinner
Daily ice cream bar with various toppings
All day: non-alcoholic beverage fountain
Tea, coffee & hot chocolate until 5:00 pm
Mountain spring water from all the taps in the hotel
Hipp organic baby buffet (jars, porridge, and formula)
Baby food prepared fresh daily
Child care
Babies and toddlers: from 30 days old to 24 months, daily from 9:00 am to 9:00 pm (registration required by the evening before)
Child-care from 2 to 14 years with diverse, nature-related programs and excursions, daily from 9:00 am to 9:00 pm
Baby and toddler carefree equipment and furnishing
Adopt-an-animal program with a family-certificate at the end of your holiday
Teens program 
climbing and boulder room
Bright fitness studio with modern Techno-Gym equipment and separate gymnastics room
Attractive activity program with Hatha Yoga, Functional training, fascia training, back training, and more
panorama swimming area with separate baby and toddler area, indoor pool with wave slide, 25 metres infinity pool, natural bathing lake
NATURE Spa with outdoor whirlpool, 25 metres infinity pool, textile free and textile area with tea lounge and various stylish chill out rooms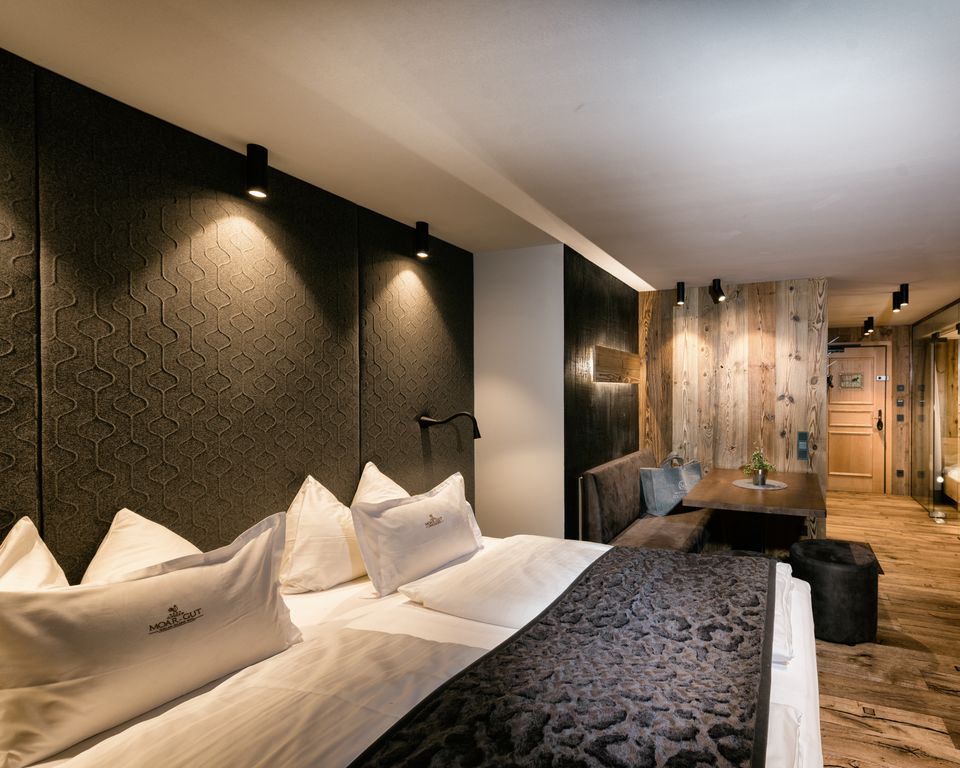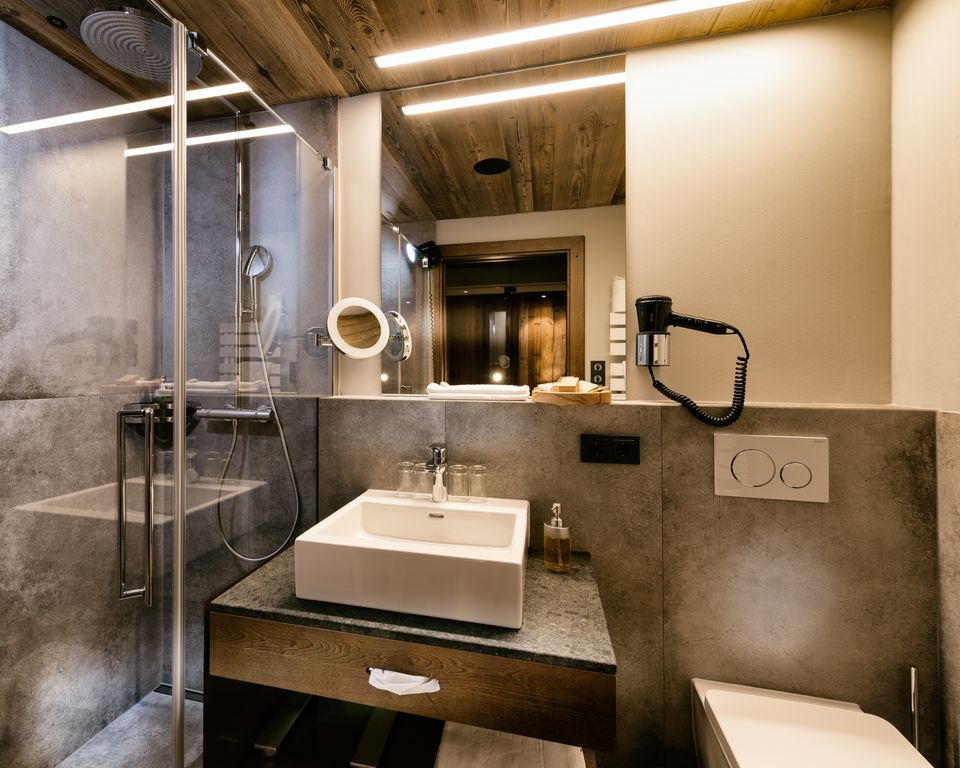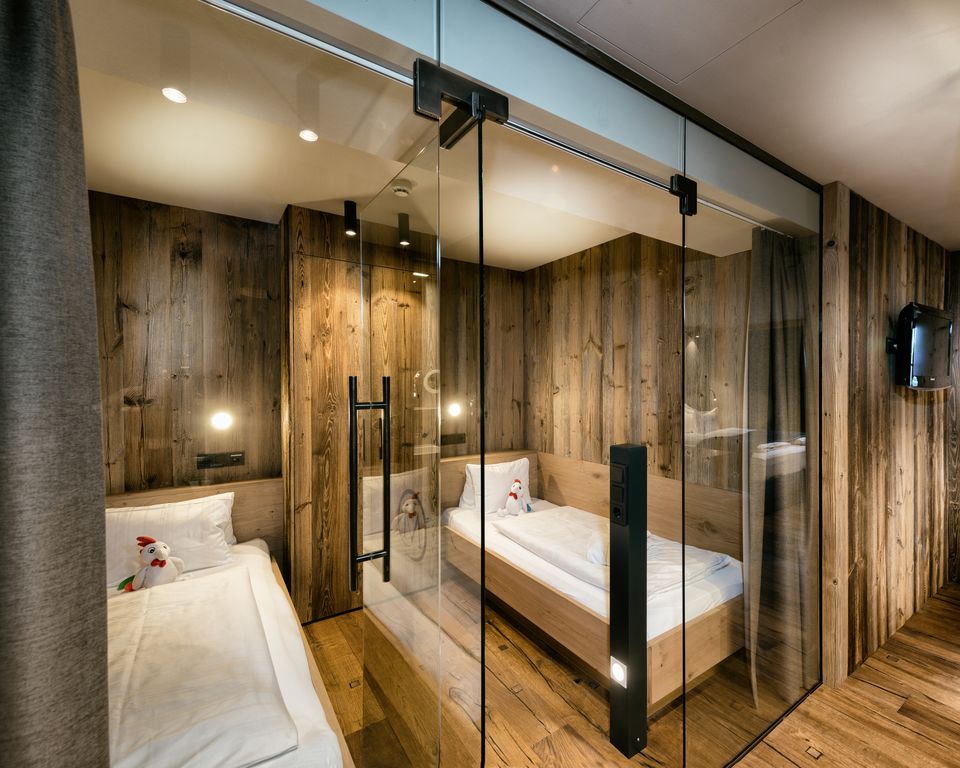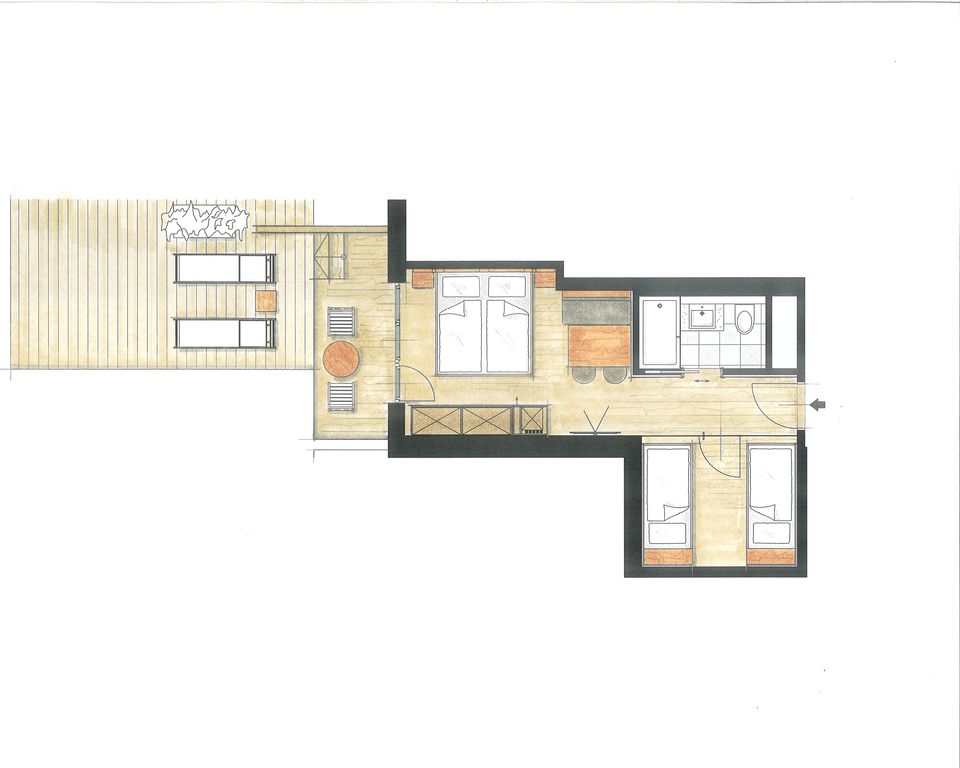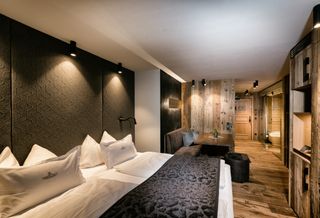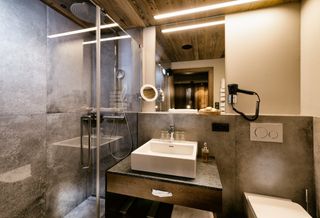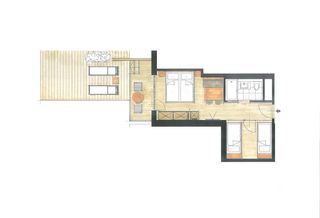 > the noble furnishings enchant with high quality materials and rustic wood waste design> comfortable living and sleeping room> west balcony for a wonderful time-out> cosy children´s room with two single beds>valuable bathroom
Culinary
We offer diverse culinary highlights as part of our gourmet full-board:
Abundant breakfast buffet with numerous regional delicacies
At lunchtime two main dishes are served at the table, additional we offer a buffet of soups, salads and fresh fruits
cake buffet with homemade pastries, cakes and strudels
Evenings: 6-course gourmet menu of choice. From Austrian classics to vegetarian and vegan dishes, salad bowls and cheese buffet
Lunch & dinner: balanced children's buffet
Supervised children's meal at lunch & dinner
Daily ice cream bar with various toppings
All day: non-alcoholic beverage fountain
Tea, coffee & hot chocolate until 5:00 pm
Mountain spring water from all the taps in the hotel
Hipp organic baby buffet (jars, porridge, and formula)
Baby food prepared fresh daily
Child care
Babies and toddlers: from 30 days old to 24 months, daily from 9:00 am to 9:00 pm (registration required by the evening before)
Child-care from 2 to 14 years with diverse, nature-related programs and excursions, daily from 9:00 am to 9:00 pm
Baby and toddler carefree equipment and furnishing
Adopt-an-animal program with a family-certificate at the end of your holiday
Teens program 
climbing and boulder room
Bright fitness studio with modern Techno-Gym equipment and separate gymnastics room
Attractive activity program with Hatha Yoga, Functional training, fascia training, back training, and more
panorama swimming area with separate baby and toddler area, indoor pool with wave slide, 25 metres infinity pool, natural bathing lake
NATURE Spa with outdoor whirlpool, 25 metres infinity pool, textile free and textile area with tea lounge and various stylish chill out rooms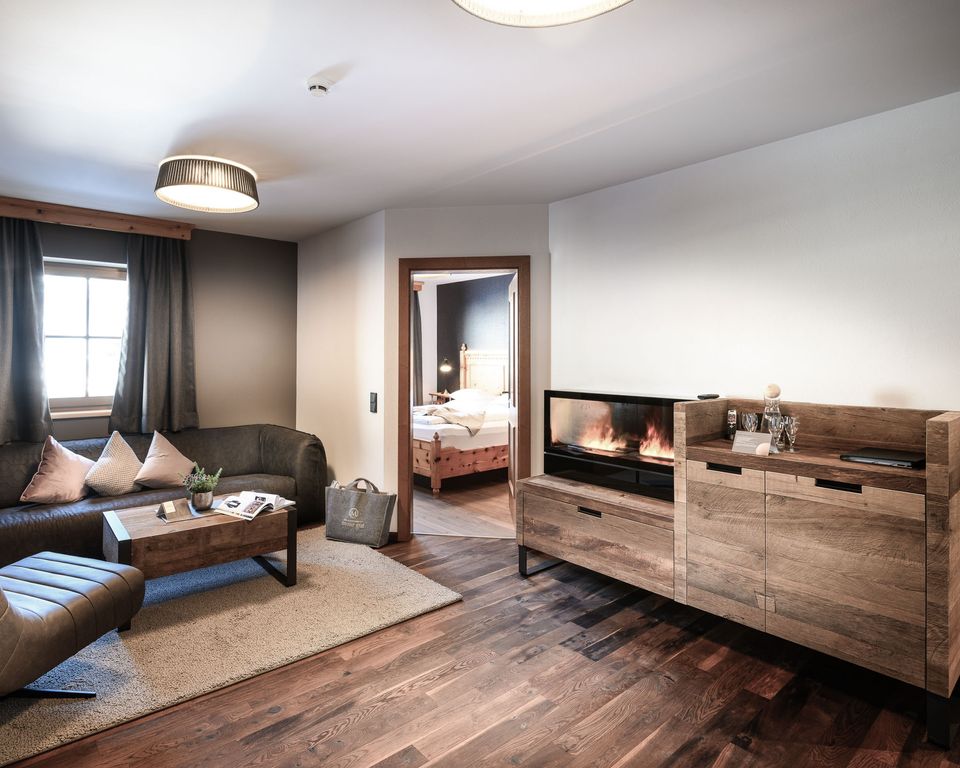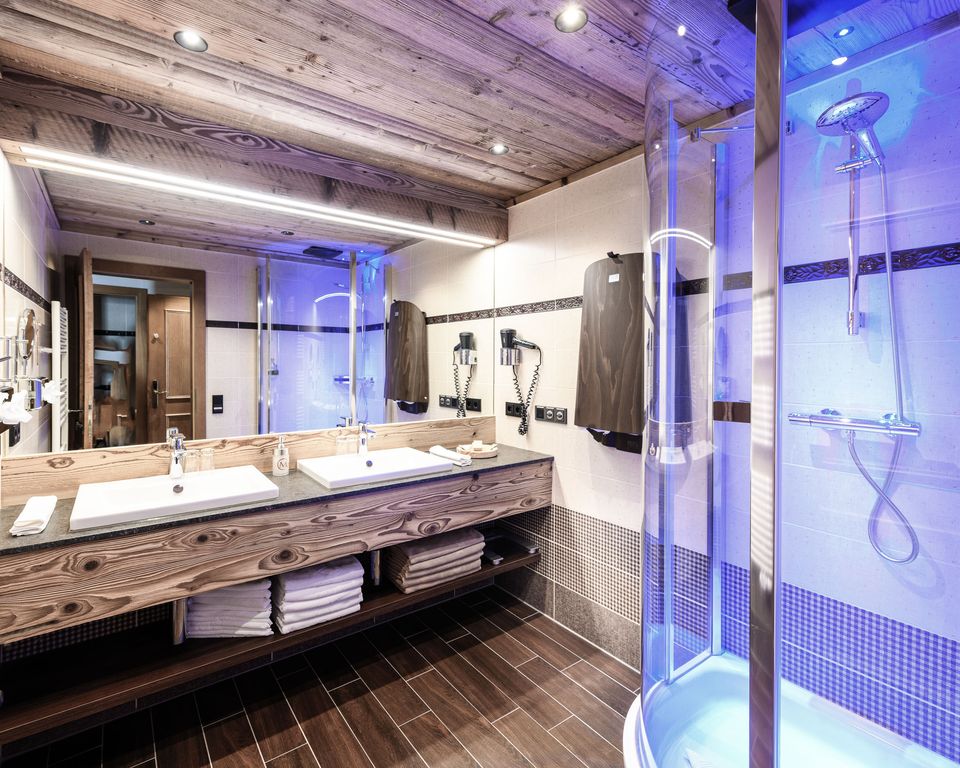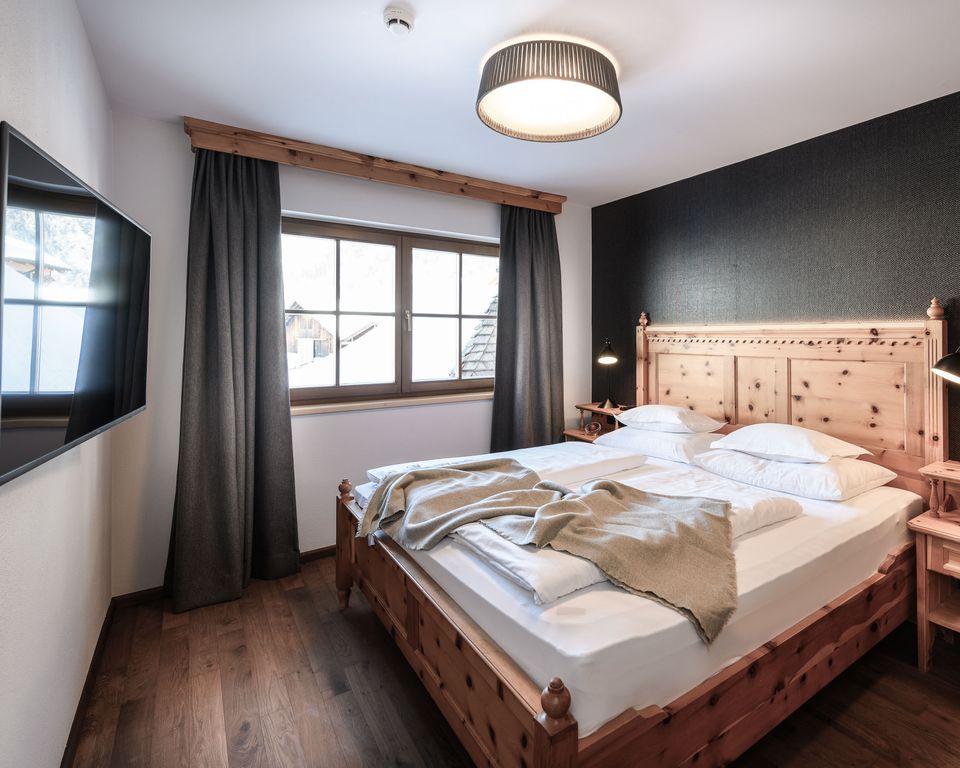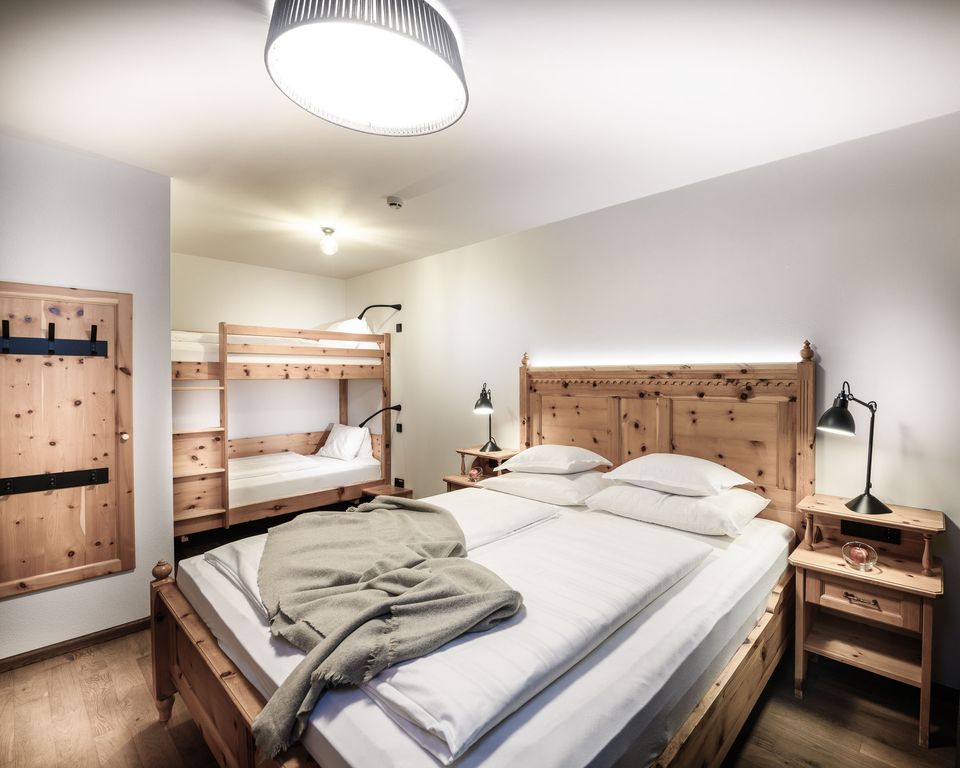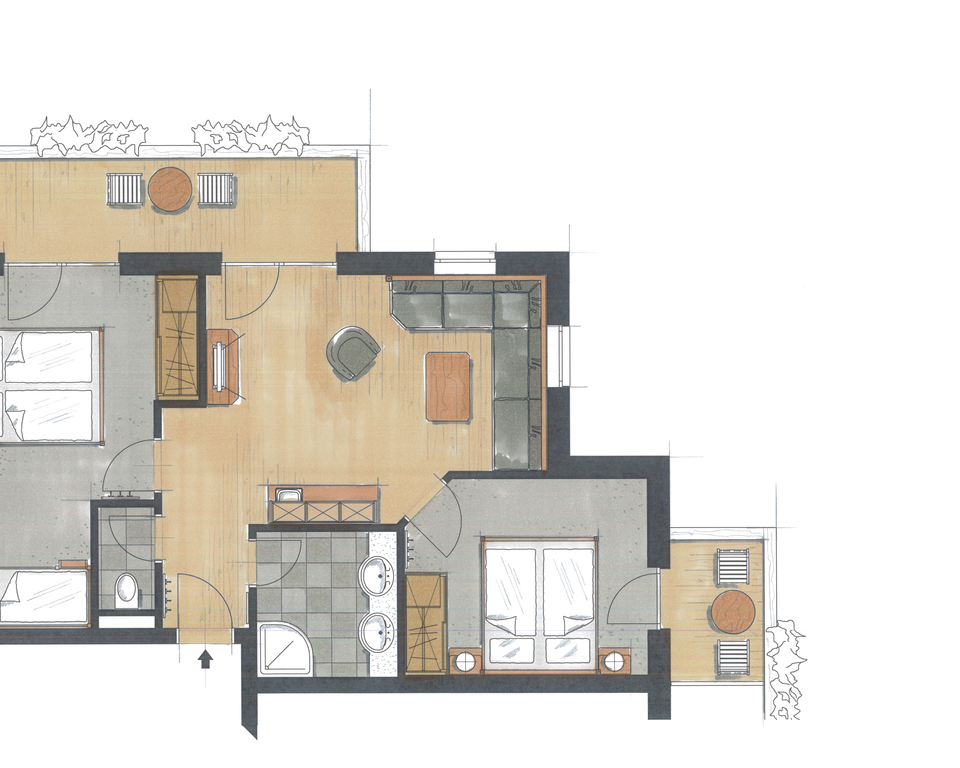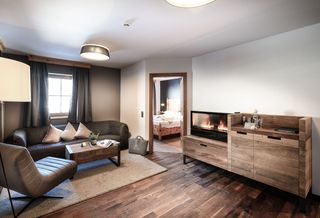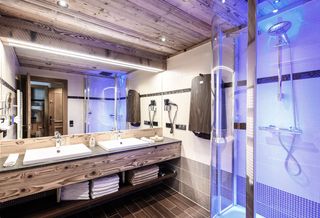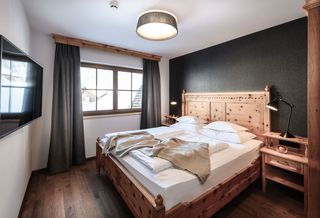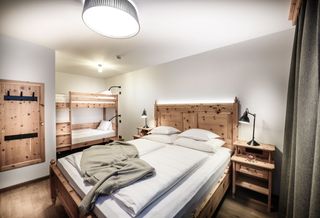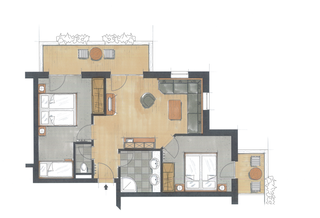 > high quality materials like Swiss pine and loden ensure first class living dreams> spacious living room with effect fire invests you to stay and gives the suite a feeling of wellbeing> terrace or balcony> bright parents sleeping room with double bed> own children´s room with double and buck bed> bathroom with double washing basin and shower, separte WC
Culinary
We offer diverse culinary highlights as part of our gourmet full-board:
Abundant breakfast buffet with numerous regional delicacies
At lunchtime two main dishes are served at the table, additional we offer a buffet of soups, salads and fresh fruits
cake buffet with homemade pastries, cakes and strudels
Evenings: 6-course gourmet menu of choice. From Austrian classics to vegetarian and vegan dishes, salad bowls and cheese buffet
Lunch & dinner: balanced children's buffet
Supervised children's meal at lunch & dinner
Daily ice cream bar with various toppings
All day: non-alcoholic beverage fountain
Tea, coffee & hot chocolate until 5:00 pm
Mountain spring water from all the taps in the hotel
Hipp organic baby buffet (jars, porridge, and formula)
Baby food prepared fresh daily
Child care
Babies and toddlers: from 30 days old to 24 months, daily from 9:00 am to 9:00 pm (registration required by the evening before)
Child-care from 2 to 14 years with diverse, nature-related programs and excursions, daily from 9:00 am to 9:00 pm
Baby and toddler carefree equipment and furnishing
Adopt-an-animal program with a family-certificate at the end of your holiday
Teens program 
climbing and boulder room
Bright fitness studio with modern Techno-Gym equipment and separate gymnastics room
Attractive activity program with Hatha Yoga, Functional training, fascia training, back training, and more
panorama swimming area with separate baby and toddler area, indoor pool with wave slide, 25 metres infinity pool, natural bathing lake
NATURE Spa with outdoor whirlpool, 25 metres infinity pool, textile free and textile area with tea lounge and various stylish chill out rooms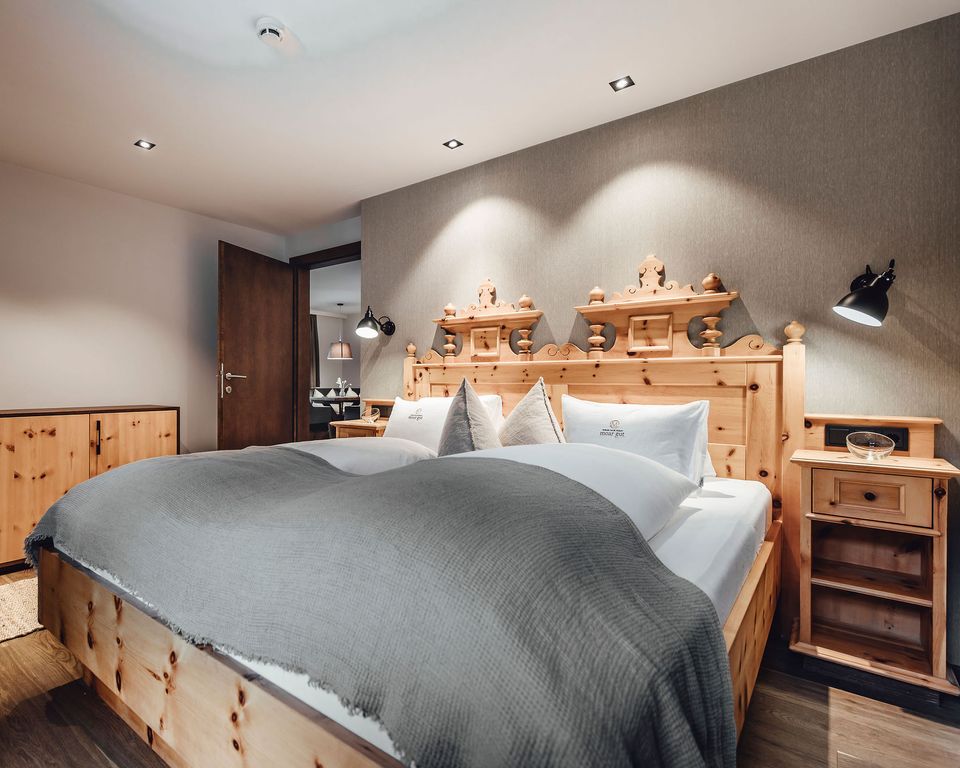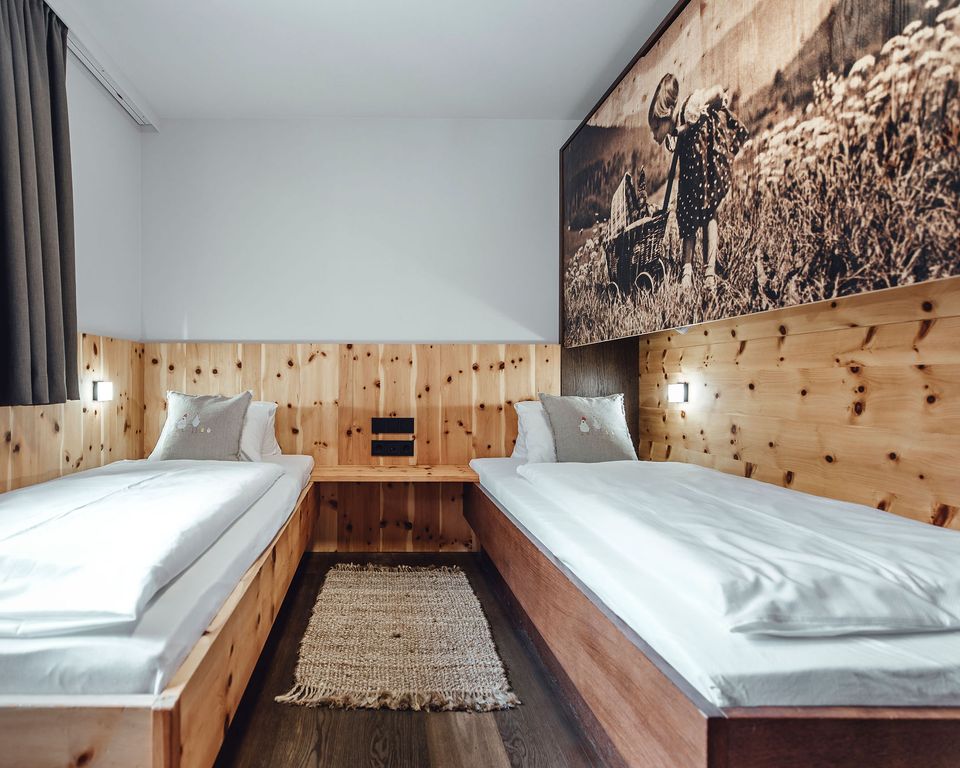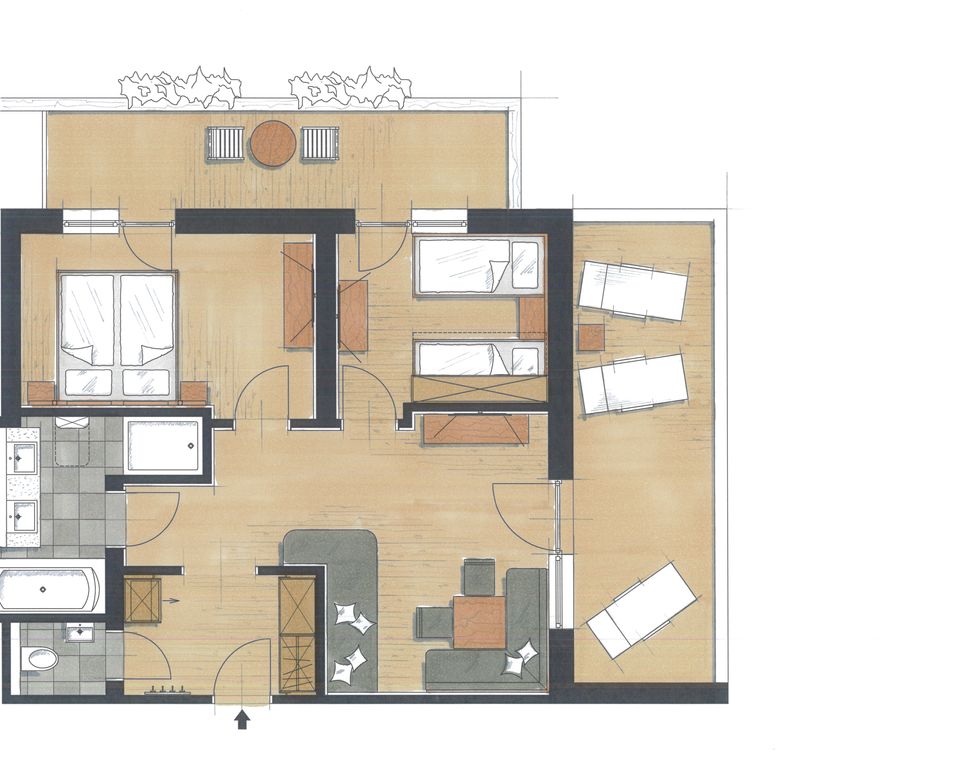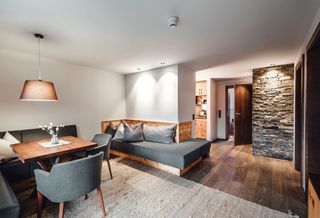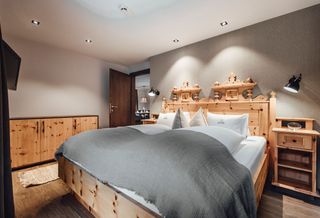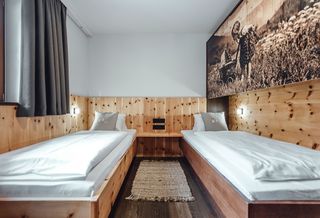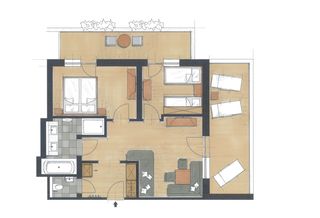 > a living experience for demanding families with modern Swiss pine design> spacious living room with terrace> cozy parents room with double bed>
west balcony for a comfortable time-out
> separate children´s room with two single beds and a foldaway bunk bed>
bathroom with double washing basin, bathtube, shower and a separate WC
Culinary
We offer diverse culinary highlights as part of our gourmet full-board:
Abundant breakfast buffet with numerous regional delicacies
At lunchtime two main dishes are served at the table, additional we offer a buffet of soups, salads and fresh fruits
cake buffet with homemade pastries, cakes and strudels
Evenings: 6-course gourmet menu of choice. From Austrian classics to vegetarian and vegan dishes, salad bowls and cheese buffet
Lunch & dinner: balanced children's buffet
Supervised children's meal at lunch & dinner
Daily ice cream bar with various toppings
All day: non-alcoholic beverage fountain
Tea, coffee & hot chocolate until 5:00 pm
Mountain spring water from all the taps in the hotel
Hipp organic baby buffet (jars, porridge, and formula)
Baby food prepared fresh daily
Child care
Babies and toddlers: from 30 days old to 24 months, daily from 9:00 am to 9:00 pm (registration required by the evening before)
Child-care from 2 to 14 years with diverse, nature-related programs and excursions, daily from 9:00 am to 9:00 pm
Baby and toddler carefree equipment and furnishing
Adopt-an-animal program with a family-certificate at the end of your holiday
Teens program 
climbing and boulder room
Bright fitness studio with modern Techno-Gym equipment and separate gymnastics room
Attractive activity program with Hatha Yoga, Functional training, fascia training, back training, and more
panorama swimming area with separate baby and toddler area, indoor pool with wave slide, 25 metres infinity pool, natural bathing lake
NATURE Spa with outdoor whirlpool, 25 metres infinity pool, textile free and textile area with tea lounge and various stylish chill out rooms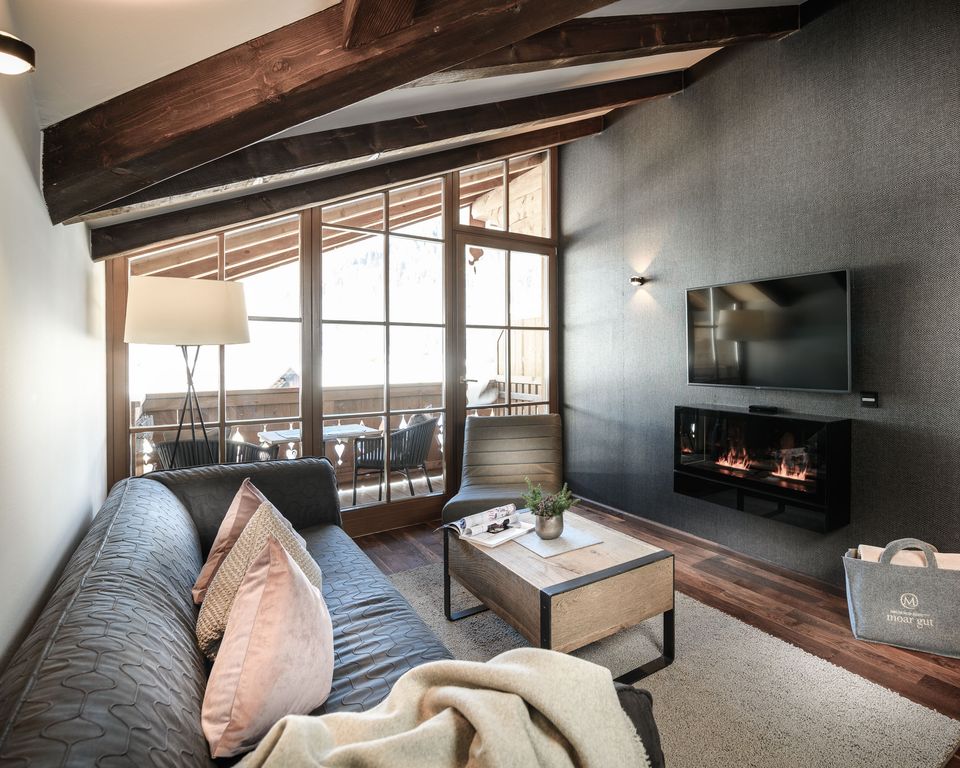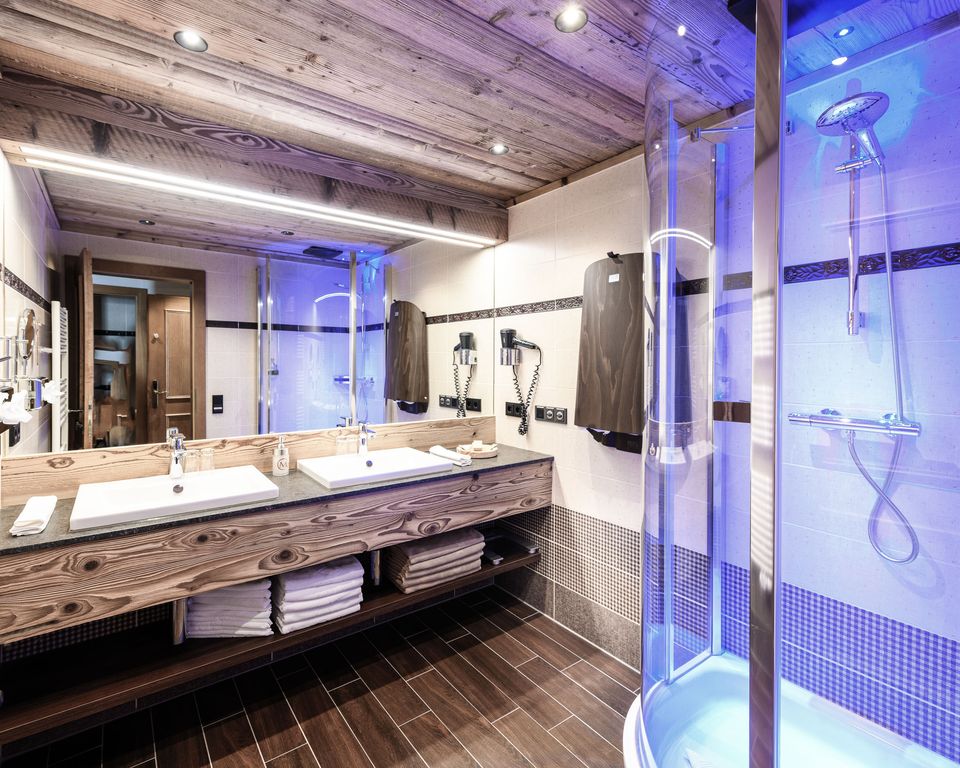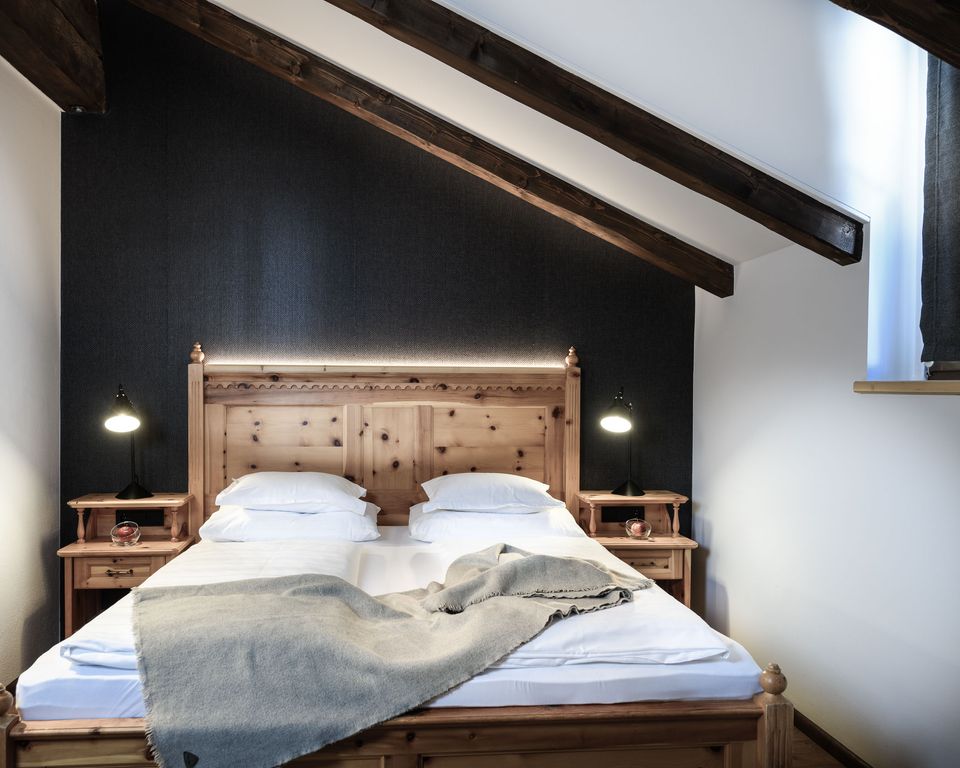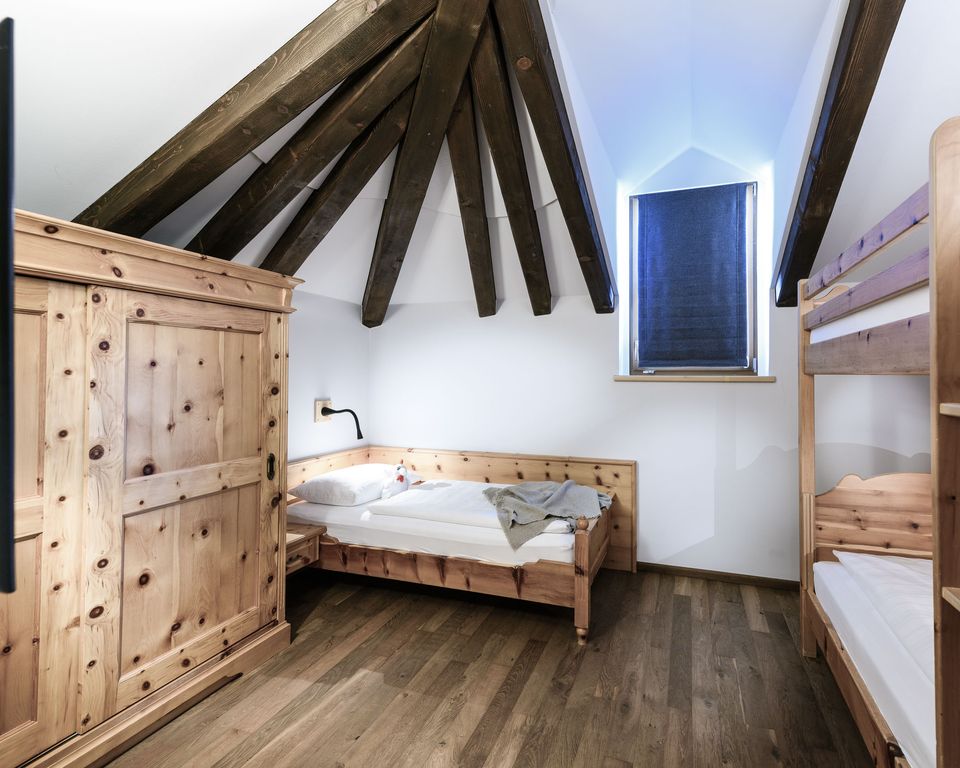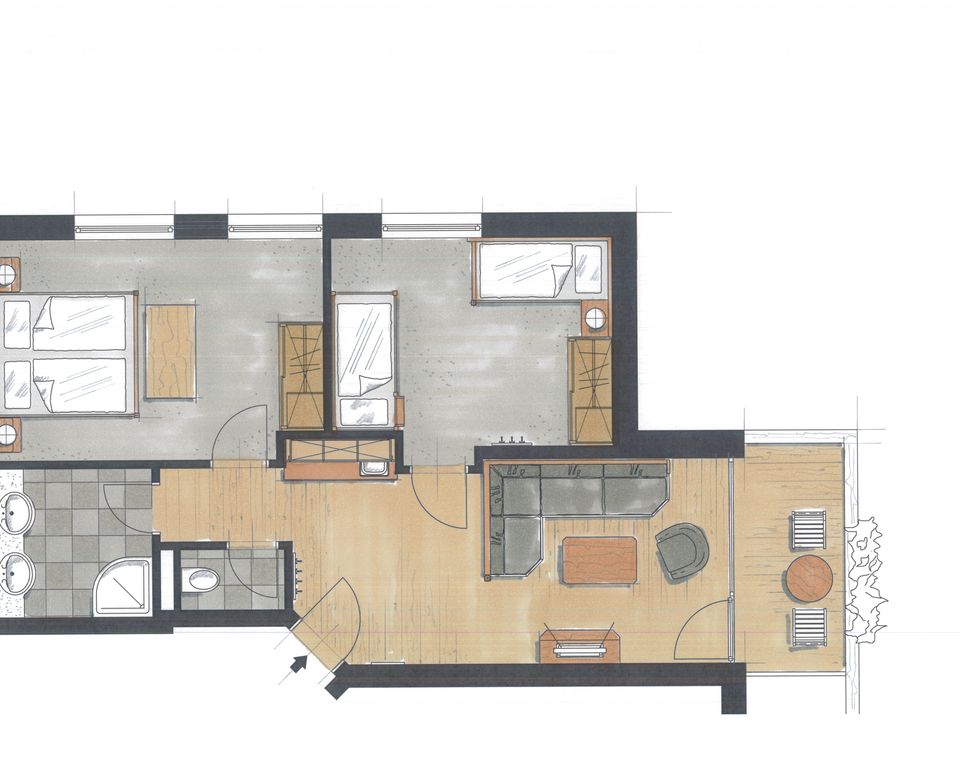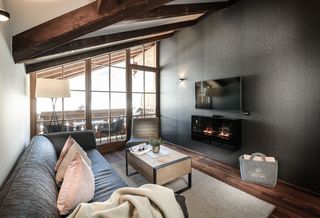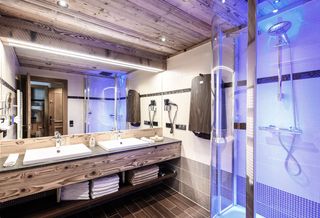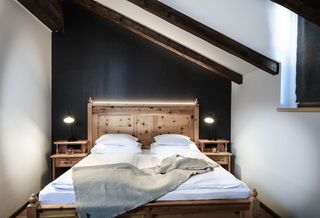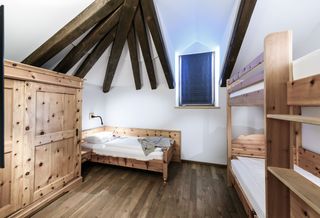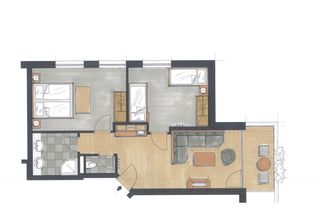 > high quality materials like Swiss pine and subtle design ideas ensure first class living dreams with exposed roof structure> light flooded living room with effect fire> north balcony for a comfortable time-out>
spacious double room
> separate children´s room with single and bunk bed> bathroom with double washing basin and shower, separte WC
Culinary
We offer diverse culinary highlights as part of our gourmet full-board:
Abundant breakfast buffet with numerous regional delicacies
At lunchtime two main dishes are served at the table, additional we offer a buffet of soups, salads and fresh fruits
cake buffet with homemade pastries, cakes and strudels
Evenings: 6-course gourmet menu of choice. From Austrian classics to vegetarian and vegan dishes, salad bowls and cheese buffet
Lunch & dinner: balanced children's buffet
Supervised children's meal at lunch & dinner
Daily ice cream bar with various toppings
All day: non-alcoholic beverage fountain
Tea, coffee & hot chocolate until 5:00 pm
Mountain spring water from all the taps in the hotel
Hipp organic baby buffet (jars, porridge, and formula)
Baby food prepared fresh daily
Child care
Babies and toddlers: from 30 days old to 24 months, daily from 9:00 am to 9:00 pm (registration required by the evening before)
Child-care from 2 to 14 years with diverse, nature-related programs and excursions, daily from 9:00 am to 9:00 pm
Baby and toddler carefree equipment and furnishing
Adopt-an-animal program with a family-certificate at the end of your holiday
Teens program 
climbing and boulder room
Bright fitness studio with modern Techno-Gym equipment and separate gymnastics room
Attractive activity program with Hatha Yoga, Functional training, fascia training, back training, and more
panorama swimming area with separate baby and toddler area, indoor pool with wave slide, 25 metres infinity pool, natural bathing lake
NATURE Spa with outdoor whirlpool, 25 metres infinity pool, textile free and textile area with tea lounge and various stylish chill out rooms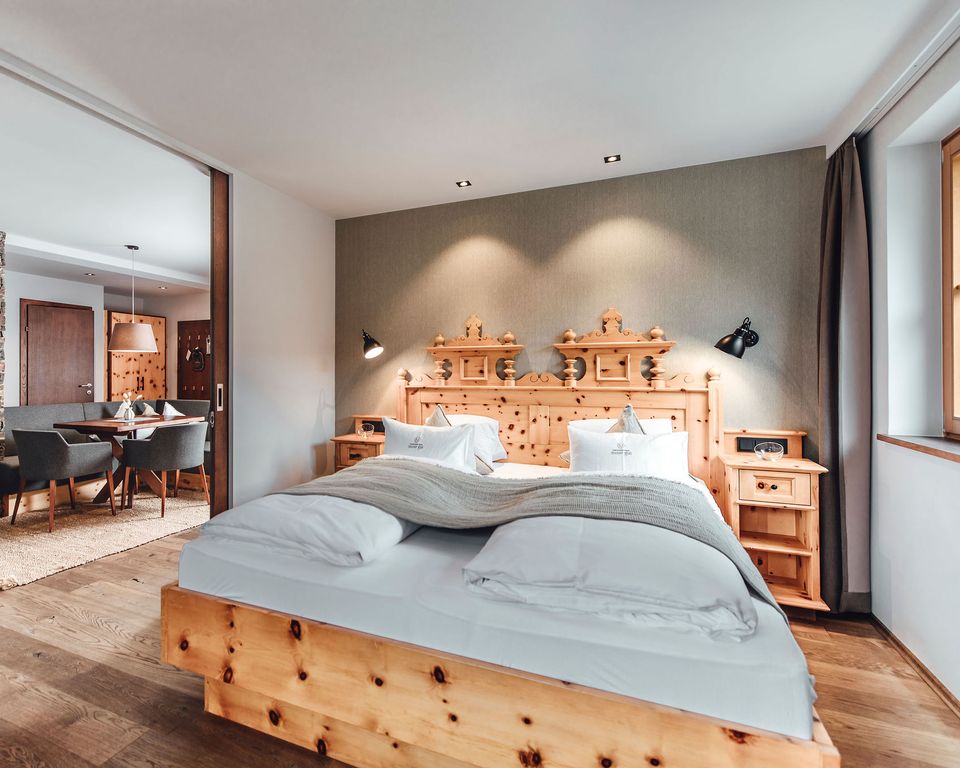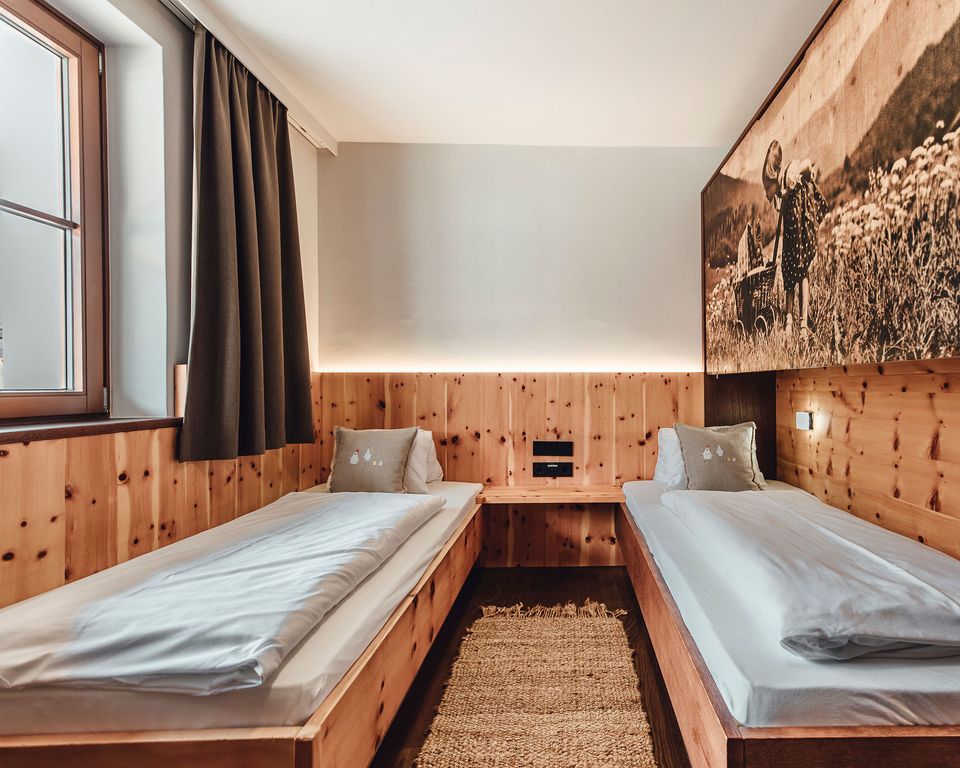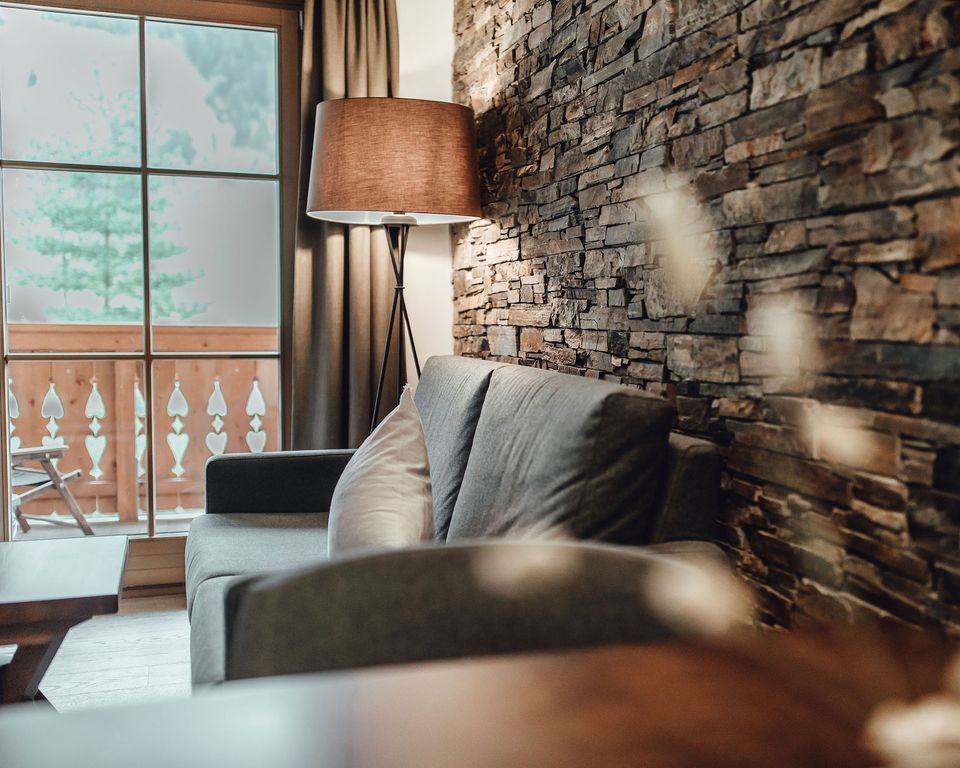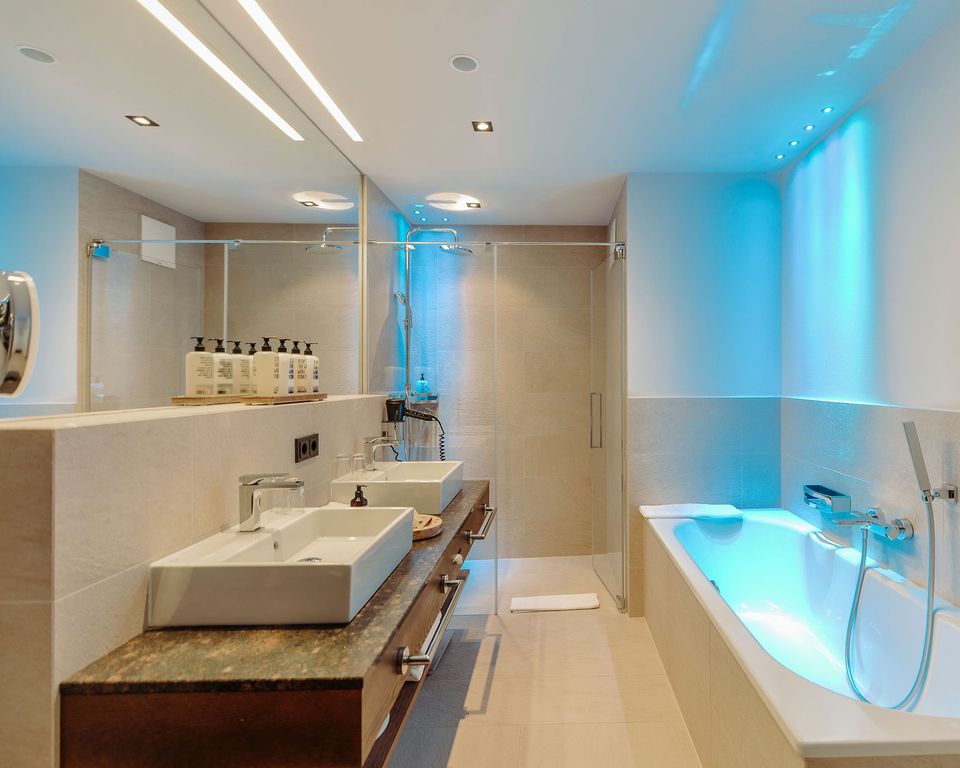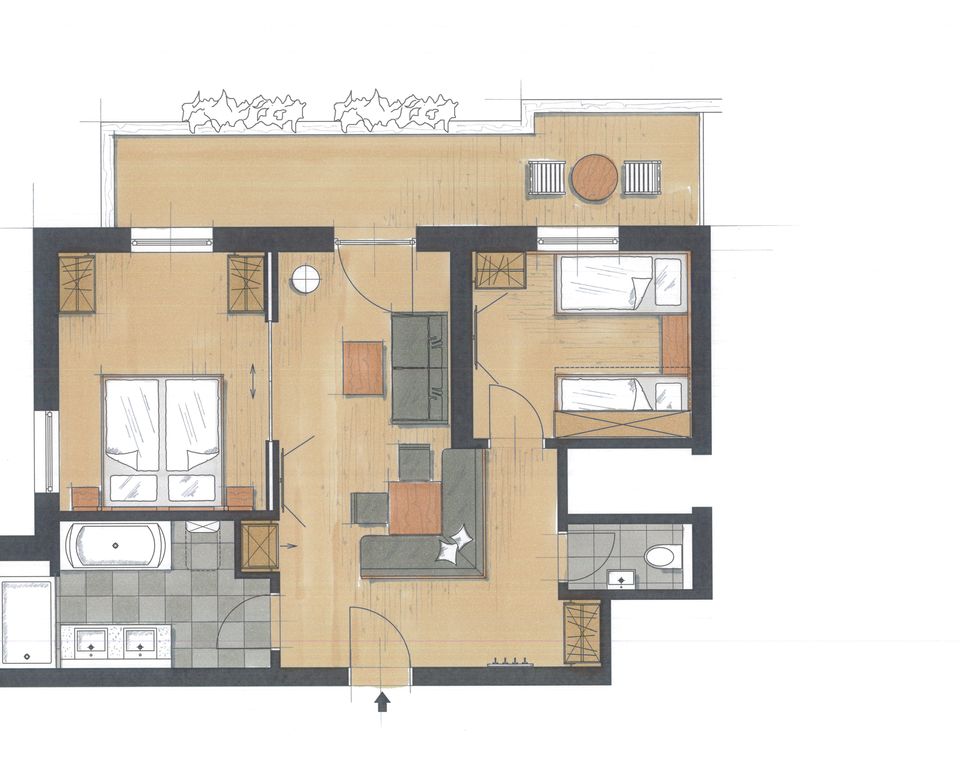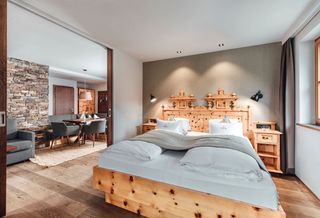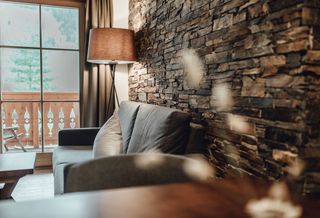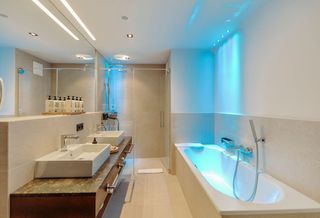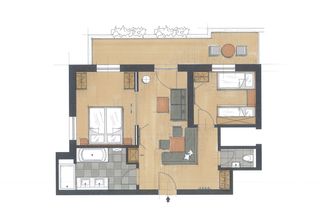 > lovingly designed suite with regional materials like Swiss pine, oak wook and loden> cosy living room with east balcony or terrace> homelike parents room with double bed> separate children´s room with two single beds and a
foldaway bunk bed
> spacious bathroom with double washing basin, bathtube, shower and a separate WC
Culinary
We offer diverse culinary highlights as part of our gourmet full-board:
Abundant breakfast buffet with numerous regional delicacies
At lunchtime two main dishes are served at the table, additional we offer a buffet of soups, salads and fresh fruits
cake buffet with homemade pastries, cakes and strudels
Evenings: 6-course gourmet menu of choice. From Austrian classics to vegetarian and vegan dishes, salad bowls and cheese buffet
Lunch & dinner: balanced children's buffet
Supervised children's meal at lunch & dinner
Daily ice cream bar with various toppings
All day: non-alcoholic beverage fountain
Tea, coffee & hot chocolate until 5:00 pm
Mountain spring water from all the taps in the hotel
Hipp organic baby buffet (jars, porridge, and formula)
Baby food prepared fresh daily
Child care
Babies and toddlers: from 30 days old to 24 months, daily from 9:00 am to 9:00 pm (registration required by the evening before)
Child-care from 2 to 14 years with diverse, nature-related programs and excursions, daily from 9:00 am to 9:00 pm
Baby and toddler carefree equipment and furnishing
Adopt-an-animal program with a family-certificate at the end of your holiday
Teens program 
climbing and boulder room
Bright fitness studio with modern Techno-Gym equipment and separate gymnastics room
Attractive activity program with Hatha Yoga, Functional training, fascia training, back training, and more
panorama swimming area with separate baby and toddler area, indoor pool with wave slide, 25 metres infinity pool, natural bathing lake
NATURE Spa with outdoor whirlpool, 25 metres infinity pool, textile free and textile area with tea lounge and various stylish chill out rooms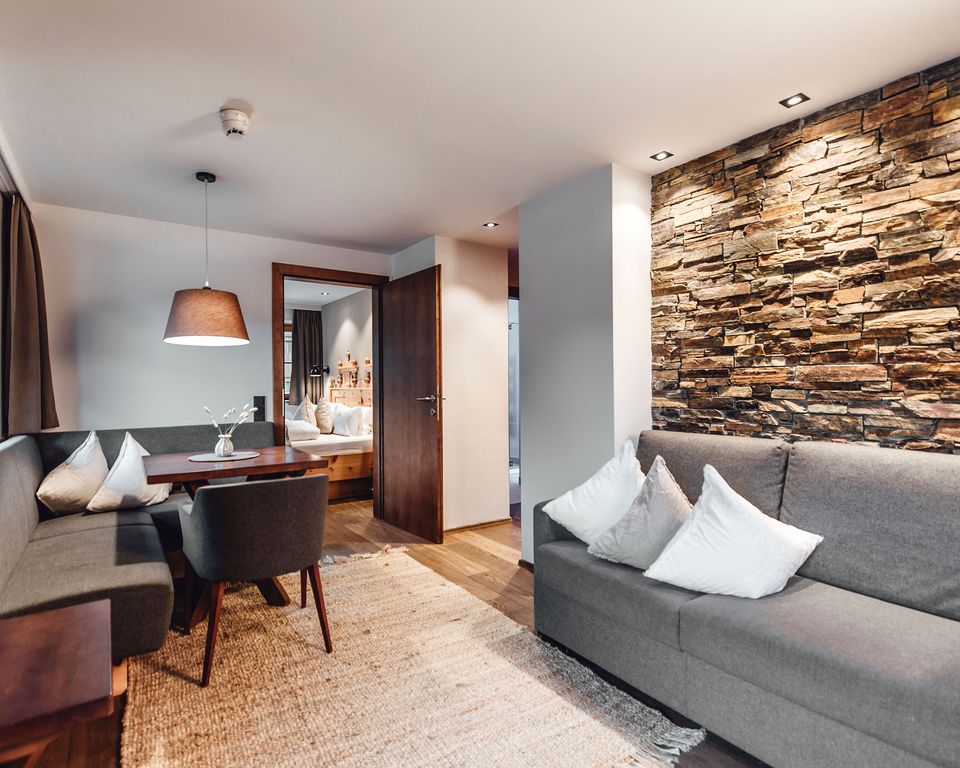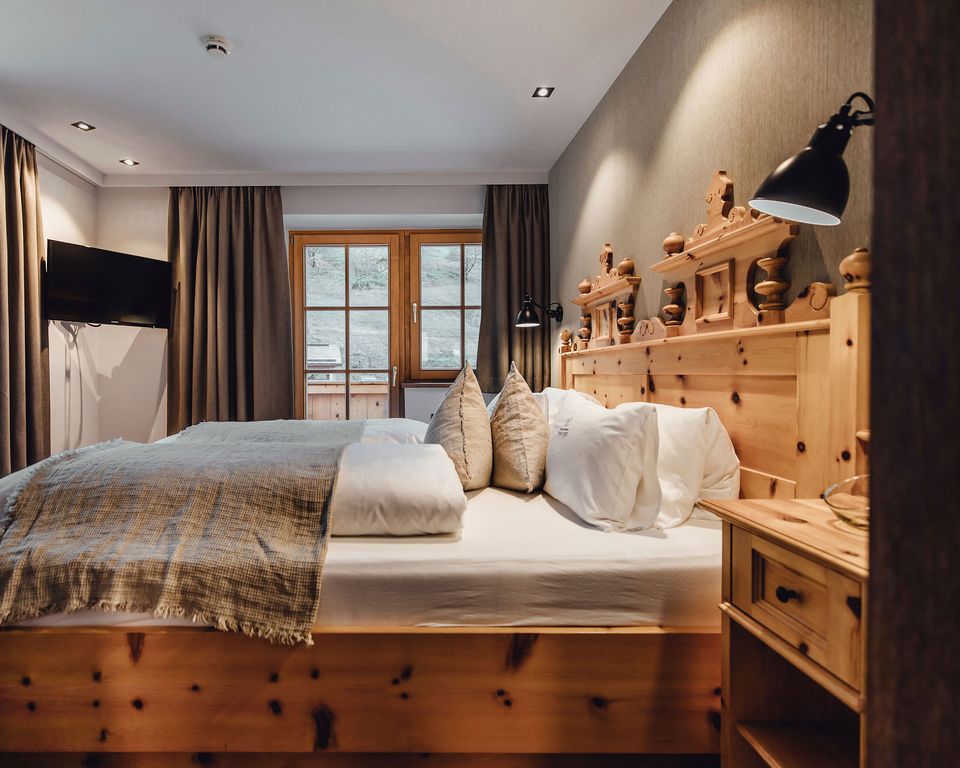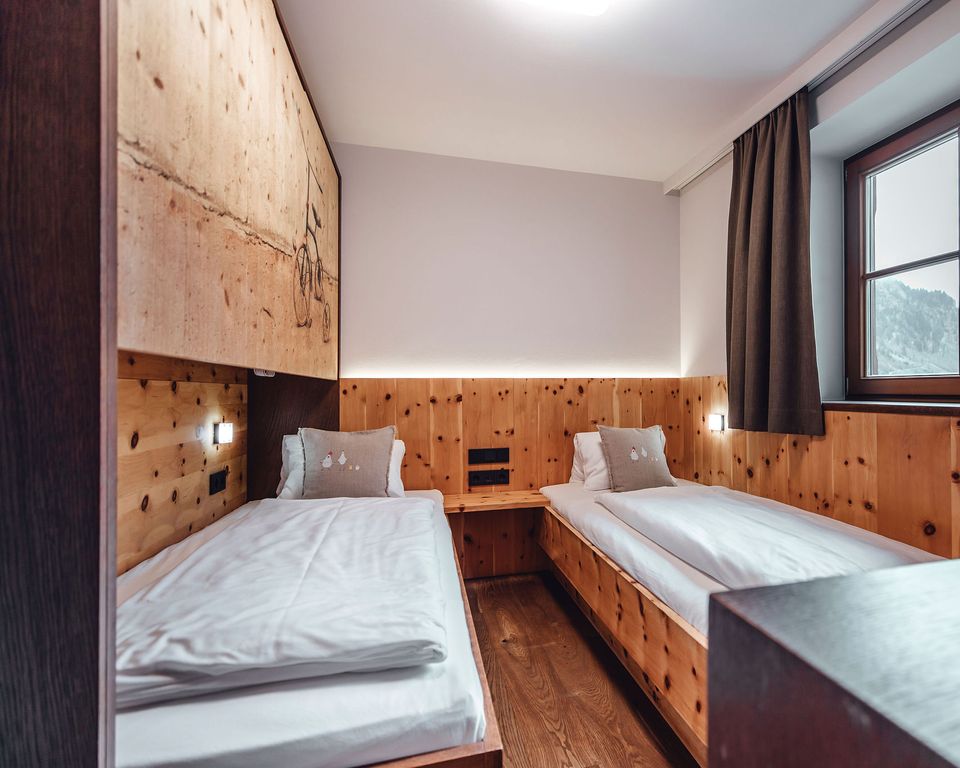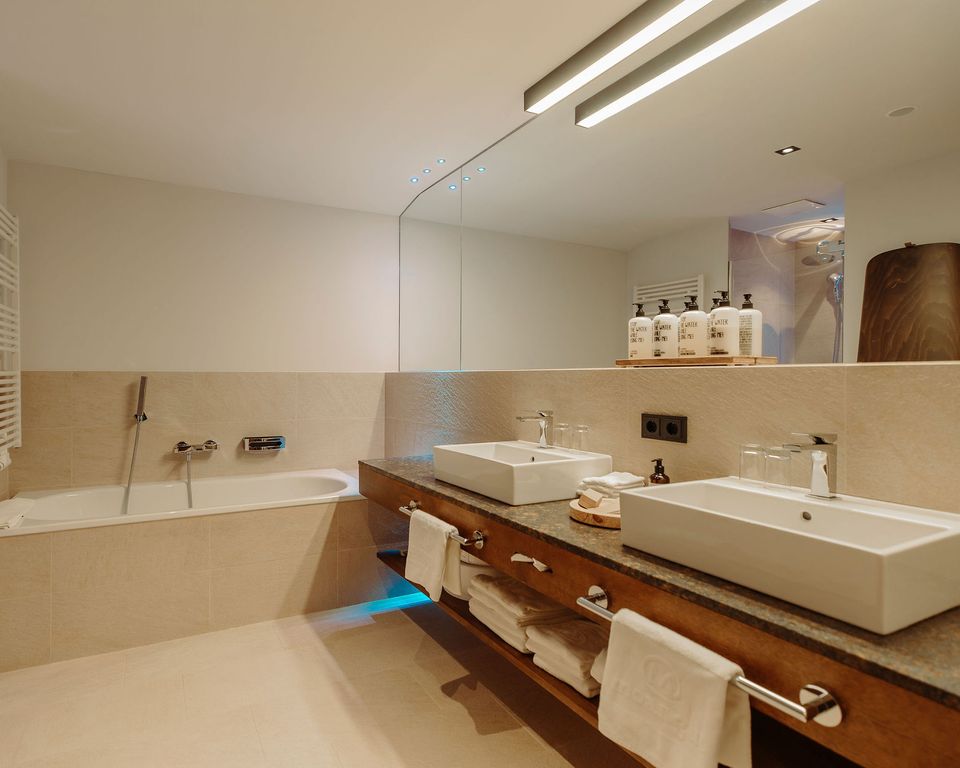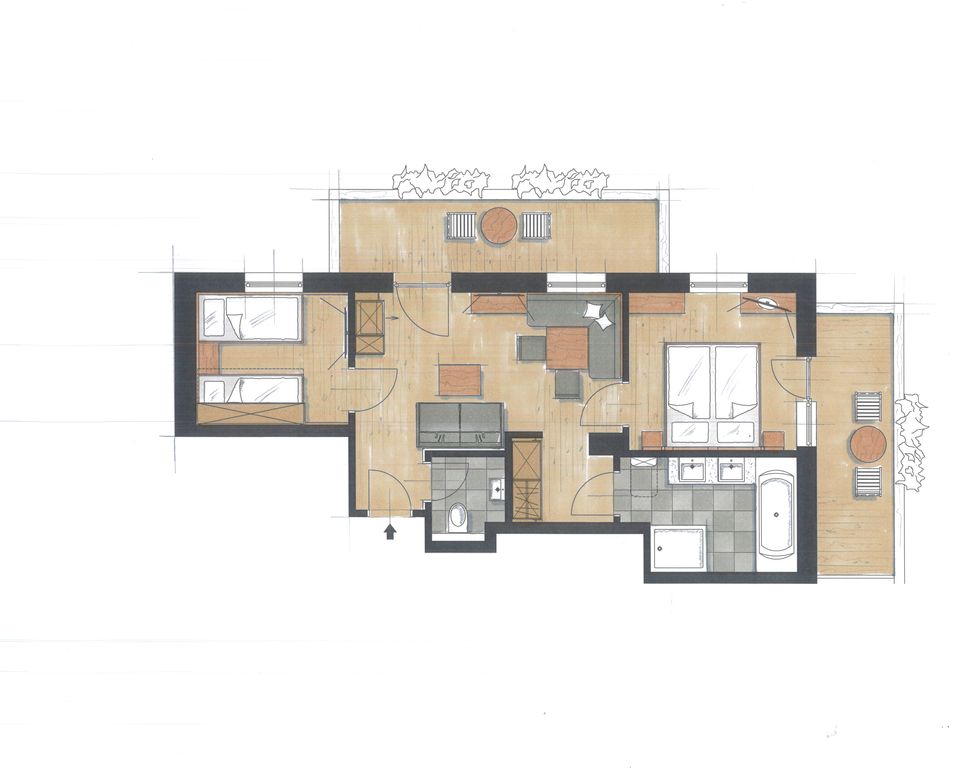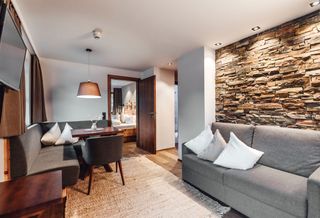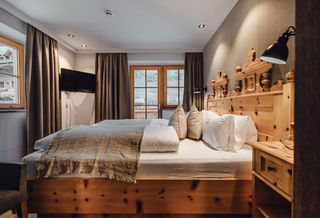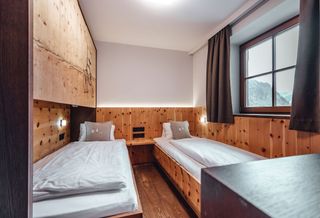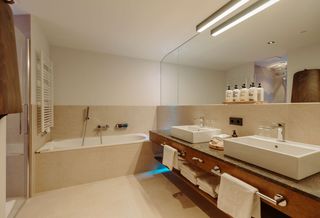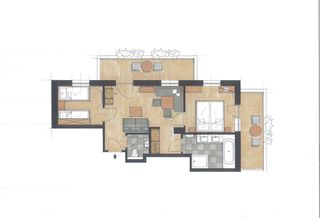 > wonderful suite with bathing pond view>
the high quality materials like Swiss pine and loden gives
the suite a sense of alpine well-being>
bright living area with south balcony and
dreamlike view of the mountains and our bathing pond
>
homelike double room with west balcony
>
separate children´s room with two single beds and a foldaway bunk bed
>
spacious bathroom with double washing basin, bathtube, shower and separate WC
Culinary
We offer diverse culinary highlights as part of our gourmet full-board:
Abundant breakfast buffet with numerous regional delicacies
At lunchtime two main dishes are served at the table, additional we offer a buffet of soups, salads and fresh fruits
cake buffet with homemade pastries, cakes and strudels
Evenings: 6-course gourmet menu of choice. From Austrian classics to vegetarian and vegan dishes, salad bowls and cheese buffet
Lunch & dinner: balanced children's buffet
Supervised children's meal at lunch & dinner
Daily ice cream bar with various toppings
All day: non-alcoholic beverage fountain
Tea, coffee & hot chocolate until 5:00 pm
Mountain spring water from all the taps in the hotel
Hipp organic baby buffet (jars, porridge, and formula)
Baby food prepared fresh daily
Child care
Babies and toddlers: from 30 days old to 24 months, daily from 9:00 am to 9:00 pm (registration required by the evening before)
Child-care from 2 to 14 years with diverse, nature-related programs and excursions, daily from 9:00 am to 9:00 pm
Baby and toddler carefree equipment and furnishing
Adopt-an-animal program with a family-certificate at the end of your holiday
Teens program 
climbing and boulder room
Bright fitness studio with modern Techno-Gym equipment and separate gymnastics room
Attractive activity program with Hatha Yoga, Functional training, fascia training, back training, and more
panorama swimming area with separate baby and toddler area, indoor pool with wave slide, 25 metres infinity pool, natural bathing lake
NATURE Spa with outdoor whirlpool, 25 metres infinity pool, textile free and textile area with tea lounge and various stylish chill out rooms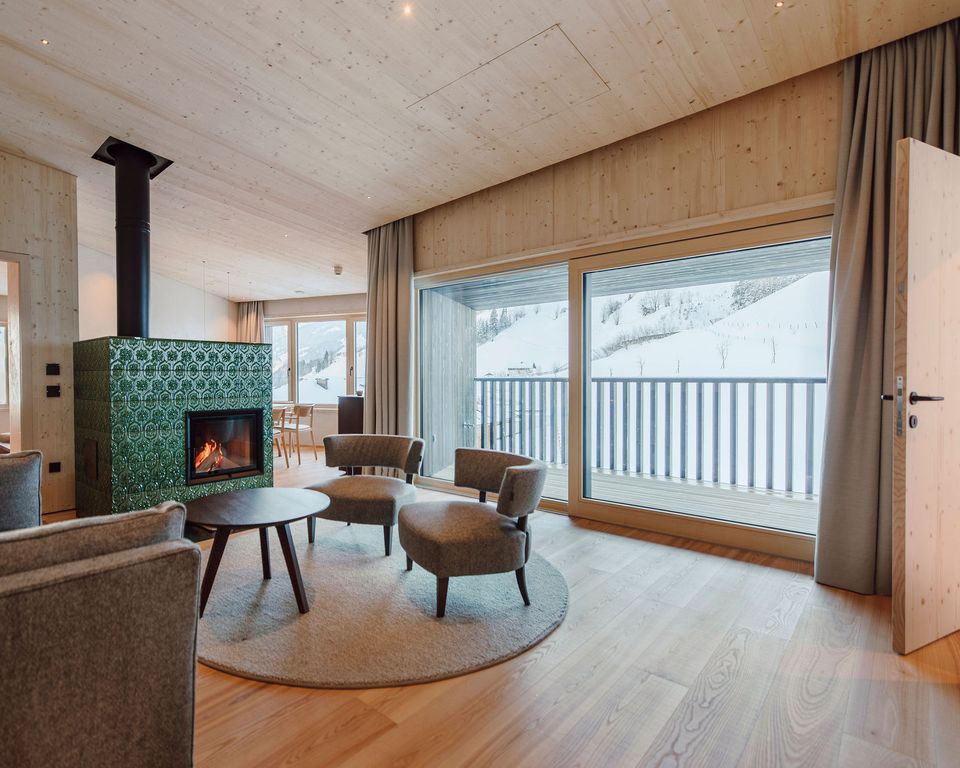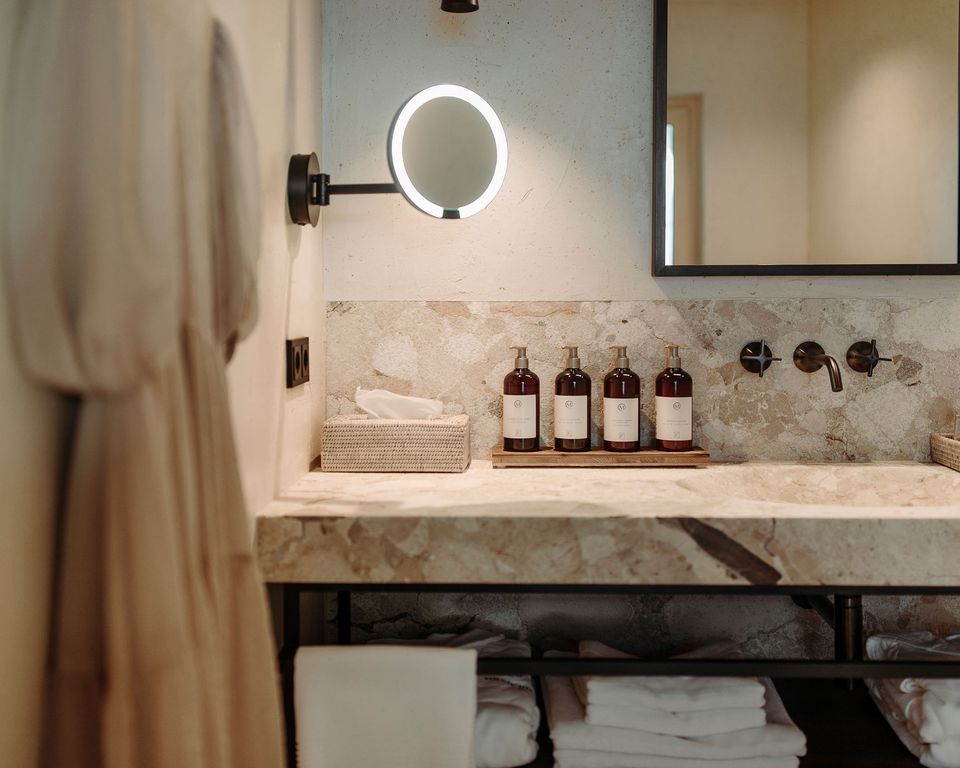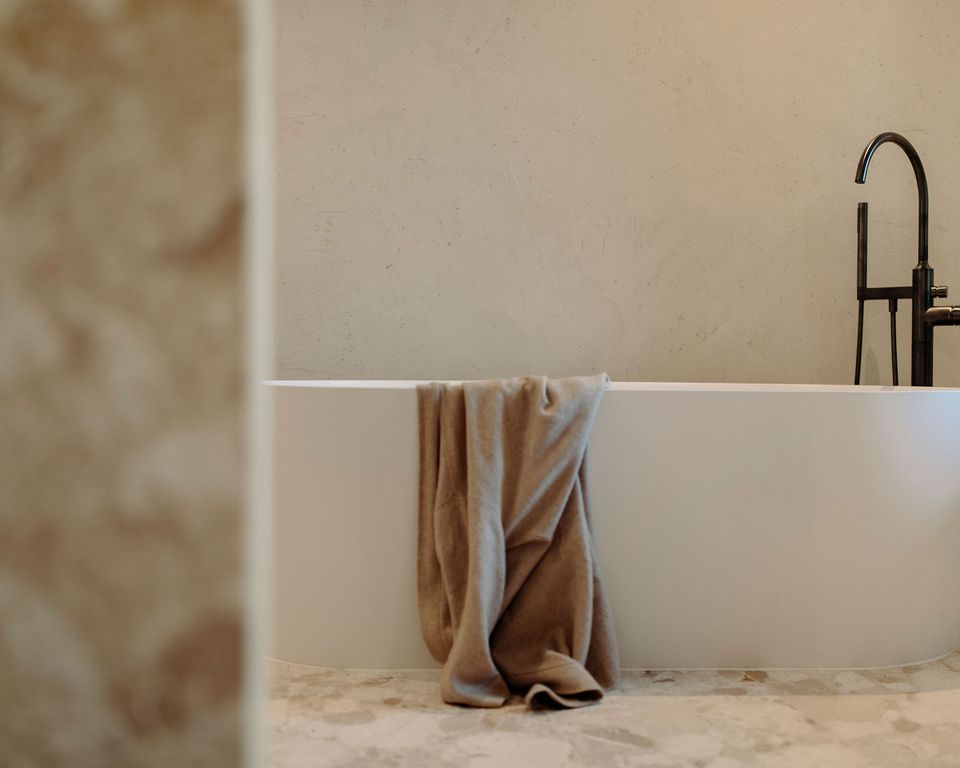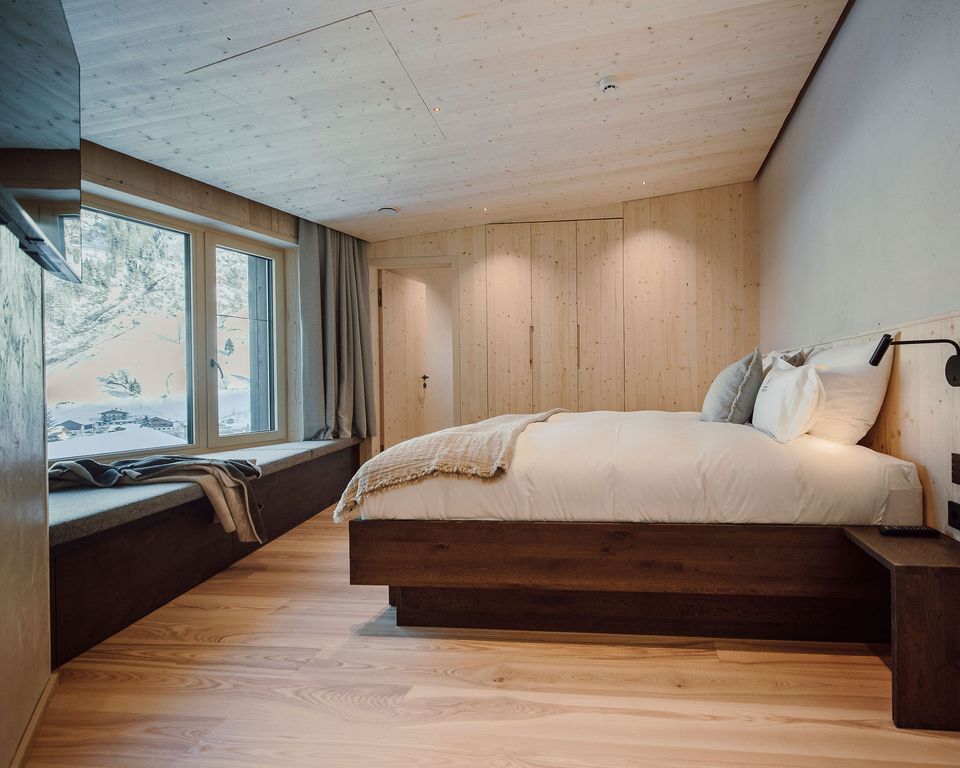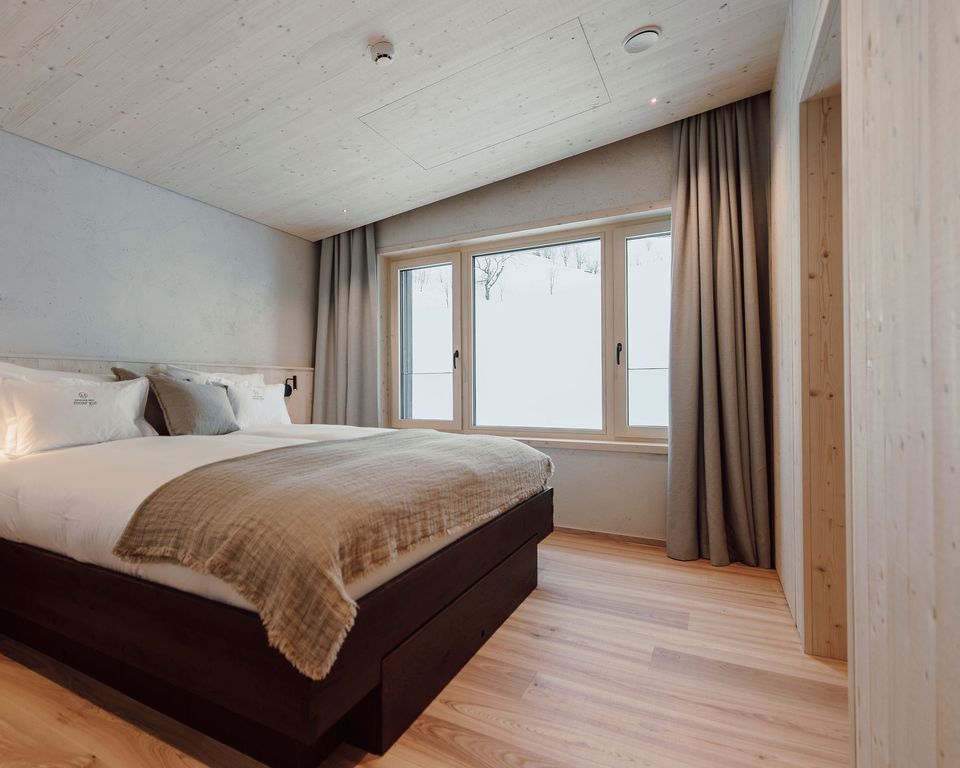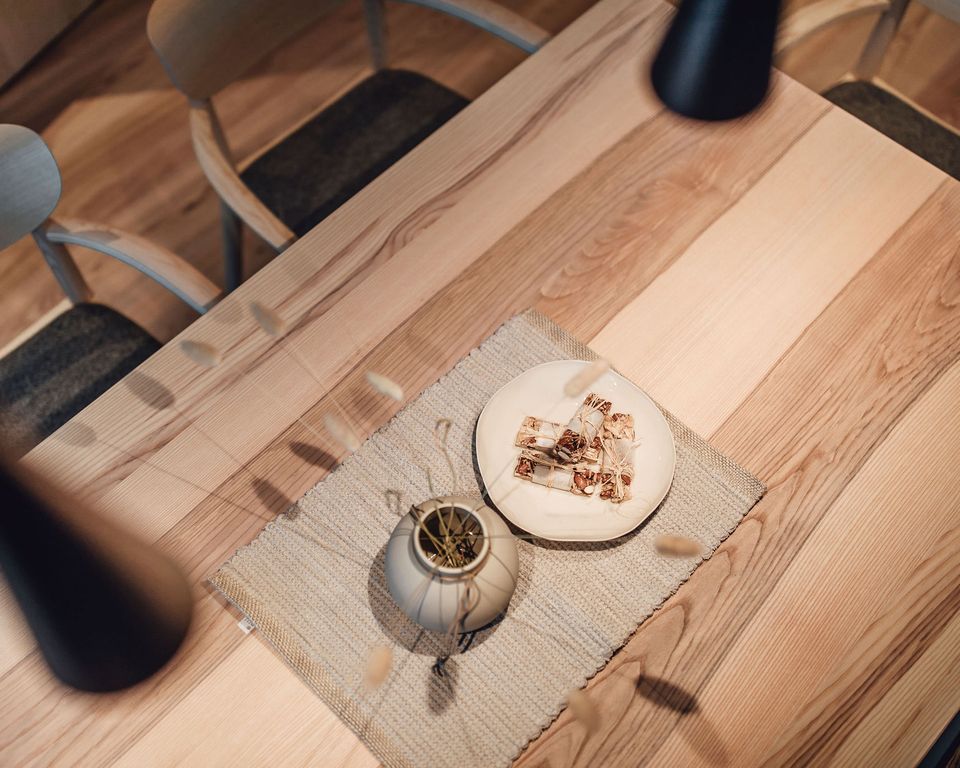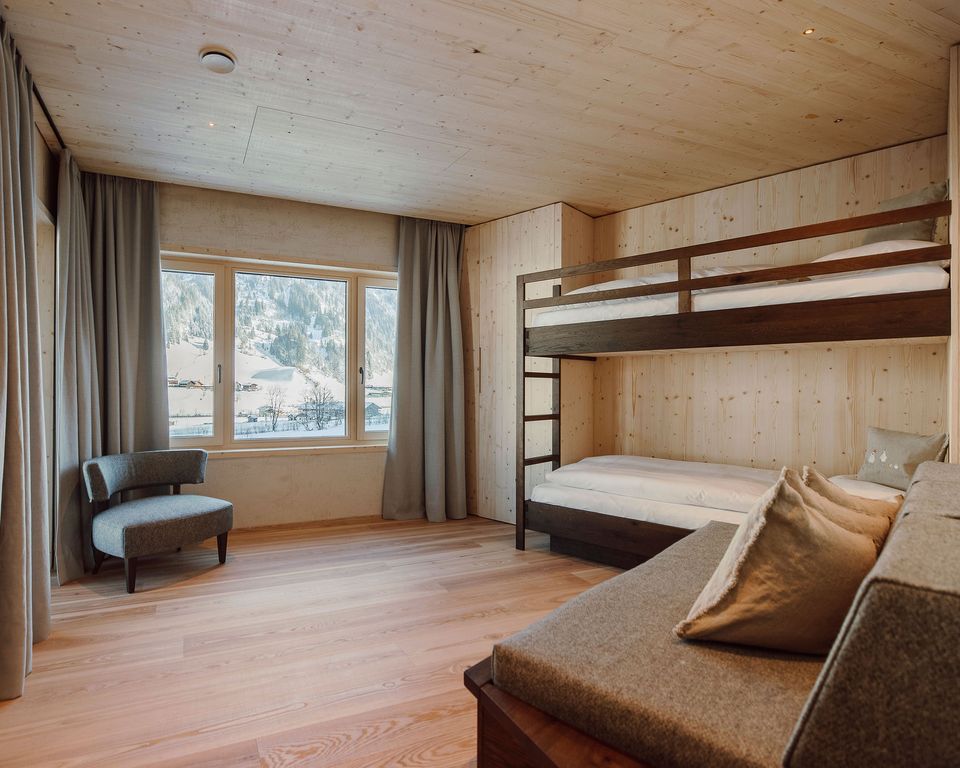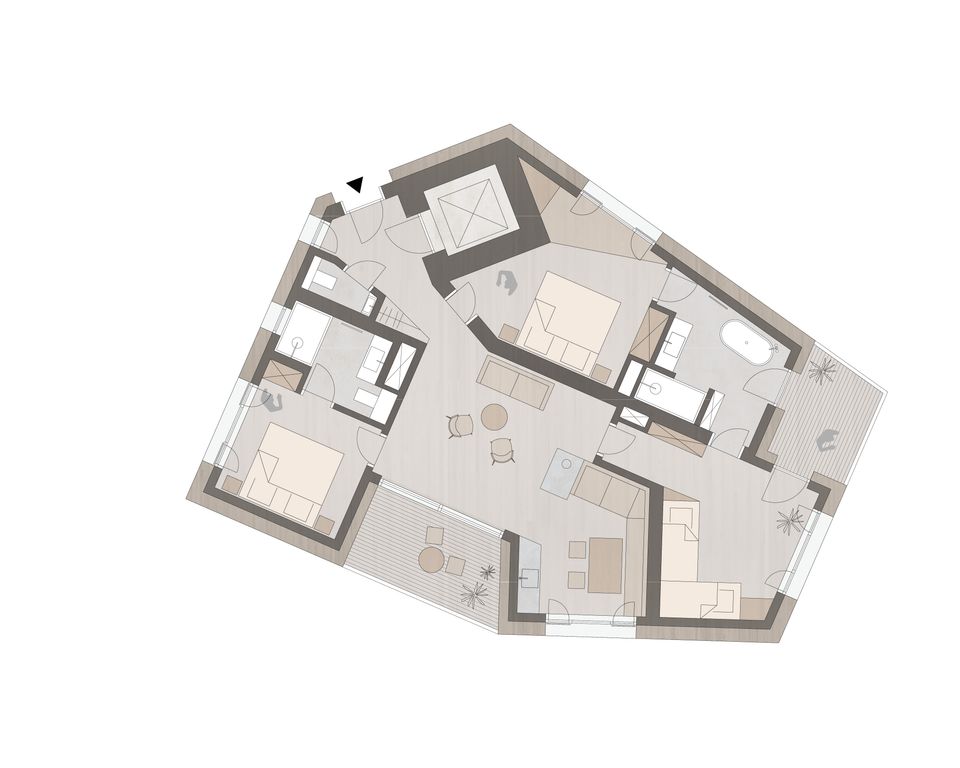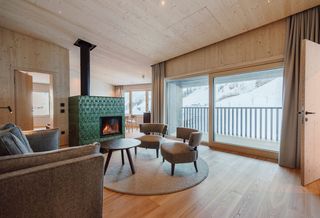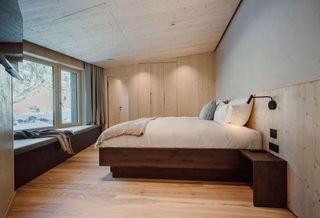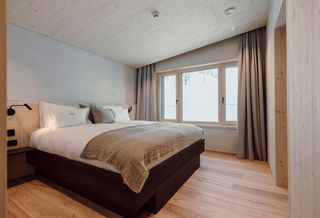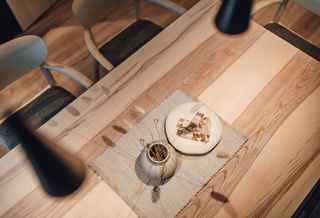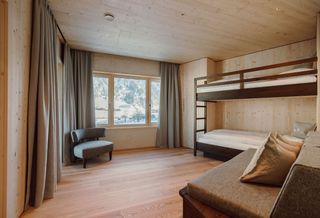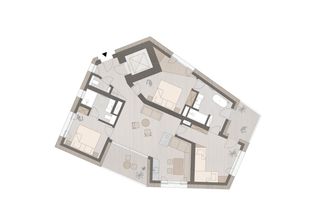 > A heavenly atmosphere - just like in paradise! -  with a magnificent mountain   view>
big, light-flooded living area with 16m² loggia
> open-hearth fireplace
> regional natural materials like spruce & linen
> two double rooms> children's room with a twin and a bunkbed and    loggia> bathroom with free-standing bathtub>
air-conditioning
Culinary
We offer diverse culinary highlights as part of our gourmet full-board:
Abundant breakfast buffet with numerous regional delicacies
At lunchtime two main dishes are served at the table, additional we offer a buffet of soups, salads and fresh fruits
cake buffet with homemade pastries, cakes and strudels
Evenings: 6-course gourmet menu of choice. From Austrian classics to vegetarian and vegan dishes, salad bowls and cheese buffet
Lunch & dinner: balanced children's buffet
Supervised children's meal at lunch & dinner
Daily ice cream bar with various toppings
All day: non-alcoholic beverage fountain
Tea, coffee & hot chocolate until 5:00 pm
Mountain spring water from all the taps in the hotel
Hipp organic baby buffet (jars, porridge, and formula)
Baby food prepared fresh daily
Child care
Babies and toddlers: from 30 days old to 24 months, daily from 9:00 am to 9:00 pm (registration required by the evening before)
Child-care from 2 to 14 years with diverse, nature-related programs and excursions, daily from 9:00 am to 9:00 pm
Baby and toddler carefree equipment and furnishing
Adopt-an-animal program with a family-certificate at the end of your holiday
Teens program 
climbing and boulder room
Bright fitness studio with modern Techno-Gym equipment and separate gymnastics room
Attractive activity program with Hatha Yoga, Functional training, fascia training, back training, and more
panorama swimming area with separate baby and toddler area, indoor pool with wave slide, 25 metres infinity pool, natural bathing lake
NATURE Spa with outdoor whirlpool, 25 metres infinity pool, textile free and textile area with tea lounge and various stylish chill out rooms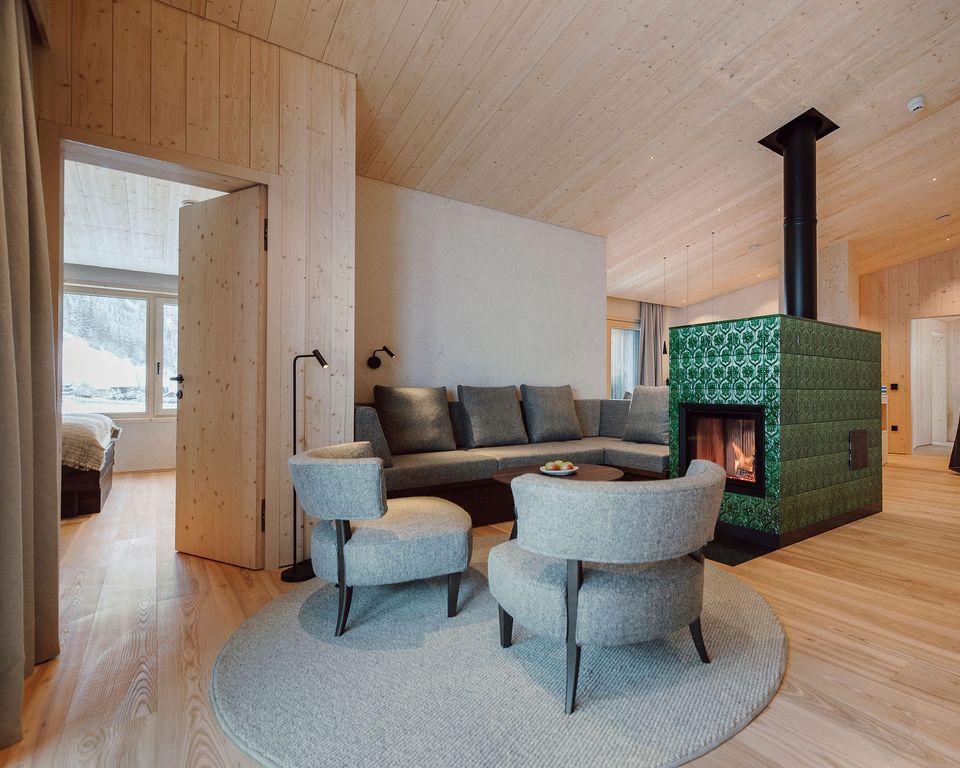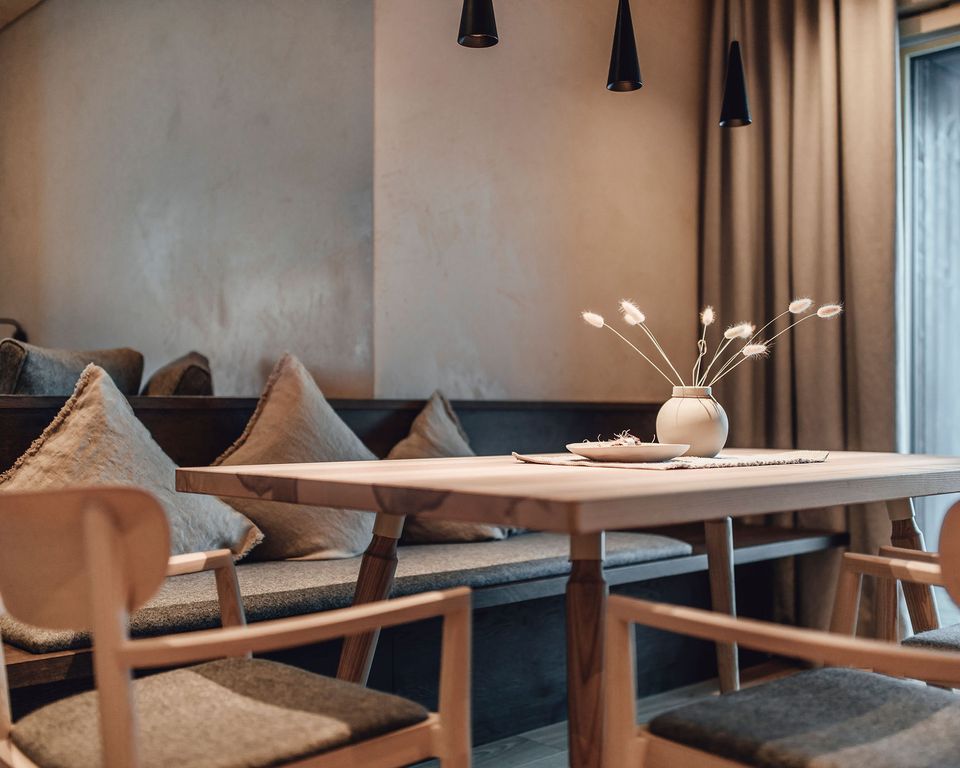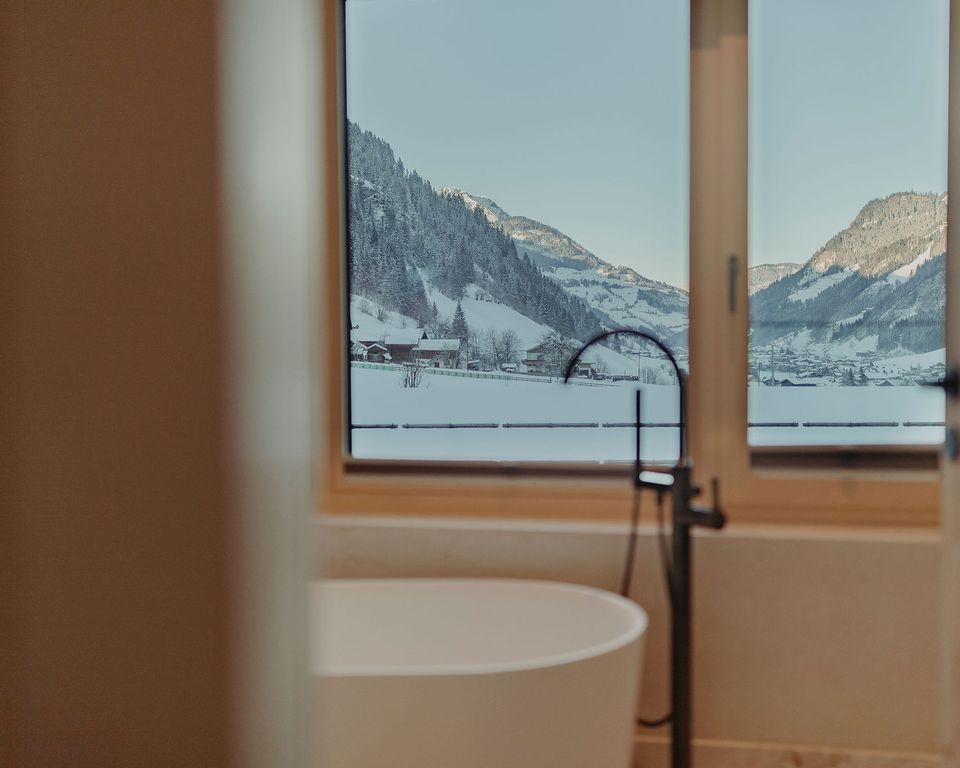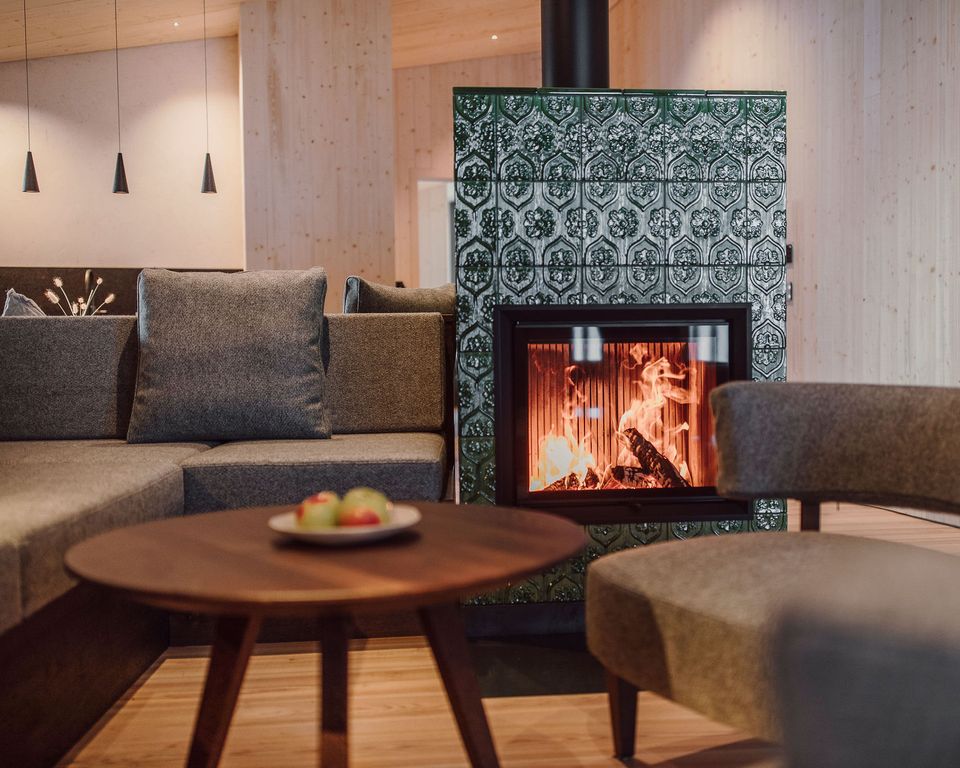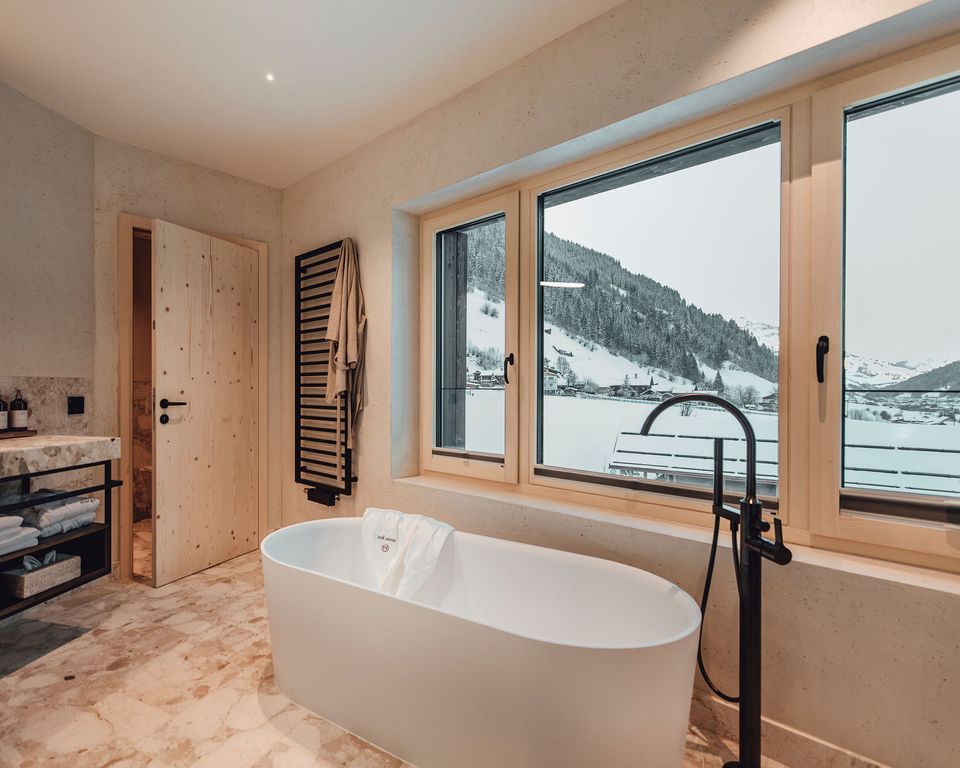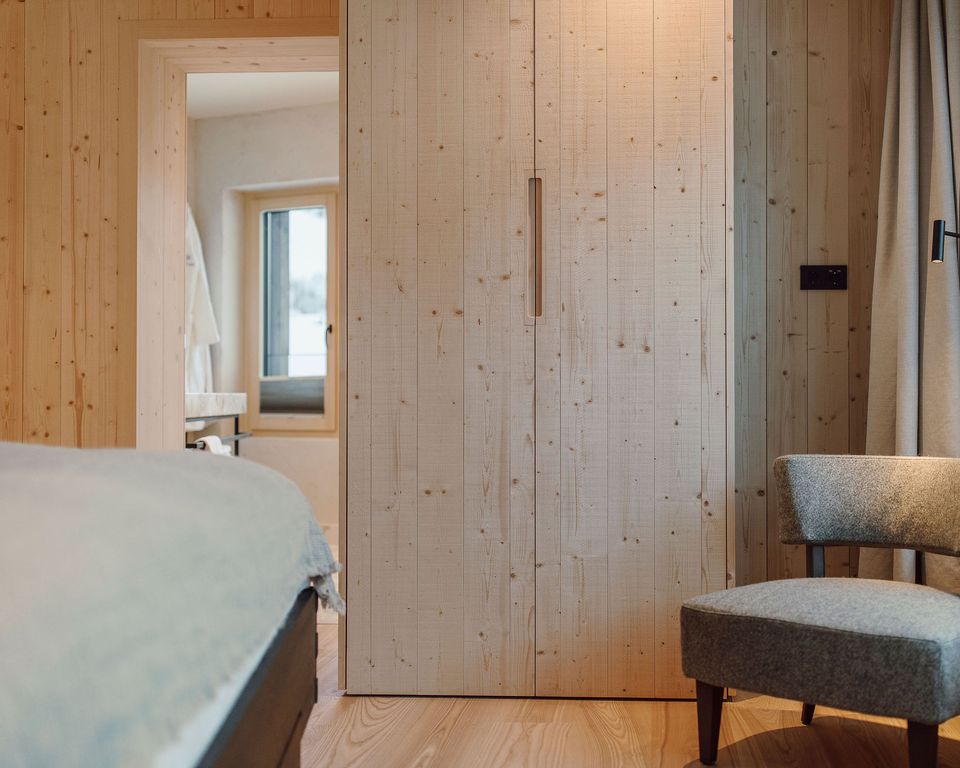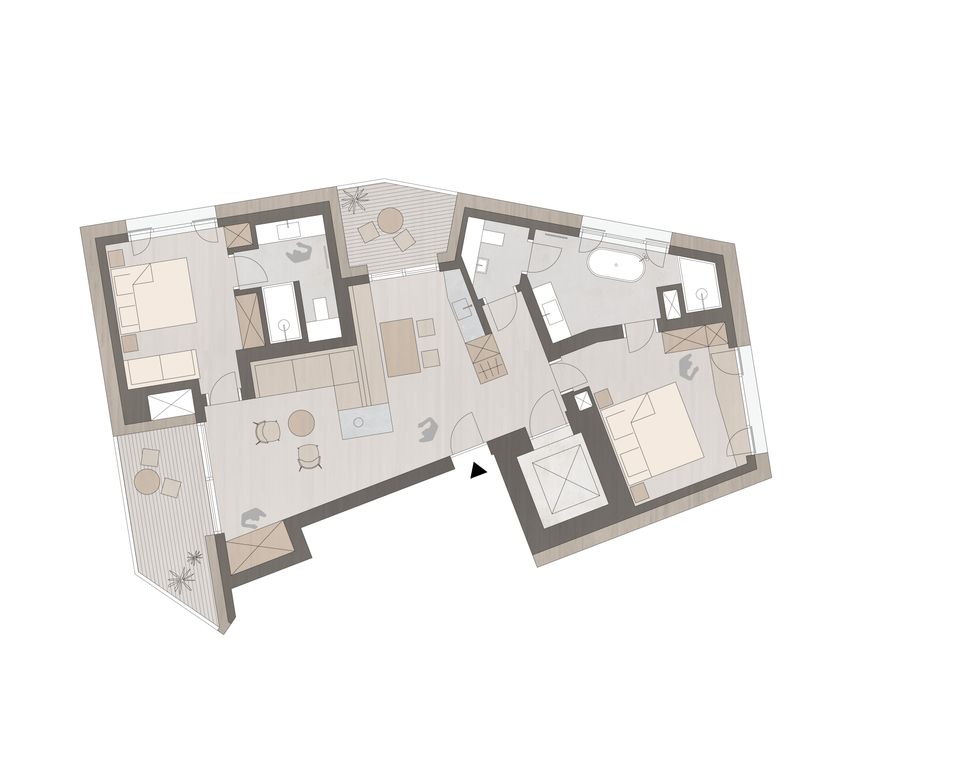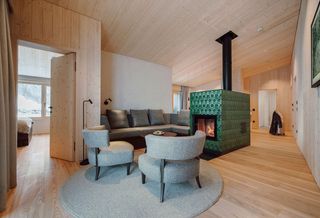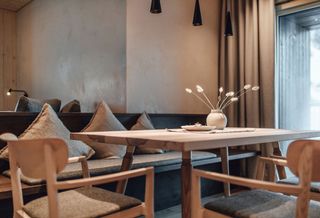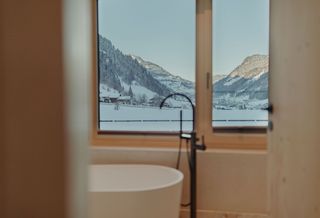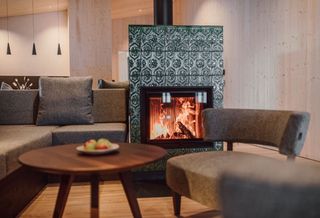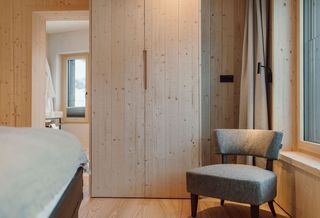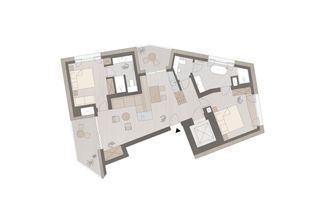 > tender loving holiday dream with breathtaking nature view> wonderful living area with two loggias> open-hearth fireplace> native nature materials like spruce & linen> double room with single bed, big panorama window and bathroom> double room with spacious bathroom and freestanding bathtube with mountain view> air condition
Culinary
We offer diverse culinary highlights as part of our gourmet full-board:
Abundant breakfast buffet with numerous regional delicacies
At lunchtime two main dishes are served at the table, additional we offer a buffet of soups, salads and fresh fruits
cake buffet with homemade pastries, cakes and strudels
Evenings: 6-course gourmet menu of choice. From Austrian classics to vegetarian and vegan dishes, salad bowls and cheese buffet
Lunch & dinner: balanced children's buffet
Supervised children's meal at lunch & dinner
Daily ice cream bar with various toppings
All day: non-alcoholic beverage fountain
Tea, coffee & hot chocolate until 5:00 pm
Mountain spring water from all the taps in the hotel
Hipp organic baby buffet (jars, porridge, and formula)
Baby food prepared fresh daily
Child care
Babies and toddlers: from 30 days old to 24 months, daily from 9:00 am to 9:00 pm (registration required by the evening before)
Child-care from 2 to 14 years with diverse, nature-related programs and excursions, daily from 9:00 am to 9:00 pm
Baby and toddler carefree equipment and furnishing
Adopt-an-animal program with a family-certificate at the end of your holiday
Teens program 
climbing and boulder room
Bright fitness studio with modern Techno-Gym equipment and separate gymnastics room
Attractive activity program with Hatha Yoga, Functional training, fascia training, back training, and more
panorama swimming area with separate baby and toddler area, indoor pool with wave slide, 25 metres infinity pool, natural bathing lake
NATURE Spa with outdoor whirlpool, 25 metres infinity pool, textile free and textile area with tea lounge and various stylish chill out rooms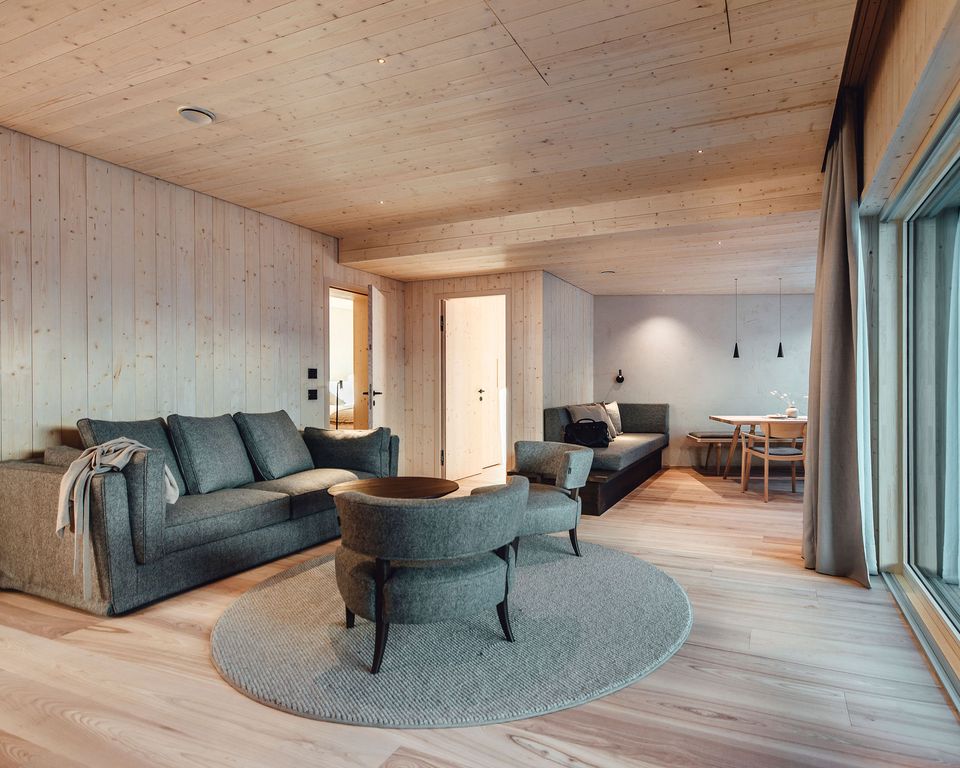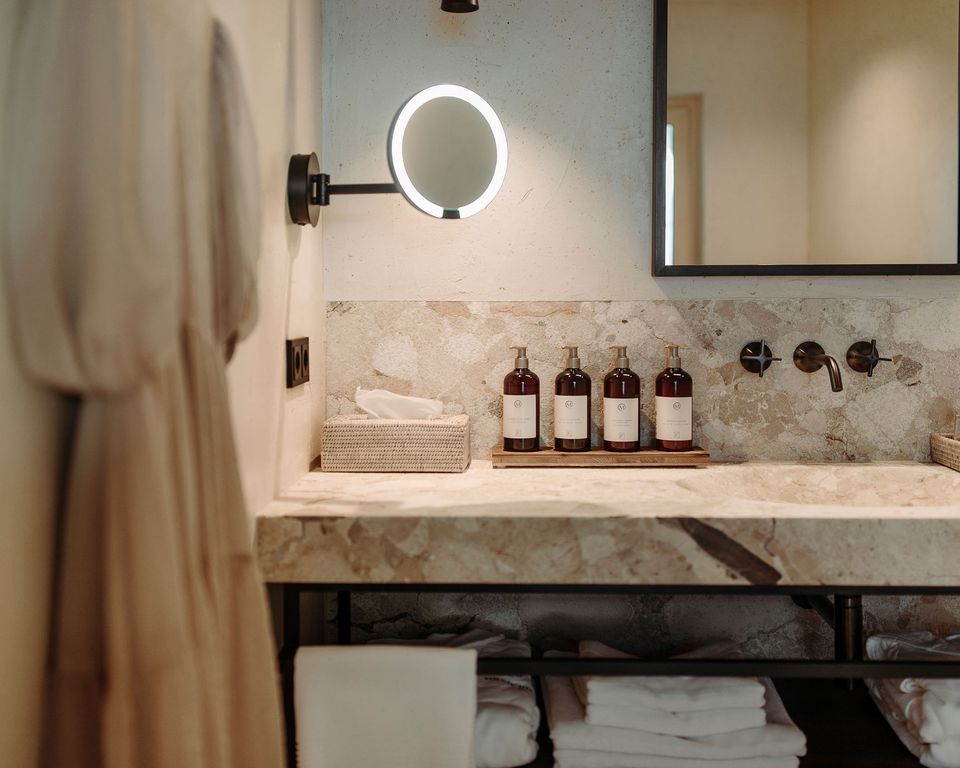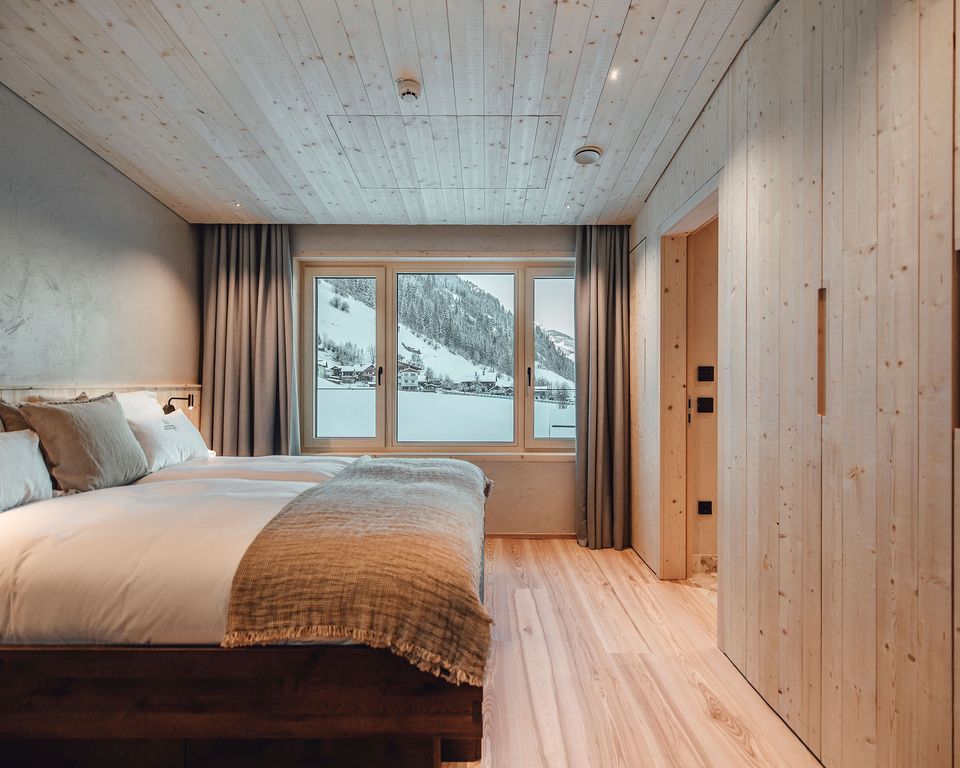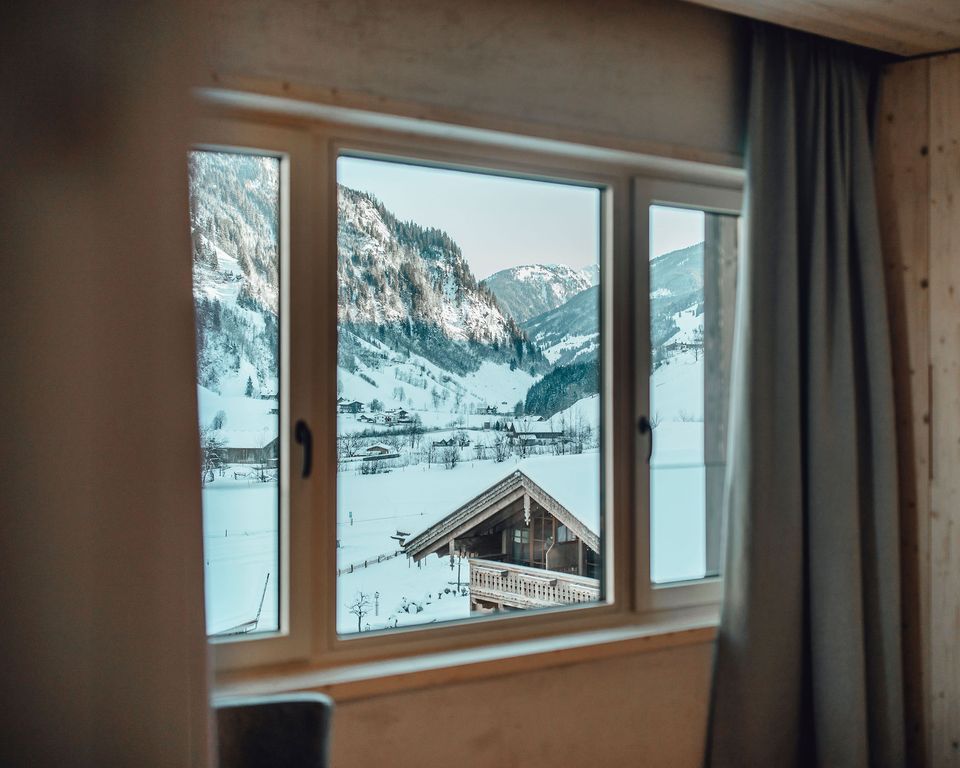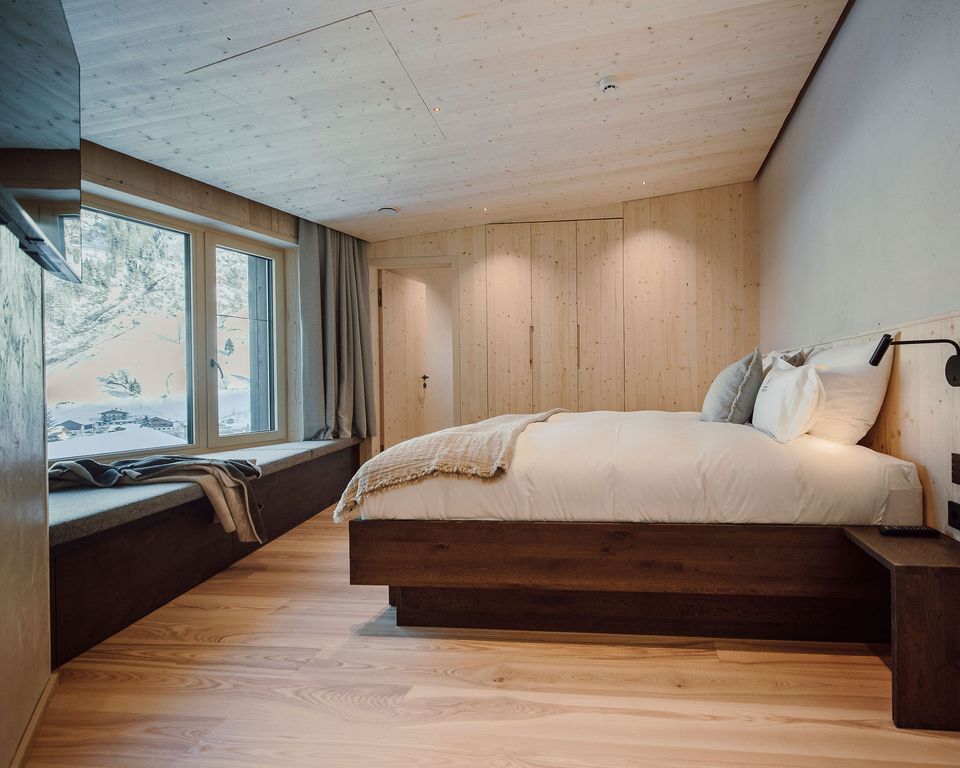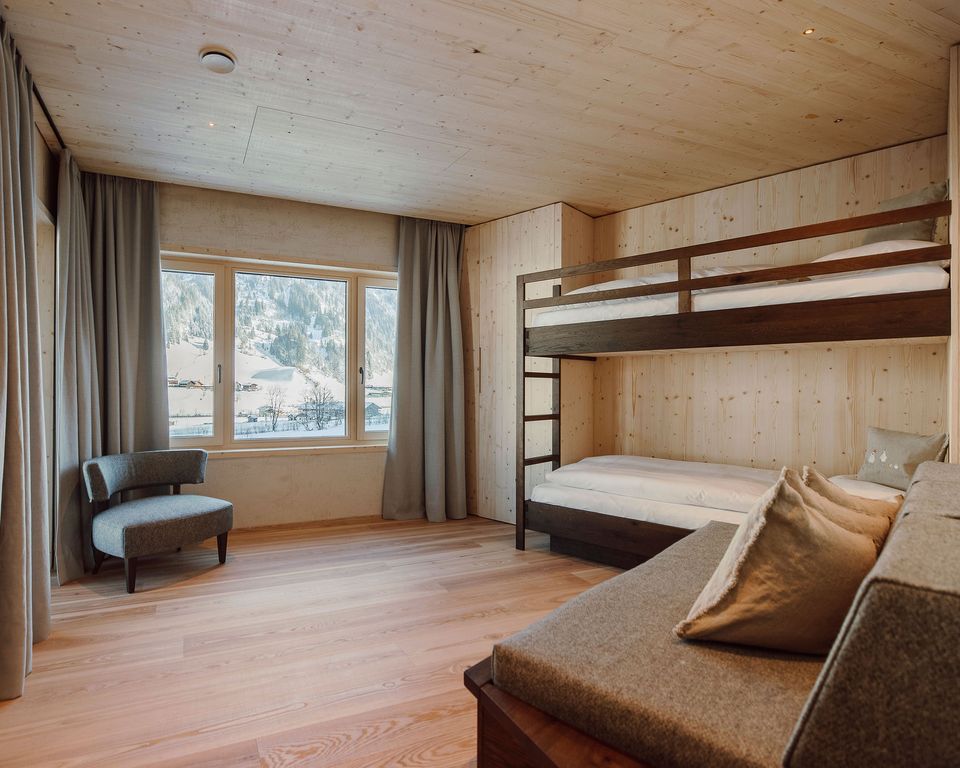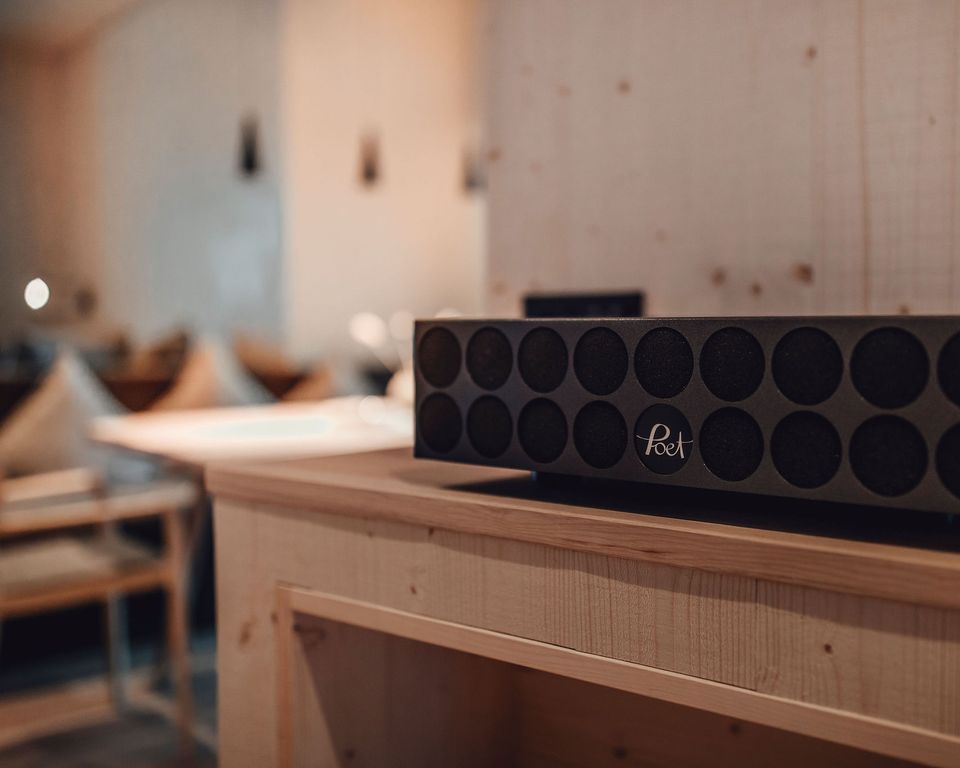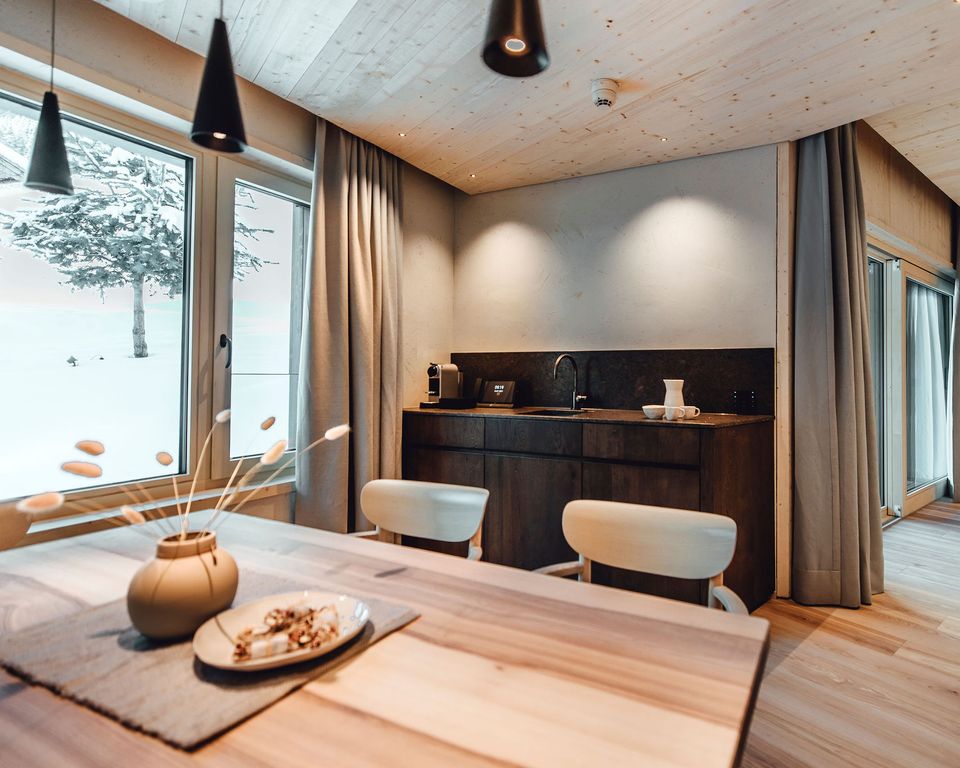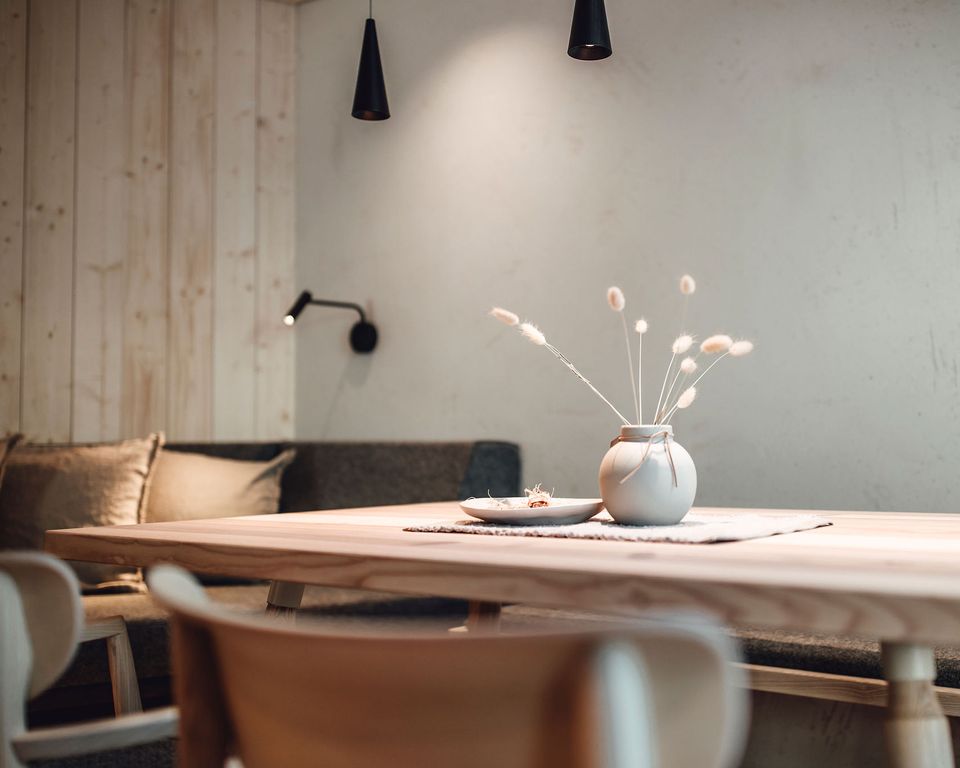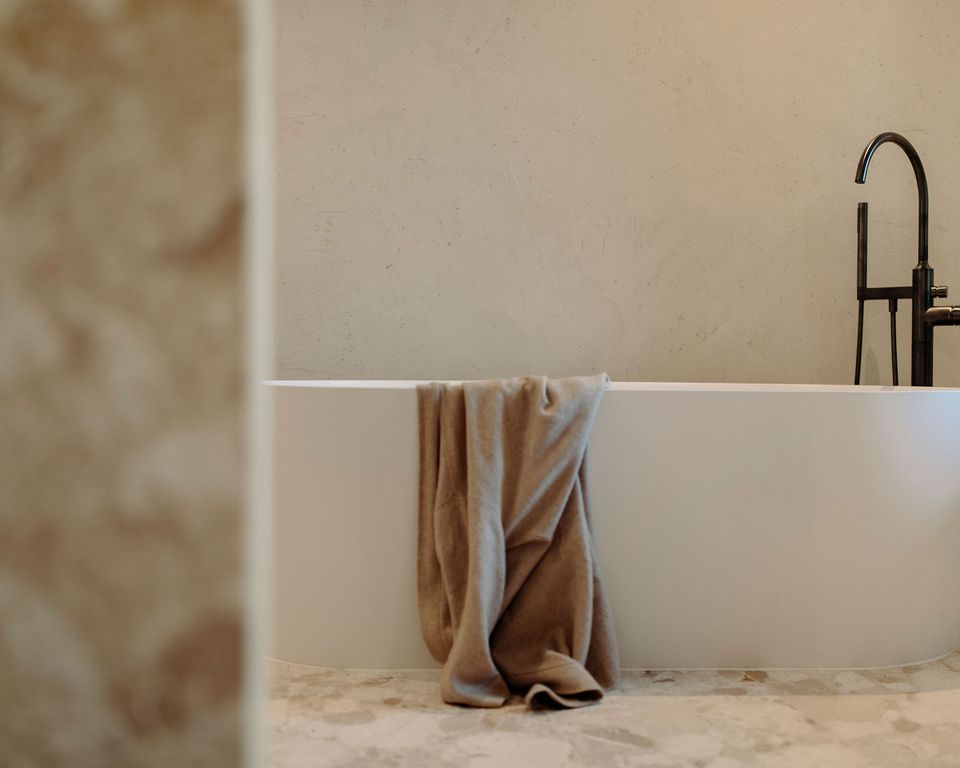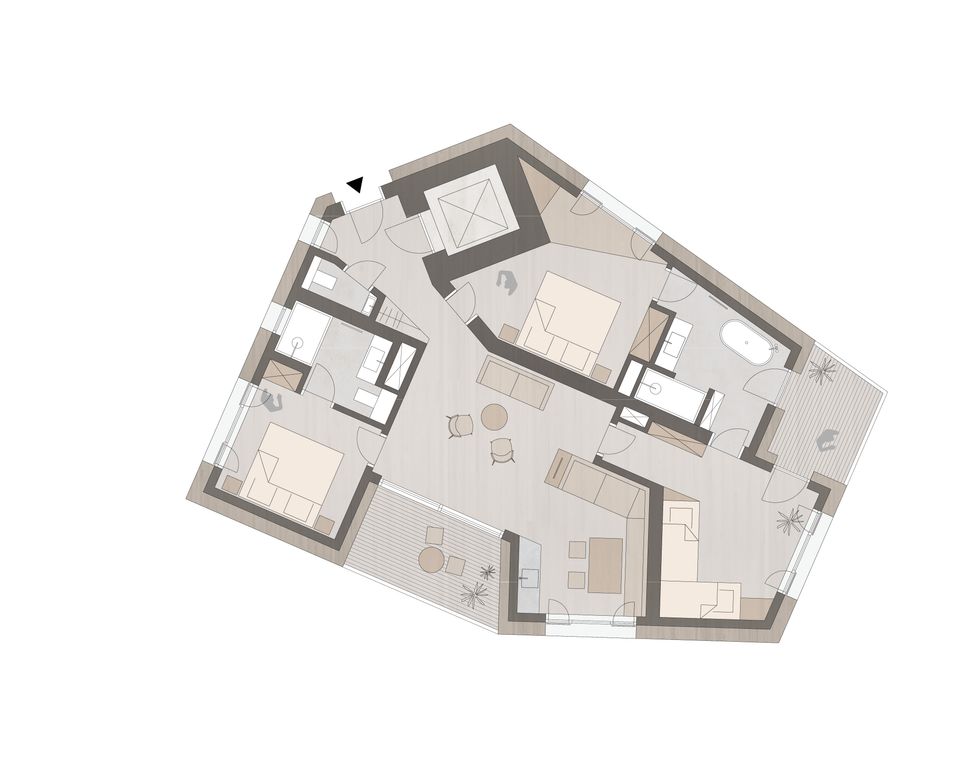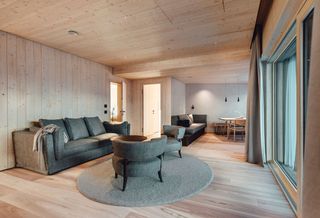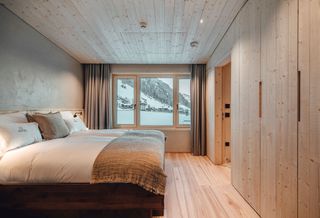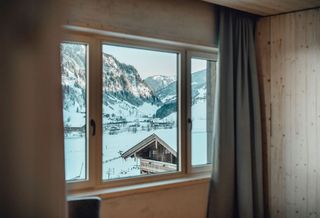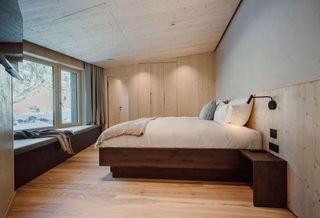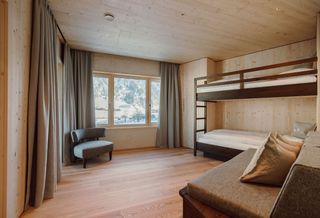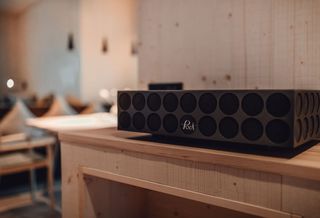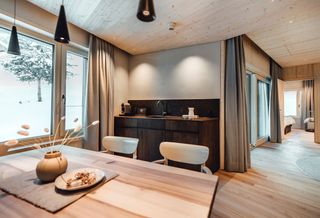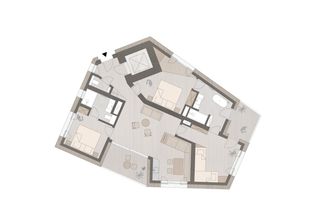 > imperial living dreams> big, light-flooded living area with 17 m² loggia> high quality nature materials like spruce & linen> two double rooms with panoroma window and view of the surrounding nature> children´s room with single - and bunk bed and loggia> two bath rooms - one of them with freestanding bathtube which invites you to stay> air condition
Culinary
We offer diverse culinary highlights as part of our gourmet full-board:
Abundant breakfast buffet with numerous regional delicacies
At lunchtime two main dishes are served at the table, additional we offer a buffet of soups, salads and fresh fruits
cake buffet with homemade pastries, cakes and strudels
Evenings: 6-course gourmet menu of choice. From Austrian classics to vegetarian and vegan dishes, salad bowls and cheese buffet
Lunch & dinner: balanced children's buffet
Supervised children's meal at lunch & dinner
Daily ice cream bar with various toppings
All day: non-alcoholic beverage fountain
Tea, coffee & hot chocolate until 5:00 pm
Mountain spring water from all the taps in the hotel
Hipp organic baby buffet (jars, porridge, and formula)
Baby food prepared fresh daily
Child care
Babies and toddlers: from 30 days old to 24 months, daily from 9:00 am to 9:00 pm (registration required by the evening before)
Child-care from 2 to 14 years with diverse, nature-related programs and excursions, daily from 9:00 am to 9:00 pm
Baby and toddler carefree equipment and furnishing
Adopt-an-animal program with a family-certificate at the end of your holiday
Teens program 
climbing and boulder room
Bright fitness studio with modern Techno-Gym equipment and separate gymnastics room
Attractive activity program with Hatha Yoga, Functional training, fascia training, back training, and more
panorama swimming area with separate baby and toddler area, indoor pool with wave slide, 25 metres infinity pool, natural bathing lake
NATURE Spa with outdoor whirlpool, 25 metres infinity pool, textile free and textile area with tea lounge and various stylish chill out rooms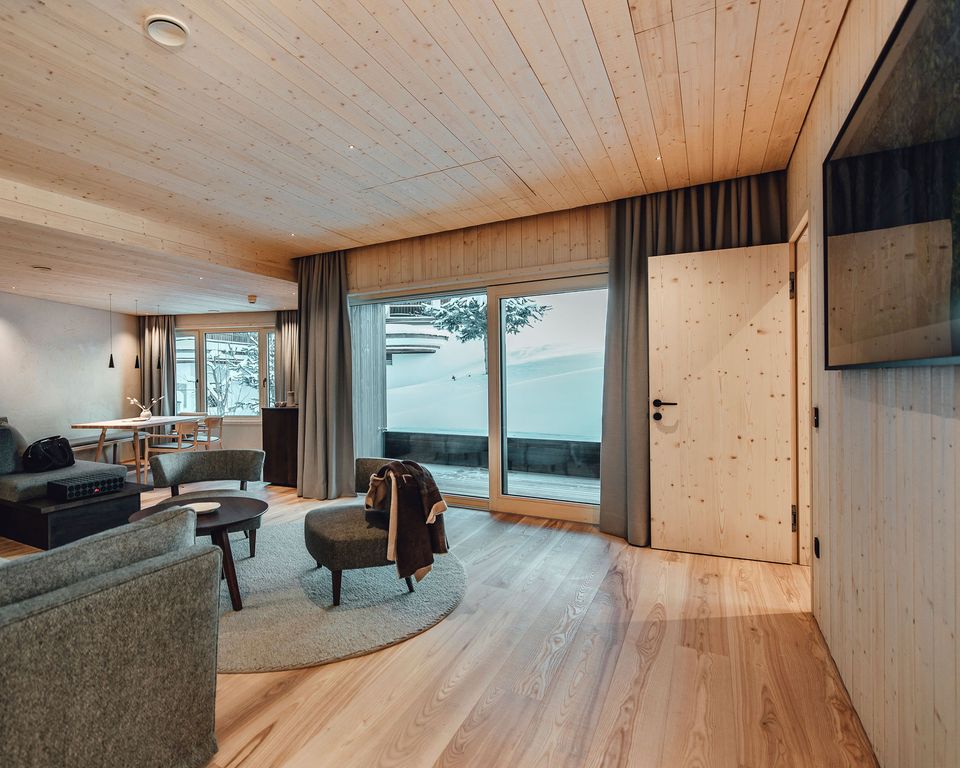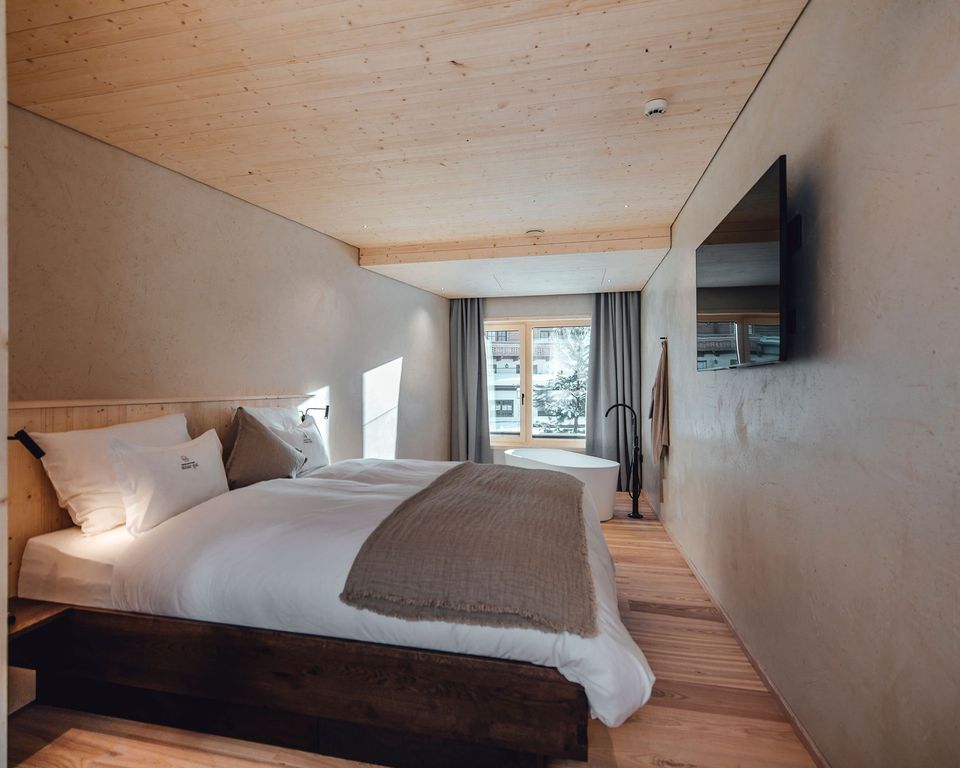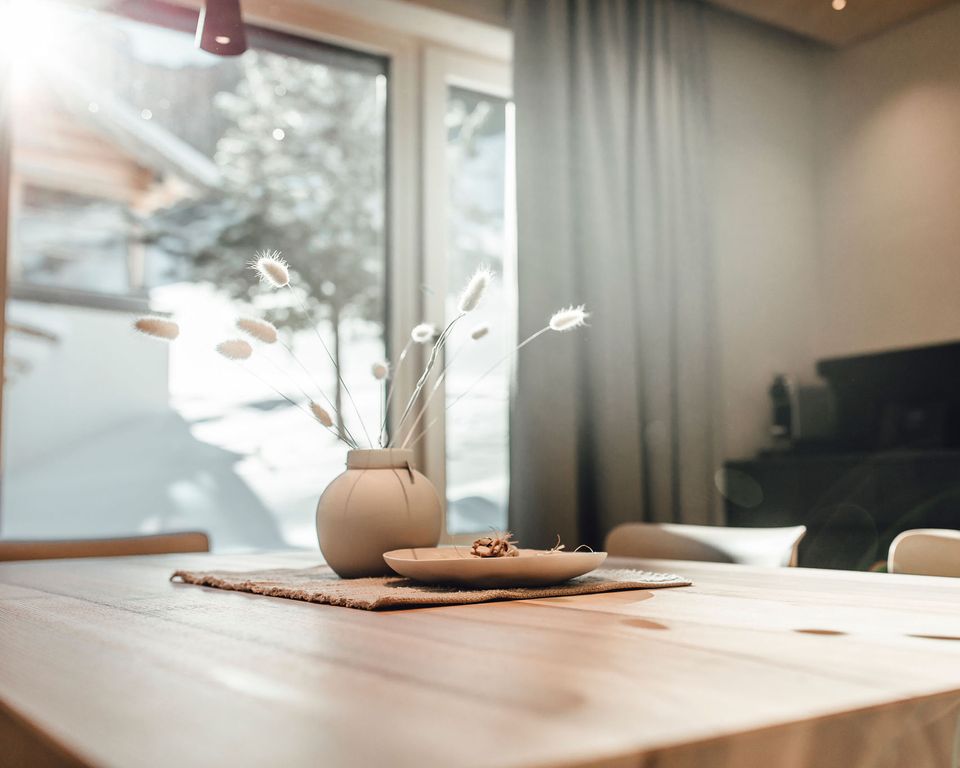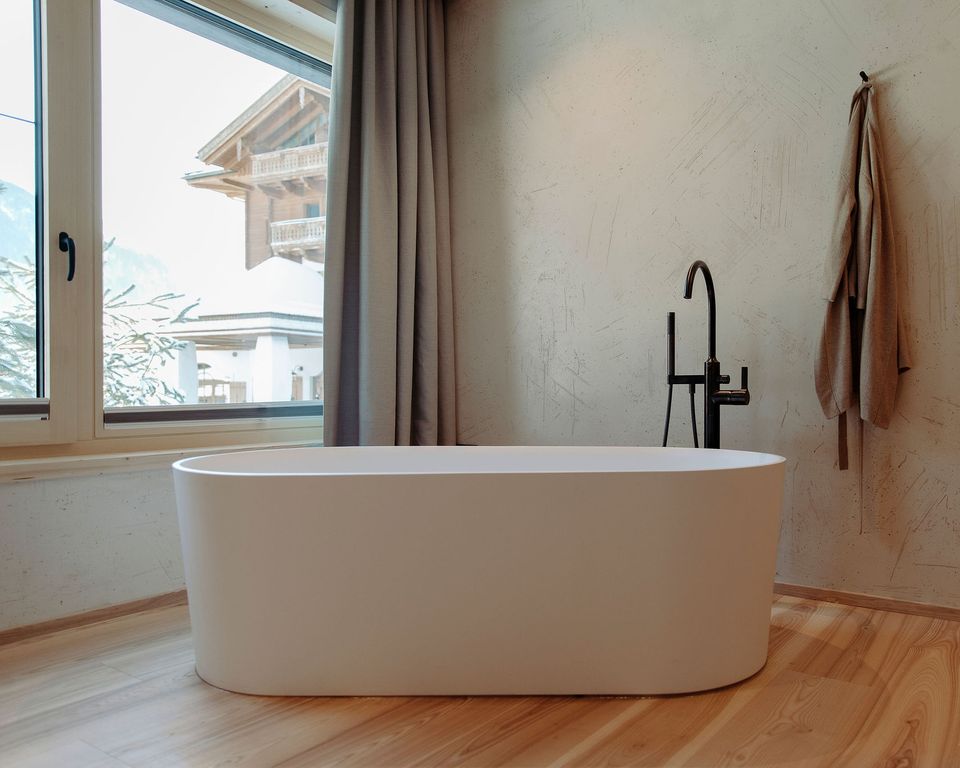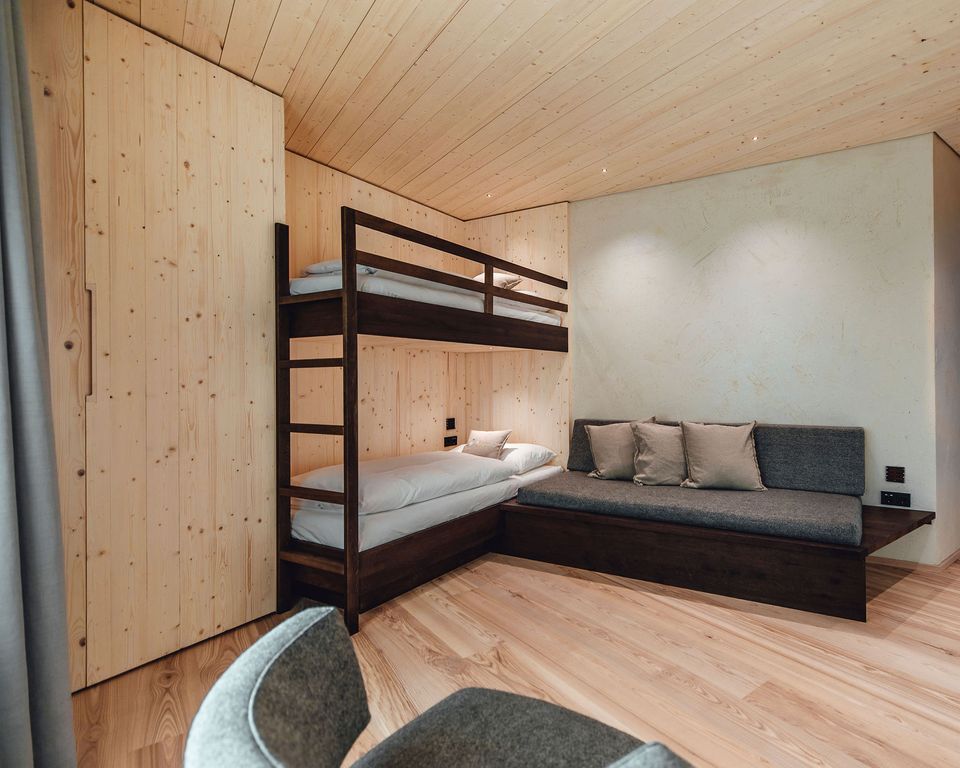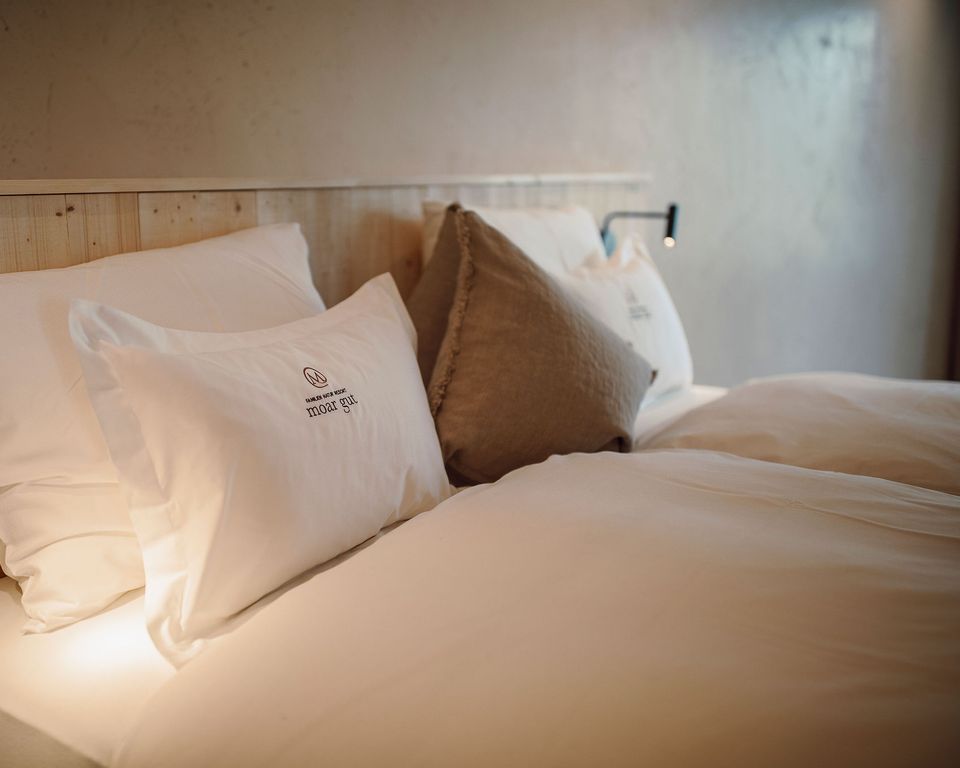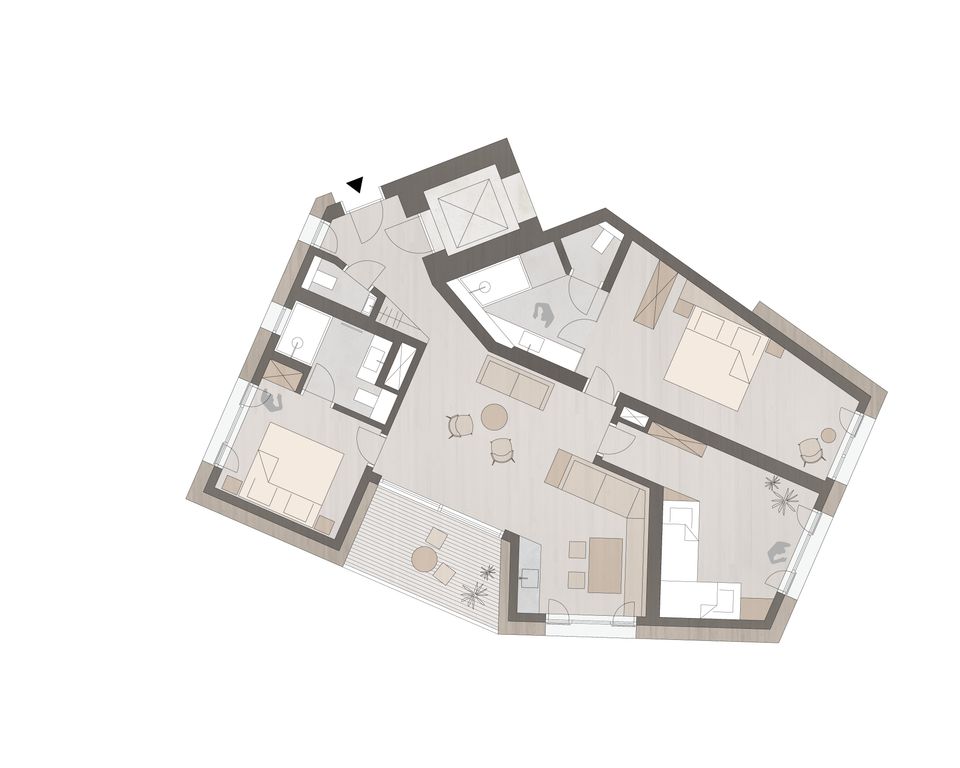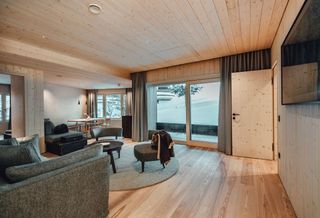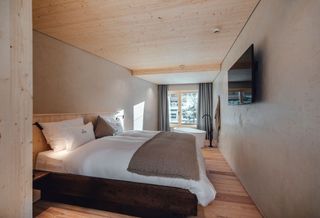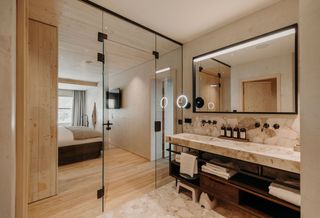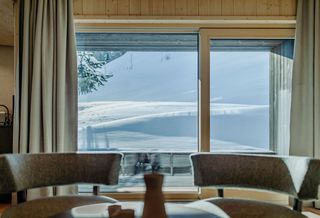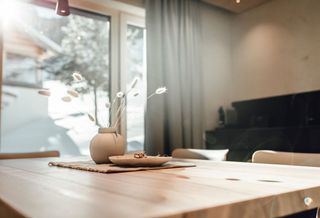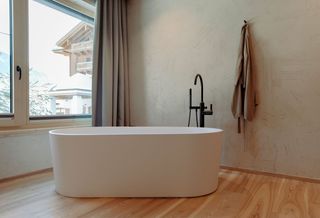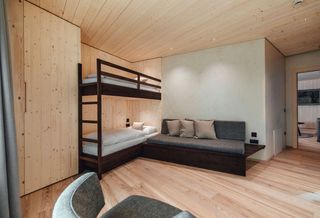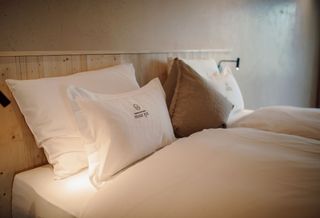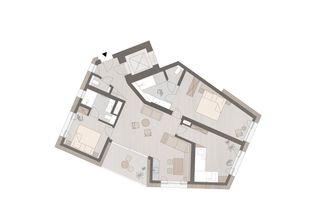 > enjoy nature to the fullest>
cozy living area with south loggia to relax
> high quality nature materials like spruce & linen> double room with ball-andclaw bath with nature view> double rooms with panorama window> generous children´s room with single - and bunk bed> two bathrooms>
air condition
Culinary
We offer diverse culinary highlights as part of our gourmet full-board:
Abundant breakfast buffet with numerous regional delicacies
At lunchtime two main dishes are served at the table, additional we offer a buffet of soups, salads and fresh fruits
cake buffet with homemade pastries, cakes and strudels
Evenings: 6-course gourmet menu of choice. From Austrian classics to vegetarian and vegan dishes, salad bowls and cheese buffet
Lunch & dinner: balanced children's buffet
Supervised children's meal at lunch & dinner
Daily ice cream bar with various toppings
All day: non-alcoholic beverage fountain
Tea, coffee & hot chocolate until 5:00 pm
Mountain spring water from all the taps in the hotel
Hipp organic baby buffet (jars, porridge, and formula)
Baby food prepared fresh daily
Child care
Babies and toddlers: from 30 days old to 24 months, daily from 9:00 am to 9:00 pm (registration required by the evening before)
Child-care from 2 to 14 years with diverse, nature-related programs and excursions, daily from 9:00 am to 9:00 pm
Baby and toddler carefree equipment and furnishing
Adopt-an-animal program with a family-certificate at the end of your holiday
Teens program 
climbing and boulder room
Bright fitness studio with modern Techno-Gym equipment and separate gymnastics room
Attractive activity program with Hatha Yoga, Functional training, fascia training, back training, and more
panorama swimming area with separate baby and toddler area, indoor pool with wave slide, 25 metres infinity pool, natural bathing lake
NATURE Spa with outdoor whirlpool, 25 metres infinity pool, textile free and textile area with tea lounge and various stylish chill out rooms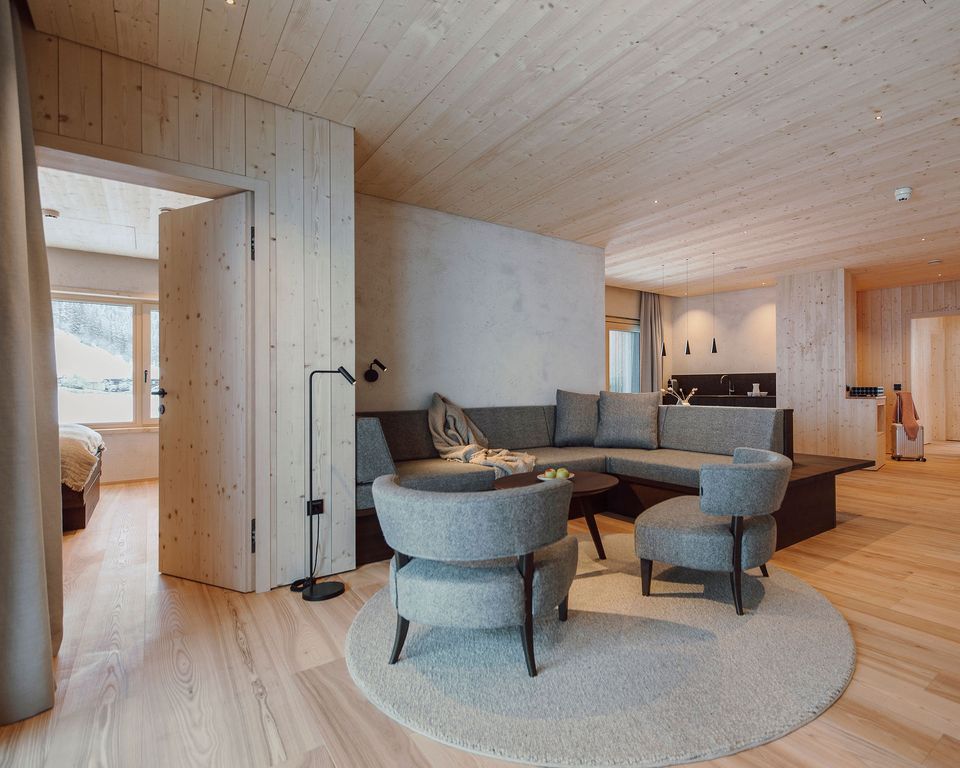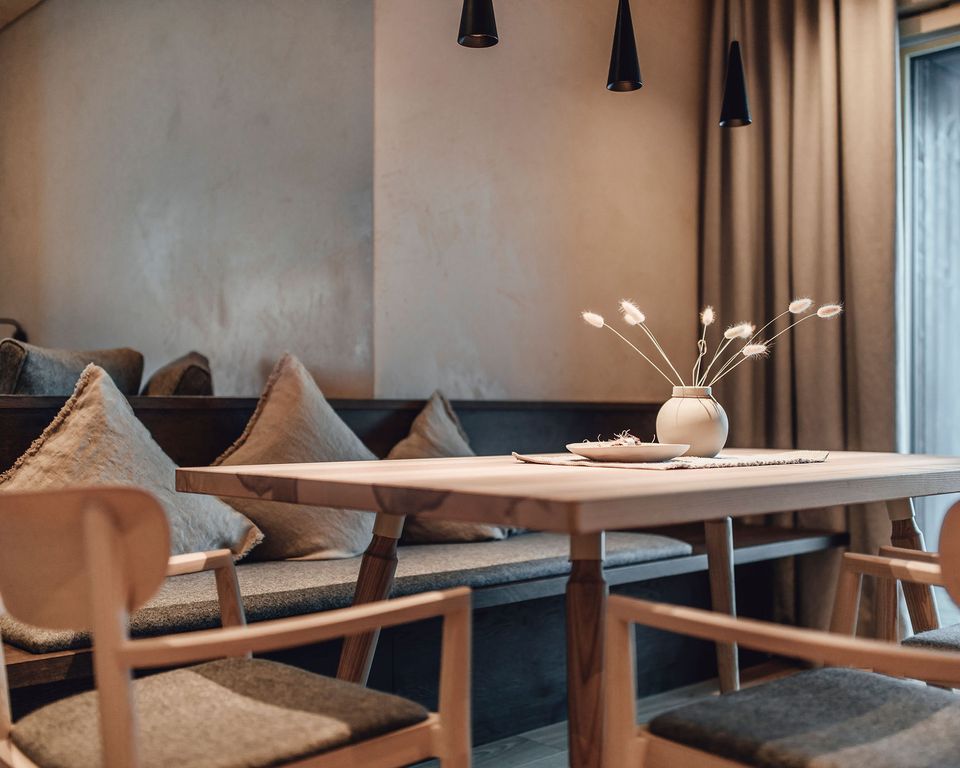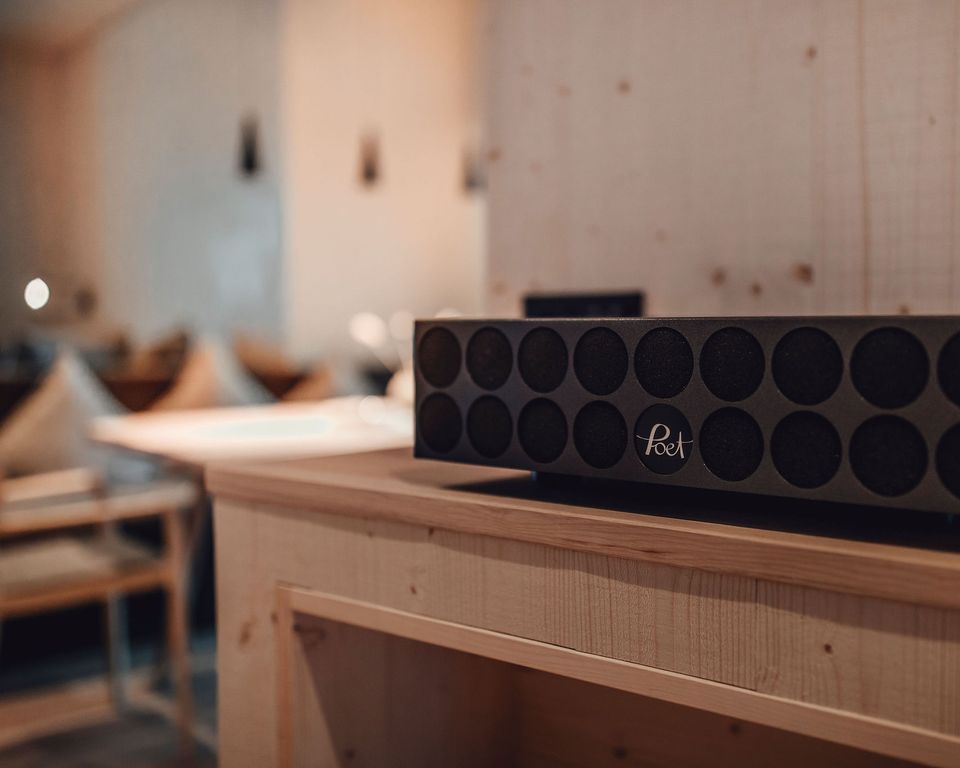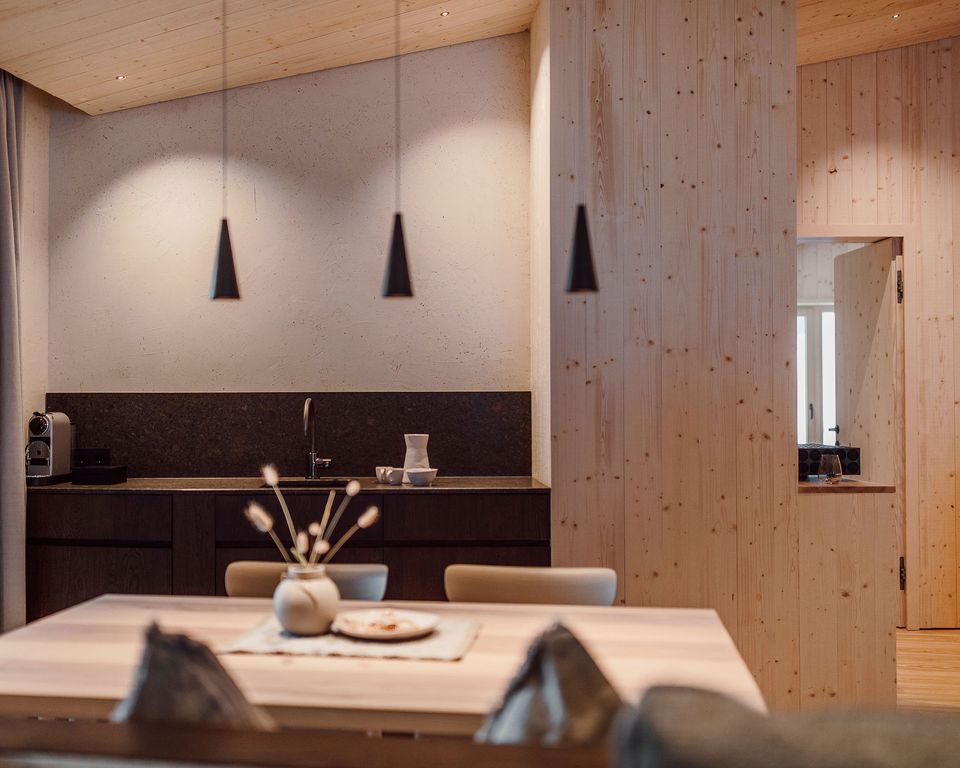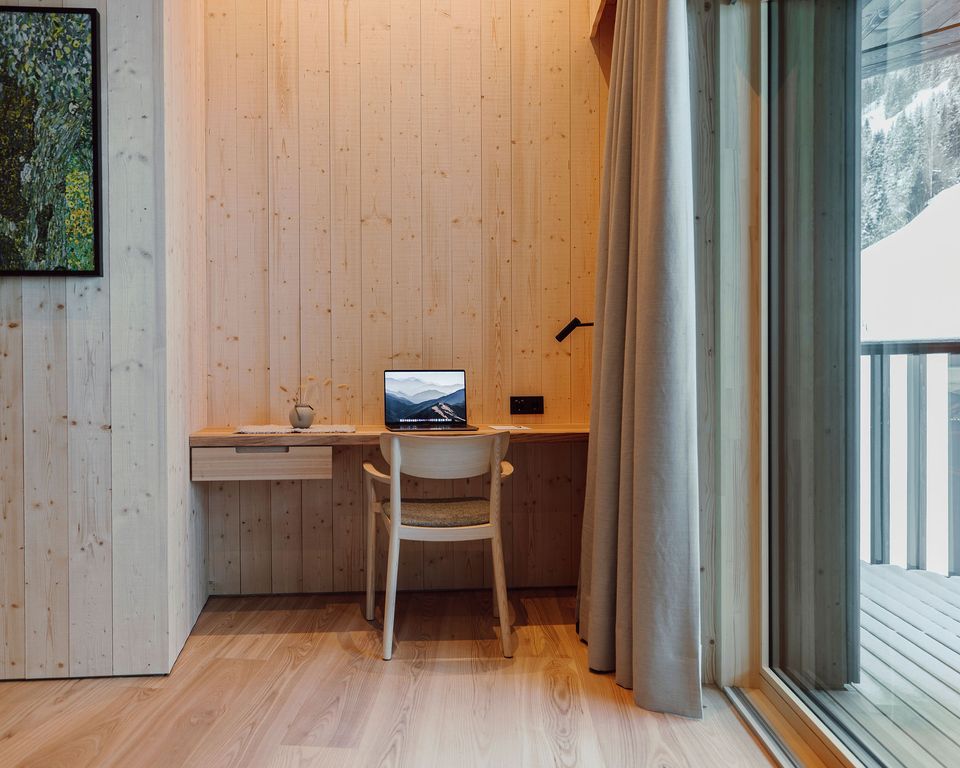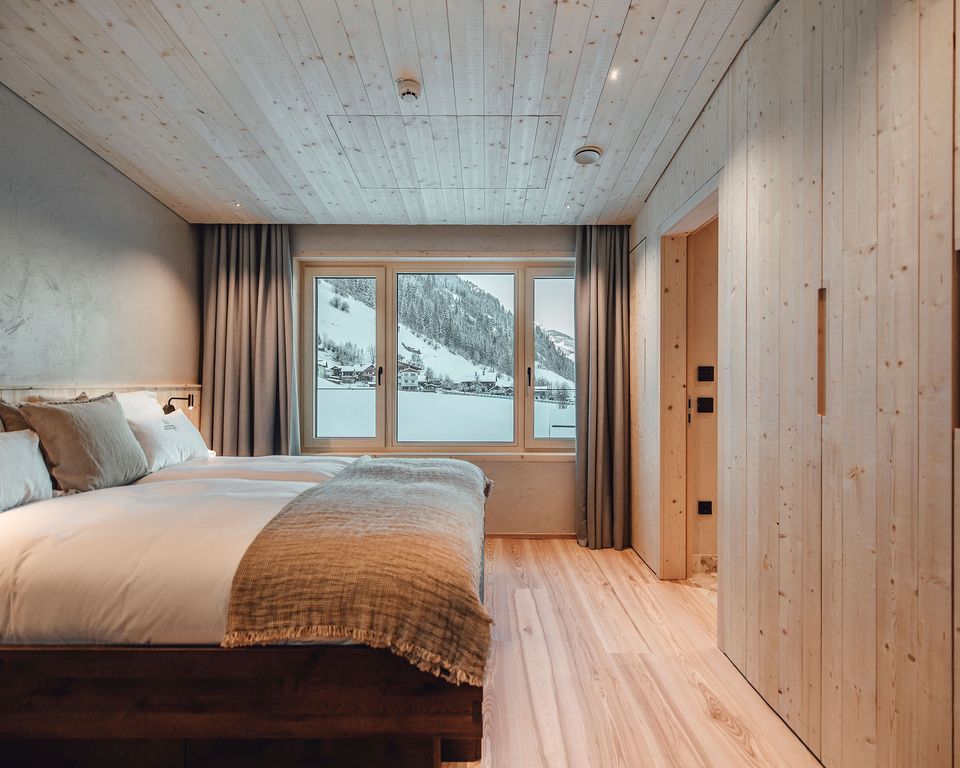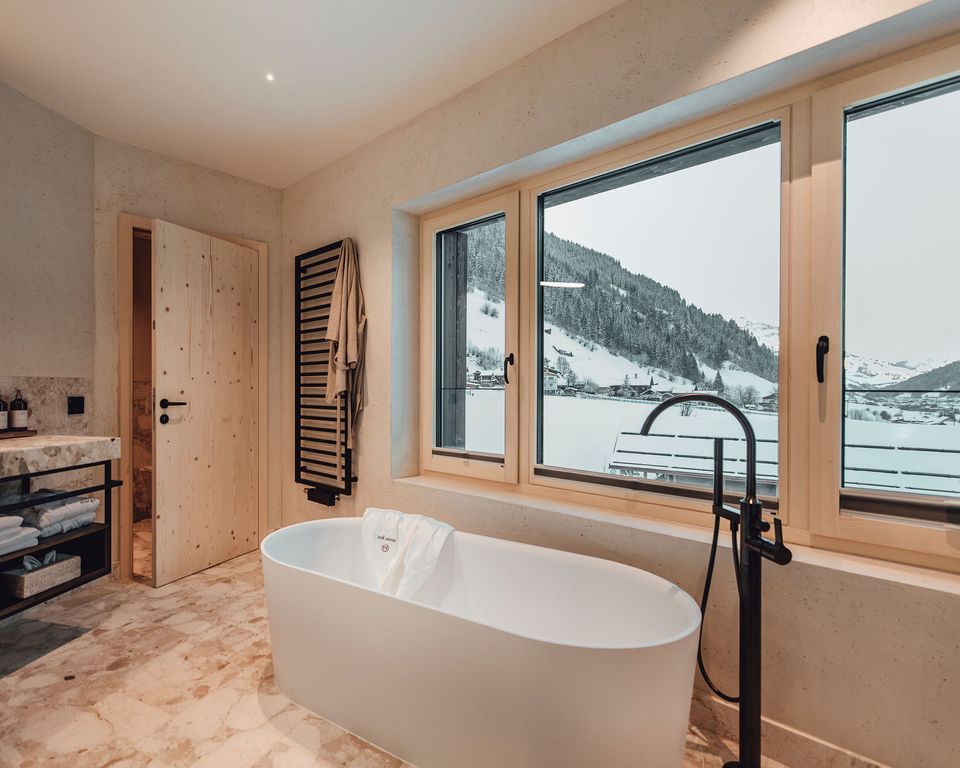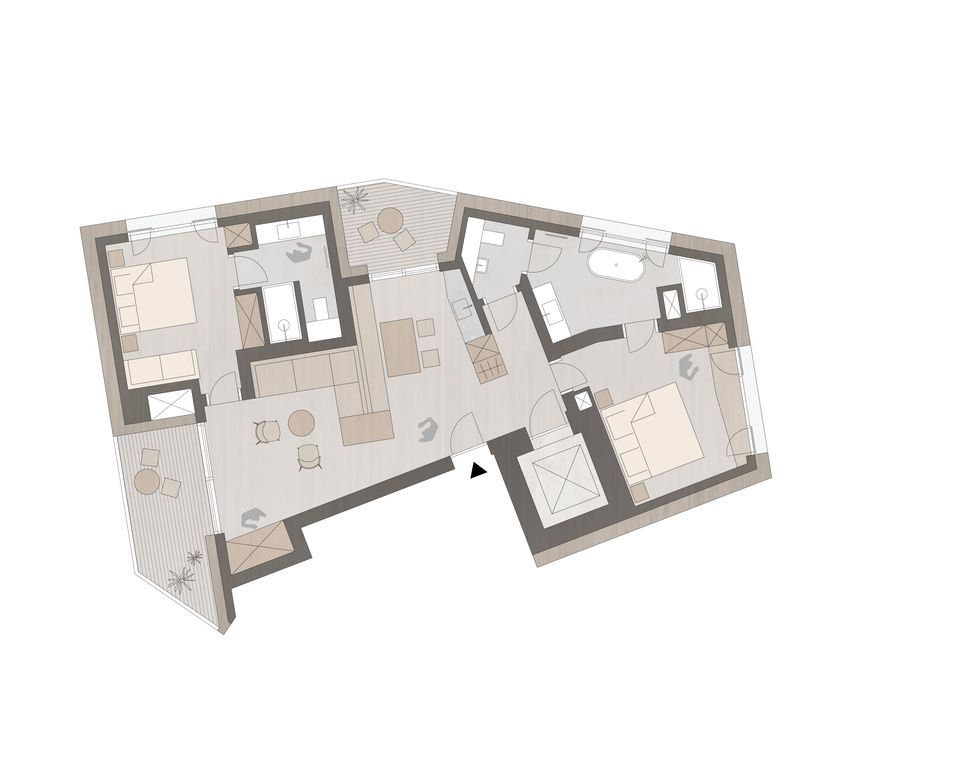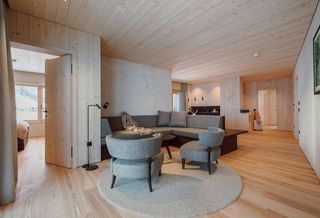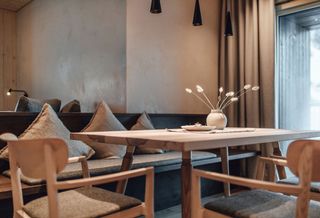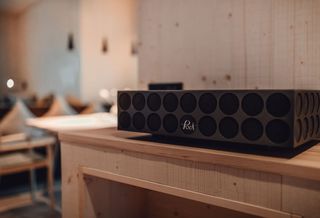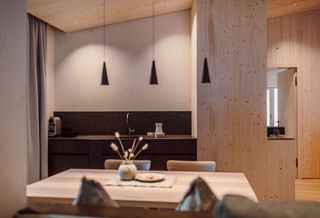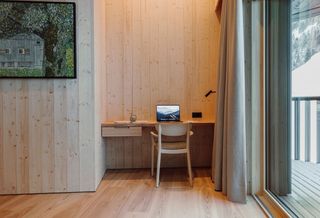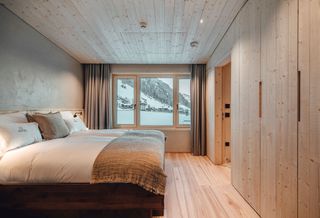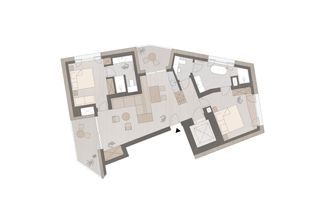 > tender holidays deam with breathtaking view to the surrounding nature> wonderful living area with two cozy loggias which invite you to stay> regional nature materials like spruce & linen> double room with single bed, big panorama window and bathroom> double room with spacious bathroom and freestanding bathtube with view to the mountains> air condition
Culinary
We offer diverse culinary highlights as part of our gourmet full-board:
Abundant breakfast buffet with numerous regional delicacies
At lunchtime two main dishes are served at the table, additional we offer a buffet of soups, salads and fresh fruits
cake buffet with homemade pastries, cakes and strudels
Evenings: 6-course gourmet menu of choice. From Austrian classics to vegetarian and vegan dishes, salad bowls and cheese buffet
Lunch & dinner: balanced children's buffet
Supervised children's meal at lunch & dinner
Daily ice cream bar with various toppings
All day: non-alcoholic beverage fountain
Tea, coffee & hot chocolate until 5:00 pm
Mountain spring water from all the taps in the hotel
Hipp organic baby buffet (jars, porridge, and formula)
Baby food prepared fresh daily
Child care
Babies and toddlers: from 30 days old to 24 months, daily from 9:00 am to 9:00 pm (registration required by the evening before)
Child-care from 2 to 14 years with diverse, nature-related programs and excursions, daily from 9:00 am to 9:00 pm
Baby and toddler carefree equipment and furnishing
Adopt-an-animal program with a family-certificate at the end of your holiday
Teens program 
climbing and boulder room
Bright fitness studio with modern Techno-Gym equipment and separate gymnastics room
Attractive activity program with Hatha Yoga, Functional training, fascia training, back training, and more
panorama swimming area with separate baby and toddler area, indoor pool with wave slide, 25 metres infinity pool, natural bathing lake
NATURE Spa with outdoor whirlpool, 25 metres infinity pool, textile free and textile area with tea lounge and various stylish chill out rooms